Royale Brothers Burger Awesomeness
The Royale Brothers are a hip and welcome addition to the Melbourne and Brighton burger scene. Already in the Herald Sun Burger Top 10 they have seen business double overnight and punters are flocking to experience their tailored juicy burgers.
The Royale Brothers was founded by the boys from The Pantry in Brighton, Daniel Vaughan, Guy Mainwaring and Tim Purton-Smith, burger royalty themselves.After squeezing past a late model Mercedes double parked in the nearby car park in Brighton, The World Loves Melbourne was invited to see what all the fuss was about at Royale Brothers.
The Royale Brothers construct and tailor various burgers from their menu to suit a plethora of tastes. Large burgers with massively wide buns sit alongside regular and spicy burgers, and imaginative fillings such as pork shoulder and crispy fish. Then there's the Hippy Royale with Panko crumbed pinto bean patty, house slaw, avocado, mayo, tomato & pickles.
Royale Brothers stacks up when it comes to Melbourne quirk with red phone and toys perched on shelves, cute menu boards, along with a chainsaw mounted on the ceiling (as you do!).
Two big milk bun burger sellers are the ROYALE WITH CHEESE feauting Beef, cheese, onion, lettuce, pickles, mustard, mayo & Royale sauce for$12, and BACON ROYALE featuring Beef, bacon, double cheese, tomato, onion, lettuce, pickles, mustard, mayo & Royale sauce for $14.
Or try the Spicy Royale or the Royale Double Deluxe, where if you meet the challenge you can find yourself on the "wall of awesomeness".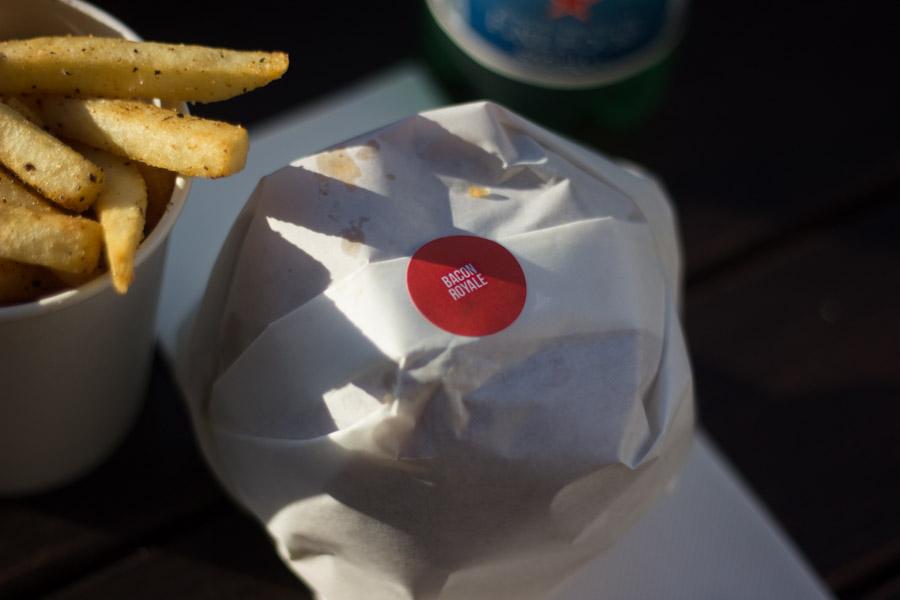 Burgers are delivered in neat packaging, and you can choose to perch yourself along the roadside seating and "dine in".
Even the chips are to rave about, fresh and crispy, with a choice of simply salted or Royale spiced seasoning.
My preference was for the Bacon Royale, a popular seller. Royale Brothers use a unique milk bun which is soft but less sweet than brioche. My first bite drew me into the world of Royale Brothers burger awesomeness, with the alluring softness of the bun, juicy thick meat patty, stunner pickles, fresh lettuce, generous melted cheese placed where it should be, delightful onions, and right amount of sauce (you can select from a range of Famous Royale spicy tomato sauce, aoli, onion gravy, jalapeno salsa, and Coney Island cocktail sauce).
Glistening buns and flavoursome combinations...
Who you gonna call? Royale Brothers, when it comes to burgers...
I want me on this wall of awesomeness...
Royale Brothers brings a sense of playfulness with its slushie range. It also pleases with its range of San Pellegrino drinks including a welcome 500ml sparkling mineral water on a hot day!
Royale Brothers cover all the bases; there's even a Kids Menu with small and regular choices.
The Royale Brothers is at the zenith of burgerdom in Melbourne with its generous but well balanced burgers, diversity and customisation. And affordability is to be celebrated, with most regualr options around $12 currently, not like some other burger joints who charge around $20 for a burger.