Bridge Road Richmond Daytrip Highlights
Bridge Road is welcoming many new cafes and bars; The World Loves Melbourne's Sam and Sid were invited along to check out some of Bridge Road's finest establishments. We spent a day imbibing the delights of Bridge Road, from cafes and restaurants to shopping, furniture, and ending it all with a sublime foot massage...
Minutes from the CBD, Bridge Road has become a centre for apartment living, seeing the make-up of the strip evolve from the fashion outlet era, to an emerging food hub. Many new cafes, restaurants and bars now call Bridge Road home; changing the landscape of the precinct to create a broadly untapped dining experience.
The legendary street is also home to many specialty furniture stores and showrooms making it a one-stop-shop for planning a home makeover.
Bridge Road is classified as a heritage area, dating back to 1937 which is just two years after European settlement in Victoria. The many cafes, clothing stores and furniture shops that now exist, retain many of their heritage features from the era where the strip was lined with hay and corn stores, grocery, tinsmiths and factories.
Romulus and Remus
648 Bridge Road Richmond
Romulus and Remus have quickly become a standout Italian cuisine destination on Bridge Road with a semi industrial high end feel. Head chef Matt has developed ample Italian restaurant experience over the last 10 years. The name is familiar to Italians - Romulus and Remus are the twin brothers and central characters of Rome's foundation myth.
The concept at Romulus and Remus is traditional Italian cuisine with a twist. The passion is for honest food and authentic flavours, "not experimenting on a plate".
A feature is the three areas of dining; booths, the high bar stools and the olive boxes that bring the outdoors in... Romulus and Remus encourages families with kids, and welcomes babies for a family feel. The restaurant also has created a popular lunch culture, and 2 dinner sittings at 6pm and 8pm. A function room holds 12-14 diners.
Specialising in Italian and Mediterranean foods, Romulus and Remus is all about feasting with family and friends. The focus is local produce and the menu is seasonal – so all you need to do it dig in! Check out their monthly themed dinners with matched wine...
Bringing a sense of Italy indoors...
Tasting plates hit the mark...
We loved this Ricotta and spinach tortellini served on sweet potato, caramelised onion, almond beurre noisette...
Romulus and Remus is an impressive restaurant in terms of ambience, rustic cuisine and service.
Mazzitelli
144 Bridge Road Richmond
Don't think the Italian dining scene is just for the CBD. Designed and operated in the same vein as the famous laneway cafes of Rome and Venice, Mazzitelli brings all that is Italy to Bridge Road. Known for its coffee, wine and atmosphere, Mazzitelli is a must for anyone looking to escape to Europe without leaving Bridge Road.
Wax rendered walls aged with coffee, Venetian chandeliers, individually chosen art works and installations mixed with warm marble, dark polished floors and terrazzo acts as a stark juxtaposition to the'caffe de rigueur' found in Melbourne today.
The menu here is extensive - from a perfect slice of Proscuitto San Daniele to drizzling most dished with beautiful Olive Oil where we have done harvest at the farm…Mazzitelli's kitchen team believe there is ONE thing you can always taste in food…LOVE.
Little Mozzorella en carozza fried sandwiches, bambino happy egg + pancetta breakfast rolls – to a beautiful selection of antipasti and panino come lunchtime with our signature panino crammed with porchetta straight from our wood fired ovens….The espresso machine pumps all day and the wine list features only Italian varietals from both Australia & Italy.
Check out the Gnocchi that we imbibed, as perfectly cooked pasta with a quality sauce. Choices abound for breakfast, lunch and dinner. Dinner features larger plates such as Rangers Valley prime beef rump, crispy potato, rocket, parmesan + salsa verde , or Daily changing fish of the day. Or check out Lamb neck fillet cooked for 12 hours w/ smoked eggplant + green beans , or Pork Scaloppini w/ Marsala, shallot, peas + Romaine lettuce.
Also highly popular is the Toasted banana bread w/ maple mascarpone, fresh banana, berry compote and crushed pistachio. This is a classic that we are already planning to return for...
By now our Bridge Road Daytrip had become somewhat indulgent...
Alannah Hill Outlet
90A Bridge Road Richmond
We checked out the iconic Alannah Hill Outlet store and were impressed by the bargains available - generous discounts on premium stock. Along Bridge Road there are several factory outlet clearance centres, but we felt Alannah Hill is a standout with its discounts. Here you can find unique handmade pieces, along with shoes and jewellery.
Richmond Hill Café and Larder
48-50 Bridge Road Richmond
We have been a big fan of Richmond Hill Cafe and Larder for years - it's an iconic Melbourne experience. All your cheese needs will be met in one stop at this fromage lovers heaven. Sourcing from small dairies in both Australia and overseas the selection here is huge. The café next door also supports quality Australian produce and is housed in a restored 1860 building.
Richmond Hill Cafe and Larder has been a wonderful oasis over the years where we've enjoyed memorable brunches and meals.
We had already dined at 2 restaurants this day on Bridge Road, and were excited to experience the delights of the cheese room at Richmond Hill and Larder.
As a serious cheese room, Richmond Hill and Larder imports cheese and allows it to mature here...
Richmond Hill Cafe and Larder has about 350 members in its cheese club, and its cheese room is the largest retail maturation cheese establishment in the city.
We were encouraged to taste a selection of cheeses. Just like wine tasting, cheese tasting is an art in itself.
Richmond Hill and Larder imports about 90% of its cheese, with 10% local...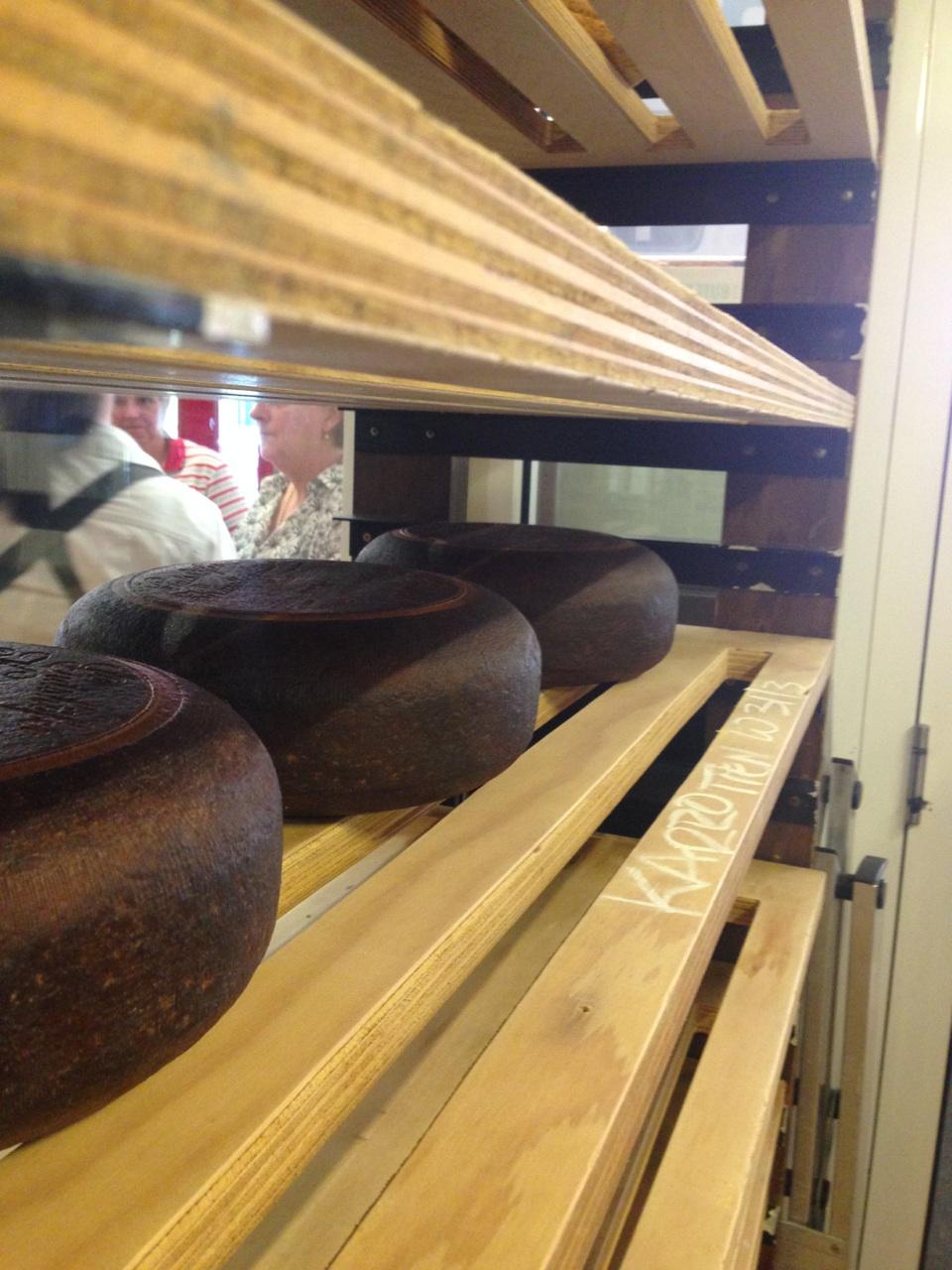 Endota Day Spa Richmond
166 Lennox Street Richmond
Our next stop was the delightful Endota Spa where we were treated to a foot massage each - the perfect end to a fabuloous day on Bridge Road. Staff are engaging and professional and our massage was soooooo good.
Richmond's best spa, beauty and massage therapies take place in a glorious five room spa on the corner of Bridge Rd and Lennox St, Richmond. Remedial massage in the hands of highly qualified therapists. Facials, spa packages and beauty therapy to sigh for.
Endota Spa have a current promotion of Girls Escape from $265 per person (min. 2 people)
boutique accommodation at Quest Studios East Melbourne

spa

treatments at

endota

spa

richmond

2-course lunch at mazzitelli, bridge road
contact Quest Studios East Melbourne on 03 9413 0000 to book.
Bridge Road's best kept interior and furniture stores:
- Living Edge – authentic and elegantly designed furniture. Living Edge suppliers authentic, elegantly designed furniture to Australian homes and offices with a special focus on the architectural and design community. The philosophy at Living Edge is to choose each product for its design excellence, authenticity and history. The essence of the store is furniture for life.
- Blueprints – furniture made from 100% recycled timber
- Georg Interiors – beautifully made cabinetry for kitchens, bedrooms and the whole house
Bridge Road's best kept secret outlets:
- Alannah Hill
- Country Road
- Pumpkin Patch
Also check out -
Bouzy Rouge
470 Bridge Road Richmond
Bouzy Rouge embodies everything that is sophistication. Plush leather adorning the chairs and the elegant table settings make for a high class dining experience. Offering a lunch, tapas and dinner menu, there is something for any time of the day.
The Bridge Hotel
642 Bridge Road Richmond
Not just a great spot to drink, but also a great spot to view some of Melbourne's finest urban street scape art, which is scattered throughout the eclectic surrounds.
The Collection Bar
328 Bridge Road Richmond
Offering Cajun cuisine with a huge selection of drinks, The Collection Bar specialise is cocktails with a huge list of both classic and contemporary cocktails. Their cocktail Master Classes are a fun and entertaining way to learn the basics in cocktail fusion.
Qualia Empire Cafe
58 Bridge Road Richmond
The fact that Qualia Empire Café roasts its coffee in house shows you how important quality coffee is to them. When this is combined with a small but mighty selection of menu options Qualia Empire raises itself to the top shelf of cafés.
Laikon Deli
324 Bridge Road, Richmond
With 30-plus years of history, Laikon Deli has been a part of Bridge Road since the area was home to many Greek immigrants in the 70's. A huge range of cold cuts, cheeses, dips, pantry stapes and ready-to-go meals covers every inch of this Richmond institution.
We had an amazing day on Bridge Road! Bridge Road Richmond has an iconic history and right now it's a great to place to visit for shopping but also for great restaurants and cafes, plus much more... Get on it!