Taxi Kitchen Impresses After Transformation
Taxi Kitchen has undergone an impressive transformation from formal Taxi Dining Room to more casual Taxi Kitchen. The World Loves Melbourne considers Taxi Kitchen to be a standout foodie experience in Melbourne. There was nothing wrong with the previous Taxi Dining Room experience; it's been top notch forever. But the move to a more casual and chic reinvention is a masterstroke. Out goes the carpet and candles, and in comes ultra modern lighting, cool flooring, and a more spacious restaurant. Even the wait staff outfits are super chic.
The changes only enhance the already fabulous experience; is there a more iconic destination in the middle of the CBD high above Fed Square?
People come here for the stunning world class views, and understandably so. But Taxi Kitchen is embued with many highlights; the food is sophisticated and shows great technique, the service is impeccable, and the ambience tops off the experience. The World Loves Melbourne was invited to Taxi Kitchen to experience the changes...
Collingwood-based studio Eades & Bergman has delivered on the makeover. The stately carpet has gone, couches are essentially the same but re-upholstered, tables and chairs are new, no more chandeliers, and the greens and blues have disappeared for more chic colour hues (notably yellow).
Then there's Aaron the Sommelier, who is the best I've seen. His articulation and knowledge, having worked in some prestigious posts in the wine industry, is a formidable asset to Taxi Kitchen.
We were served up cocktails upon arrival, with my penchant for whiskey alluring me towards the EARLY TO RYES a delight featuring Rittenhouse Rye Whiskey, Earl Grey infused Sweet Vermouth, Peychaud's Grapefruit Bitters.
Sam fancied the DEEP BLUE SEA featuring Tanqueray Gin, Lillet Blanc, Crème de Violet, Orange Bitters. Coecktails hit the mark, a satisfying opening to the evening...
With Tony Twitchett at the helm in the kitchen we elected to go for the 6 course option. The first dish in our 6 course dinner (courses depend on chef's favourites at the time) looked extremely delicate when it hit the table.
"The style of food is generous, simple, rustic and playful in its approach with a big emphasis on sharing. It's lost the pretence, yet still produced, prepared and served with the highest standards"

Tony Twitchett – Executive Chef
Scorched oyster, salt & vinegar pork crackle showed great technique for a starter. We imbued the concept and enjoyed the taste of th eoyster against the salt and vinegar crackle - a great combination. To be honest I felt like eating a few of these, even a half dozen, but understood there were 5 courses to go in our culinary oddysey.
Sommelier Aaron pictured here looking a tad hipster if not Shakesperian. We enjoyed his knowledge, humour and wine matching ability...
A highlight was Sake washed tuna with a soy bean pesto & kohlrabi remoulade. Apart from looking like something from NGV next door, the sake soaked tuna was a pleasure in itself. The pesto was subtle but brought a welcome creaminess to the equation. And the remoulade was a zesty contrast to the tuna. The balance and combination of flavours was wonderful.
When we weren't gazing into each other's eyes, Sam and I noticed the attractive modern new signage displayed in Fed Square...
Spicy salt & pepper quail with apple soy dipping sauce was another highlight. Normally I find quail passe. Probably because it was a dish that frequented our staff dining room at the bank, and when you adjourn for lunch in the banking world you don't want to be fiddling with quail bones... This quail dish was different - the spices of the dish were compelling and infused into the meat. I savoured every morsel.
The soy dipping sauce was generous - probably needed a fraction of that - but the combination with the zesty lemon worked.
So far we were impressed but needed something more substantial. Then along came a dish that has appeared on the previous Taxi menu, and is a signature, the Snapper on a bed of yellow curry. It happened to be a special on the night but I think they should keep it as a mainstay as it was the highlight of our meal. This dish also looked like something that belonged next door in NGV - so artistic.
The snapper was cooked perfectly with golden crispy exterior and tender inside, with an infusion of yellow curry from below, rich in coconut flavours.
Sam and I loved this dish and at that point I was glad we elected for the 6 course chef driven option - or else I would have just ordered a Rib Eye and never experienced such wonderful flavours of the snapper.
Aaaron appeared again to guide us through with matching Italian wine for the immenent Wagyu.
Chargrilled wagyu flat steak with parsley, garlic & lemon. I can't remember what grade this Wagyu was, but it was a high one. Yes, I got my steak after all. Simply presented the meat was cooked to perfection. I thought they maybe do a bit more with this, but the meat was melt in your mouth pleasure.
All the while Taxi Kitchen was vibrant and noisy, with even some of the Friday night footy crowd visiting for an early sitting before watching Hawthorn demolish the hapless Freo Dockers.
Aaaron appeared again with Italian dessert wine...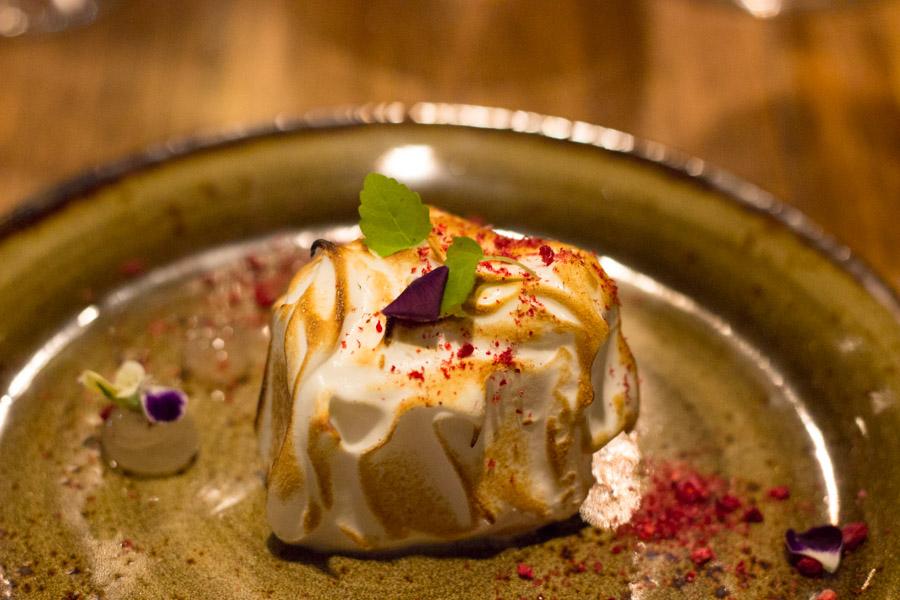 Lemon meringue pie – frozen like Nan's has been a popular pic for me on Instagram. We enjoyed the lemon flavours and the frozen exterior... Well presented yet again.
And coffee to round things off...
Taxi Kitchen impressed with its 6 course chef driven option. Apart from thinking the Wagyu needed something more and wanting more of the scorched oysters, this was a triumph. A highlight for us was the wine matching - Aaron has a special talent.
Highly recommended.