ShanDong Mama - Dumpling Sensation on the Rise
ShanDong Mama has taken all before it in terms of Melbourne's best dumplings and is a value for money champion. They've won awards and expanded with a new outlet in Centre Place. Having been to Shandong Mama since their humble opening we've been tracking them since - and the quality continues to resonate.Check out our Best Cheap Eats in Melbourne.
Let's be clear. The Fish Mackerel Boiled Dumplings are world class. Mama is passionate about quality of ingredients; she visits the fish market early in the day to pick out the best mackerel for the dumplings. As mackerel is expensive it's felt these dumplings are a labour of love; surely the cost of the ingredients outweighs the price they charge to the customer. Fish Mackerel fillet mixed by hand with coriander, ginger and chives into a mousse-textured filling, wrapped in home made very thin dumpling skin are considered by The World Loves Melbourne as the best in this city. It is a traditional recipe from coastal city of Yan Tai in Shandong province.We enjoyed the dumplings both boiled and pan fried; both are amazing but boiled wins.
The story of Mama Wang coming from the ShanDong Province of China to bring her expertise to Melbourne is compelling. With family alongside her, Mama is unstoppable. She has strict quality standards and picks the ingredients from the markets herself for her dishes. When you think you know the dumpling scene well, you get a revelation at ShanDong Mama at how good it can be. This restaurant serves up dumplings not found anywhere else in Melbourne. And the dumpling range is extensive.
We visited ShanDong Mama on a Sunday afternoon and the place was pumping. Naturally we ordered noodles but we have enjoyed many other dishes on previous visits. Dumpling kids they are, but not just dumplings. Something as simple as Beef Noodles (above) is the most sublime dish with home cooked noodles and quality meat cuts (Mama doesn't compromise), as well as generous crispy vegetables and moorish sauce. Portions are generous too.
How about a rustic noodle signature dish called DARYL (great name) with chicken and vegetables featuring mushrooms in this thick broth? Fresh quality ingredients and steaming goodness. So rewarding.
ShanDong Mama is located in Mid City Arcade on Bourke St, a humble abode. Every time I visit there's always a good crowd, and often there's a line up out the door. Heads bowed over plates and bowls and everybody happily eating, interspersed with conversation. Always a convivial buzz here.
This spicy dish is a hit - Noodles with Prawn, Pork, Shredded Cucumber & Coriander in Bean Paste. We were impressed with the presentation, served as separate components.
Plenty of action as we shared most of the dishes. All were well received.
Pan fried chicken and prawn dumplings with ginger and black fungus are my favourite dumplings here. Such an interesting combination of flavours. And the quality of the dumplings here is still just as great as when they began. Note the style of dumpling is long and elongated rather than plump round.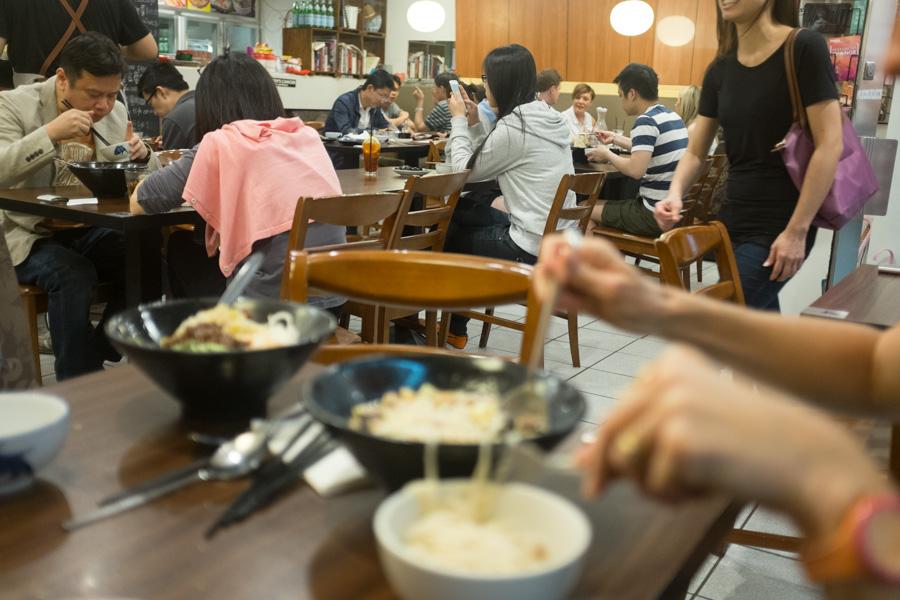 And of course we indulged in the famous Pan fried pork dumplings with dill, shrimp, ginger and spring onion. The dumplings here are considered by The World Loves Melbourne as the best in this city for the excellence of the skin, the right amount of crispiness, and importantly the quality of the filling. We also recommend the Melbourne dumplings.
Not to mention Treasure tea with its mysterious ingredients...
ShanDong Mama continues to enthrall with its delicious Chinese cuisine. Our conclusion is that ShanDong Mama has not diminished in quality but is going from strength to strength. The recent advent of ShanDong Mama Mini in Centre Place with an emphasis on dumplings and craft beer is sensational for city workers. Highly recommended.