Choose Your Taste: Naked Burger Bares Its Burger Savvy
Naked Burger is a revelation on Blackburn Road and extremely popular with the locals. This is a well thought out and stylish burger joint that caters for all tastes, with options to create your own burger either naked (no bun), wrapped or bunned. Then choose your taste from the compelling list of Original Sin, A-Over-T, The Niko (Feta and Tzatziki), Hot Legs (with roasted capsicum and harissa), and Blue Pig (with bacon, mushroom and blue cheese). Finally choose from wagyu beef, chicken or vegan options to go with your burger taste.
The World Loves Melbourne is impressed by the range of choice and the ability to curate burgers to your specific tastes. We rate this burger joint up there with the best in Melbourne. Locals don't need to drive in to the city for a quality burger, support your local!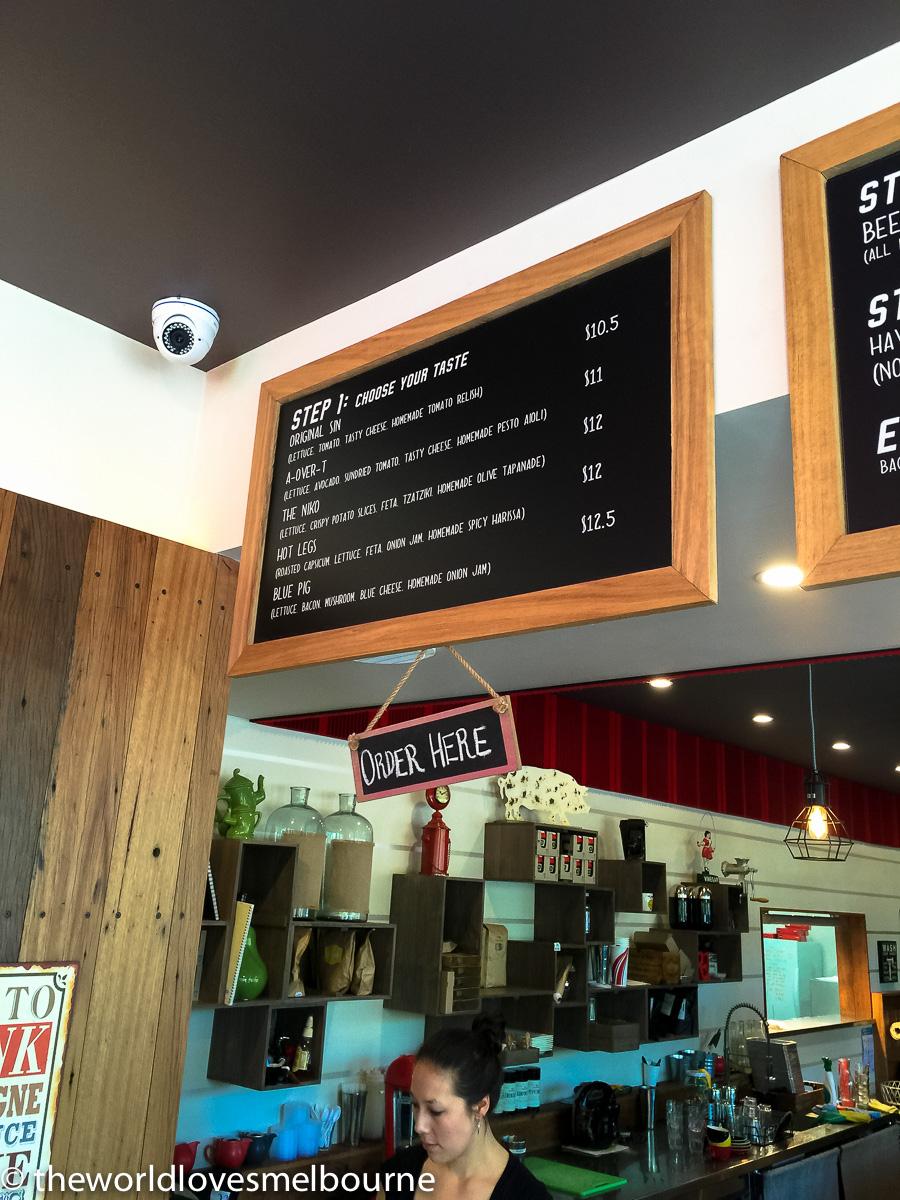 Naked Burger boasts a smart modern burger house with large windows, sleek counters, high benches with stolls, a section with tables, and humorous signage and art work. Good Times, Come Naked! We found this place to be family friendly and have now visited a few times with the kids putting Naked Burger high on their list of favourites. We've found kids like to customise burgers as much as adults.
Check out this tower of burger bliss above. Naked Burger delivers when it comes to the popular Original Sin burger with lettuce, tomato, tasty cheese, and homemade tomato relish. The patties are house made and feature wagyu beef. The World Loves Melbourne went large and ordered two patties and was impressed by the juicy quality wagyu beef patties.
The serving of bacon (extra) was generous and cooked to perfection. Salad items were fresh and crisp. And the sauce was spot on. Important to us is a burger bun, and we enjoyed this bun from Naked Burger as fresh and right proportion to the rest of the burger.
On another occasion we enjoyed the Blue Pig burger with lettuce, bacon, mushroom, blue cheese, and homemade onion jam.
There's no shortcuts at Naked Burger. The burgers at Naked Burger feature fresh and local produce. The lamb for the burgers is from the leg straight off off the bone, and the vegan-friendly veggie patties are made with pumpkin, lentil, and chia seeds. The flavoursome sauces and relishes are housemade, along with their unique milkshake flavours (no artificial syrups here!) and fudgey brownies.
The ability to enjoy a beer with your burger is paramount to The World Loves Melbourne. And lo and behold Naked Burger stocks one of our favourites, local Hawthorn Pilsener.
Coffee is also well catered for here, with coffee from Four Rascals and a giant WEGA machine. Mork Chocolate, another one of our favourites is on the menu. For tea lovers Chamellia teas are on offer.
Naked Burger serves up these large milkshakes with compelling flavours.
The Original Sin with chicken option was the rewarding choice of my kids. The burgers here are affordable, enhancing the family friendly nature of Naked Burger.
Golden crunchy chips satisfied our craving.
The World Loves Melbourne likes a burger joint with quirk, and Naked Burger delivers. Service here has been excellent each time we have visited, with staff also helpful when you are choosing your burgers and your tastes from the menu.
Naked Burger is a standout burger house in the eastern suburbs and one of the best in Melbourne. Get on it.