Melbourne's Edible Gardens
Melbourne loves it's edible gardens with restaurants and cafes planting their own fabulous herbs and edibles to provide fresh tastes for customers. Edible gardens are also part of modern trend towards sustainability.
Here are some great examples of edible gardens in Melbourne...
1. Fed Square Pop Up Patch
2. Heide Garden in Templestowe
3. CH James in Fairfield
4. Attica in Ripponlea
Fed Square Pop Up Patch
Fed Square's car park rooftop has been transformed into a vibrant veggie garden in a joint initiative with Little Veggie Patch Co.The Fed Square Pop Up Patch is made up of over 140 do-it-yourself veggie plots housed in individual recycled apple crates – the majority which are leased to the public. All the restaurants and cafes at Fed Square have their own plot, where they'll be growing fresh ingredients to use in their daily menus.
The World Loves Melbourne considers this space to be one of the hidden gems of the city. In all the hustle and bustle we often visit here, and have attended several functions with this inspiring set up as the backdrop. We have also been inspired to start our own veggie patch at home (a great family project).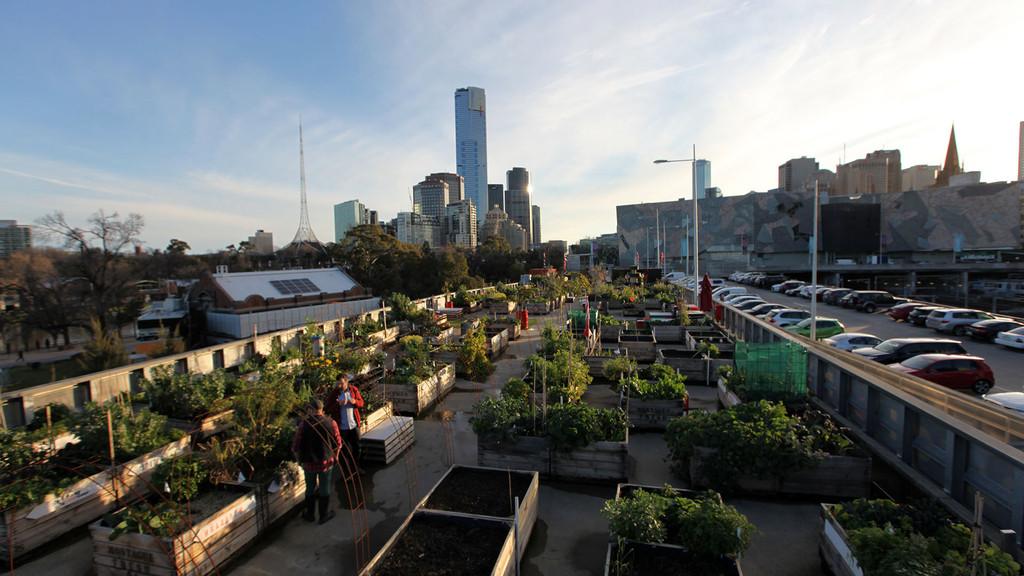 Says the website - "While the main focus is on growing food, PUP is a place to escape the hustle and bustle of the city life. We hold special member's events, food excursions, BBQ's and provide a space to unwind and relax in. During the warmer months it's movie nights and table tennis... when it cools down, we warm up with a hearty bowl of soup, prepared straight from our gardens! The space is also an education center, hosting a range of food, gardening and kids workshops that cater for all skill sets. These include Edible Gardening for Beginners, Scarecrow Making and Cunliffe & Waters Pickling workshops. Pop Up Patch is a place for community and learning, for people to gather, grow, share and celebrate the joy of food. Please come and visit; we'd love you to be part of it." Image credit (above) - Pop Up Patch website.
---
Heide Garden in Templestowe
Open to the public all year round, the beautiful gardens at Heide offer a space for family enjoyment and individual reflection and incorporate a sculpture park and several of the original gardens, which are now heritage listed. During a lavish and impressive lunch at Cafe Vue Heide we were given a tour of the fabulous Heide Kitchen Garden. We explored the different herbs in the garden and realised that there are so many more interesting herbs than just the standard ones you often see...
We were privileged to be given two huge zucchinis, with the recommendation that we cut them into shaved slices and combine them with lemon and Greek natural yoghurt to slightly cook them. We made this salad the same night and it was amazingly refreshing.
As part of the tour we were encouraged to feel the texture and sample the aromas of many herbs. It's days like today you love being a food blogger!
There's so much going on at Cafe Vue at Heide - from hampers to the stunning courtyard where you can also imbibe on Sundays.
---
CH James in Fairfield
Popular amongst locals is the CH James Edible Courtyard Garden. This garden is relaxing, almost therapeutic, complementing the attractive indoor space at CH James. Indoor and outdoor come together seamlessly. Come through the side entrance or walk through the indoor space which looks out to the garden...
Check out our courtyard, enjoy excellent food and drink, and take in the garden ambience. Attractive planter boxes set the scene. CH James employed the services of leading Melbourne garden service Leaf, Root & Fruit to set up and maintain our edible courtyard garden. Here they are setting up the planter boxes with beautiful plants and choice soil. Daniel is an expert on all things contemporary edible gardens!
The planter boxes are large, with an array of edibles suitable for our kitchen. CH James has also set up planter boxes along the side of the adjacent church, and the produce is thriving.
As summer has moved into full swing, CH James received their first tomatoes, chillies, lettuce and herbs...
These planter boxes produce a surprising amount of fresh produce!
The edible garden is well planned and visually attractive...
Leaf, Root and Fruit are true professionals. Says their website -
"Leaf, Root & Fruit are your local, edible garden specialists. We assist people to grow their own food. Based in Hawthorn East, we offer gardening services to support food production in front and backyards, veggie patches, balconies and courtyard gardens all over Melbourne.
Committed to reducing the impact of modern living on the environment, we actively promote a sustainable and organic approach to producing food. Having your own edible garden provides you with fruit, veggies and herbs that are tastier, healthier and better quality than what's on offer at your local supermarket. They will be fully sustainable, cheaper and more convenient.
We believe that everyone should have access to a productive gardening space. We can tailor the perfectly designed, raised veggie garden bed that allows you to garden comfortably whilst standing or sitting. We provide support to anyone with mobility issues to get back into the garden and rediscover their passion for gardening.
In keeping with our belief, that everyone should be able to grow their own food, we provide ongoing support through our blog and other social media platforms such as Facebook and Pinterest. We freely offer this information to everyone, so we can all make a difference. If you have a question about gardening, an idea, a discovery or just want to tell us about what's going on in your garden, then please get in touch with us through//www.leafrootfruit.com.au/about/This email address is being protected from spambots. You need JavaScript enabled to view it.">email or social media and share your experiences.
We practice sustainable, up-cycling of materials and organic gardening."
---
Attica in Ripponlea
Ben Shewry's Attica located in suburban Melbourne has been acclaimed as one of the best restaurants in the world. Attica is committed to sustainability and reflects Ben's upbringing on a coastal farm, where his family harvested their own organic produce. Ben Shewry cooks with native ingredients that he grows himself, including native leaves, as well as honey made by aphids. Attica has a modern ambience with a degustation that reflects highly technical small dishes that are delicate and flavoursome. A courtyard garden provides herbs for the dishes. Authenticity is demonstrated in native dishes such as Salted red kangaroo and bunya bunya where cured kangaroo is positioned on top of a bunya nut puree.
Ben Shewry often conducts tours of his Courtyard garden and the Ripponlea kitchen gardens of over 400 square metres. The Courtyard herb garden at Attica is impressive. Since 2011 Ben Shewry has been cultivating the herb garden with staff playing a key role. Staff compost scraps from the kitchen and improve the soil. Staff spends hours a day in the gardens for dinner service. Not only do they cultivate fresh produce from their gardens but Attica are also known for their foraging far and wide. Image Credit (above) - Tumblr Ripponleaestate