Ainsley Harriott and Melbourne Good Food and Wine Show
Ainsley Harriott is the consumate fun loving celebrity chef, and we were priviledged to be part of a VIP masterclass at the Alluvial Restaurant, InterContinental Melbourne as part of Melbourne Good Food and Wine Show. Yes it's on again - this long weekend of June 5-8 and is a compelling visit. The World Loves Melbourne attended the Melbourne Good Food and Wine Show last year and is amped to visit again. At The Melbourne Convention and Exhibition Centre the attraction is that is it actually a show with numerous displays and demonstrations and classes on offer! And this year noted TV Celebrity Chef Ainsley Harriott is a star attraction and face of the event.
The World Loves Melbourne was invited to this event at InterContinental Melbourne for an evening of cooking fun with canapes and dishes prepared live by Ainsley. This man is a charasmatic chef who can double as a comedian. And he is a top class chef! A best-selling author and television personality, Harriott has written 12 food books with global sales of more than two million, so he's the perfect fit for Australia's largest foodie event. Harriott will be present at the 4-day Melbourne event from 5-8 June where he'll join favourites Miguel Maestre and Alastair McLeod - both back for another year to set foodies on the right path to experiencing 2015's flavours, fragrances and fresh finds.
Ainsley had the crowd in stitches with his impromptu humour and style.
Ainsley is a master at engagement and mingled with us all, as he passed samples along the aisles during his demonstation.
This Smoked Mackerel with beetroot salad dish was refreshing and elegant.
Ainsley Harriott then prepared a stunning Spatchcock with sweet potato dish, rubbing a signature set of spices over the spatchcock.
Something Ainsley (and the InterContinental chefs) prepared a little earlier so we could all partake...
Melbourne Good Food and Wine Show managers were on board as well as sponsors such as major partner Citi with Linda Duncombe (who we see at many Melbourne events).
Event Director of the shows, Louise Osborne, says it is great to have such a high-profile chef and personality as part of the show. "Ainsley is immensely popular and we look forward to him coming to Australia to not only help us promote the shows via his debut at the Melbourne event but also to do some demonstrations in new and novel ways." Ms Osborne said this year's Good Food & Wine Show program has been designed to get people thinking about how and why they use certain ingredients, not just the things they stock their pantry with. "Showcasing the diversity of the food and wine culture in Australia - from family-run businesses to established artisan companies, our best local and interstate chefs and restaurateurs, and mouth-watering national and international street food, there's no doubt that anyone coming through the doors this year will be set for some fun. "What's more, we are excited to announce that this year's program will not only be about giving visitors onsite experiences as we'll be taking elements of the program to the streets of each state to ensure no one misses out!"
The Good Food & Wine Shows are scheduled for each state:
· Melbourne (5-8 June)
· Perth (10-12 July)
· Sydney (7-9 August)
· Brisbane (30 Oct-1 Nov)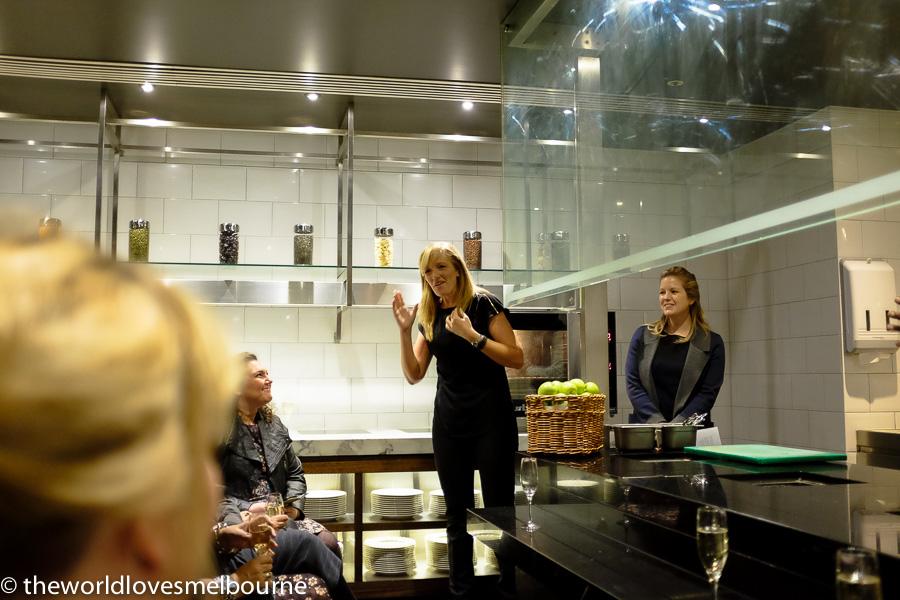 Media were quick to snap away at this beautiful food, although we seemed to be more captivated by the compelling personality of Ainsley Harriott.
Leading bloggers Ashley from I'm So Hungree and Lisa from Lisa Eats World get close ups of the Spatchcock dish...
In all it's glory with a hot sauce, trademark Ainsley...
Another highlight was this Saffron with caramelised banana and pistachios, showing again Ainsley's penchant for spices and his brilliant combinations.
Ainsley Harriott (pictured above with David from The World Loves Melbourne) presented one of the best and most entertaining masterclasses The World Loves Melbourne has ever been to! And there's more to be imbibed at this weekends' Melbourne Good Food and Wine Show!
Here is some information from the Melbourne Good Food and Wine Show website -
Your Good Food & Wine Adventure starts here, as we celebrate the best in food & wine Australia has to offer over the long weekend at the Melbourne Convention & Exhibition Centre. Plus join us on Monday 8th June to celebrate not only the Queen's birthday, but our 15th!
With hundreds of local and international exhibitors, your new favourite food and drinks are only a sample away. Whether you're into sweet or savoury, beer or wine, we've got you covered.
Be surrounded by iconic chefs and restaurateurs at the top of their game, you'll be inspired by them in the Good Food Theatre where the experts will show you how to make restaurant-quality dishes with ease at home.
Love wine? If you're a wine connoisseur or a beginner looking for the right information head to theCellar Door where you can take a class in wine appreciation and sample an array of wines from the show.
Find out what's going on in the beer and cider world at the Dan Murphy's Beer & Cider Hall, hosted by Australia's very own beer diva Kirrily Waldhorn.
And don't forget to stop by the Grazing Garden where you can relax with friends over a bite to eat from one of your favourite local food trucks.
What's the best part? All of this is included with your General Entry ticket.