Denis The Menace A Cheeky Addition to the Cafe scene
The Melbourne café scene is set for a shake-up, with new kid on the block Denis the Menace bringing a playful persona and cheeky charm, paired with serious hospitality to Cremorne. This is on trend for Melbourne cafe scene not just catering for serious hipster action but bringing a sense of fun.
In an ode to the mischievous character that takes after his own heart, owner operator Adam Wilkinson – one of the creators behind Prahran's St Edmond's - has launched Denis the Menace with a responsibility to sustainability, together with light-hearted fun and ever-important Melbourne good coffee and cuisine. Tucked away in a converted up-cycled warehouse on Chestnut Street, Cremorne, the venue has been made entirely of reconstructed materials collected over time by Wilkinson.
Sitting on some reconstructed apple crates among an internal forest made up of cumquat trees, diners will be able to see Denis' Barista Damon Glover donning a Wootten apron made from hemp and organic cotton and brewing Seven Seeds coffee for the masses. Diners can also treat themselves to an endless supply of sparkling filtered mineral water, for after the coffee hit. The licensed 100pax café has been designed by eco-architect, Simon Cookes from Duckbuild, who has created an environmentally friendly space with solar panels, recycled timber cladding and all the playful trimmings of one's youth. Staying to true his environmental message, Wilkinson sourced hundreds of old Carlton Draught bottles for water glasses and will serve crockery from Kilman in Bendigo and vintage 'Little Miss Sunshine' sugar bowls on all tables. While in the verdant courtyard, worm farm complete with 1200 worms are busy doing their bit for Mother Nature.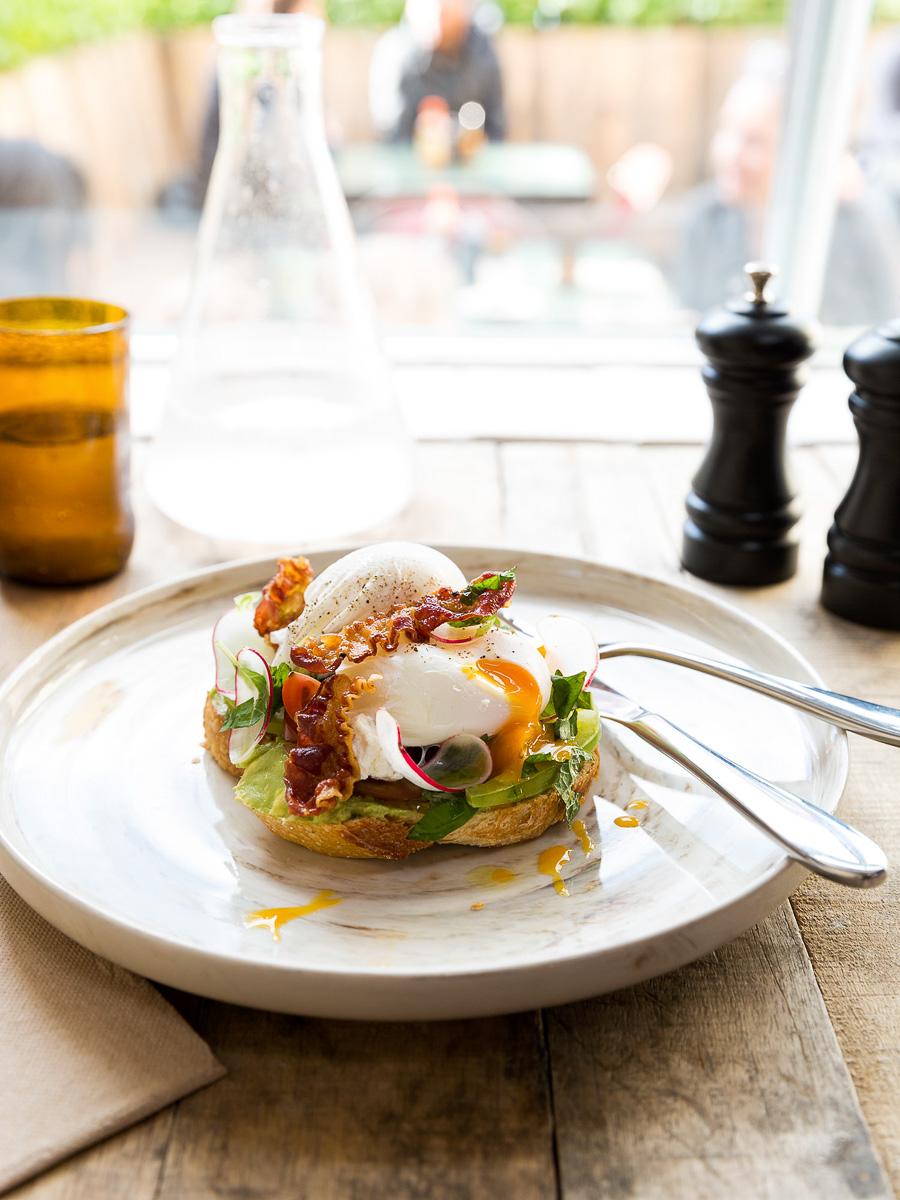 Chef Simon Neale can be viewed in the open kitchen preparing his cleverly crafted menu, overseen by Charlie Goldsmith. The menu, which embodies the playful sprit of Denis the Menace, opens with quick and easy options such as fancy toast, running late roti, or a super start. Secondly, options include an 'Avo, we've met before', a 'Watashi Wa Dennis', or a 'Big green food fight'. Not forgetting about meals for those with mini humans, you'll also find simple pleasures like the ham and cheese toastie. Thirdly, Denis the Menace offers lunch fillers such as 'A bowl full of yum', a 'Kind of like mums roast' or a 'Mr Wilson' sandwich, which will be sure to attract hoards of Cremorne corporates.
Denis the Menace will also be on wheels, offering catering to the local 3121 area on cargo bikes. "I spent a lot of time collecting all the materials for the space. It really goes to show that with time and patience, you can do more and better with less." "Denis the Menace is going to be a café that does its bit for the environment, comforts people and encourages fun, not taking life too seriously and serving as a haven for good food. We want our clientele to feel at home and leave feeling they had a fun and great hospitality experience," he said.
The café's opening hours are Monday to Friday 7.00am to 4.30pm and Saturday to Sunday 8.00am to 5.00pm. www.denisthemenacecafe.com.au