Best Healthy Eating Cafes in Melbourne
The World Loves Melbourne is loving the rise of healthier eating style cafes in Melbourne; cafes with imaginative and attractive menus who don't make you feel you're missing out on maple syrup highs or chunky bacon decadence. There's nothing like the feeling and energy of imbibing a Superfood bowl in starting your day. We have highlighted a few of our favourites here...
1. Little Sunflower Cafe - Elwood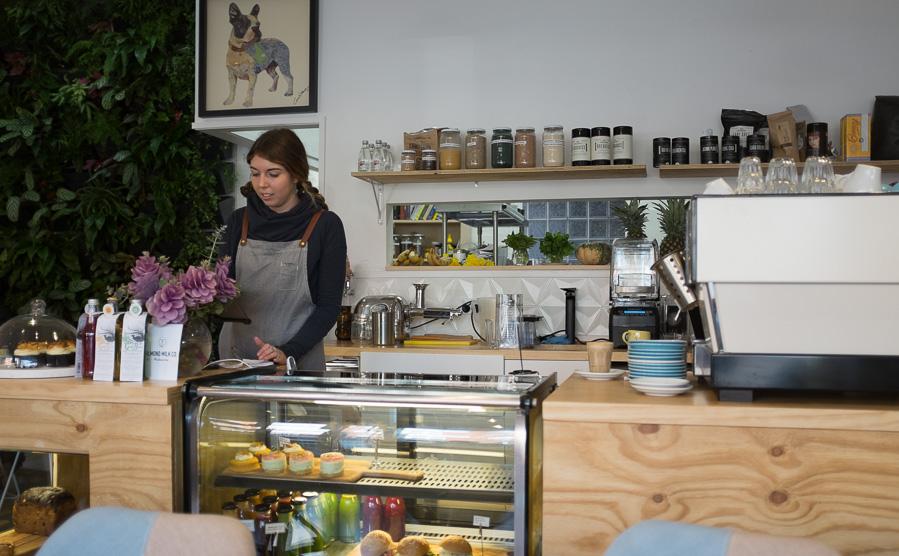 Little Sunflower has quickly gained a loyal following for healthier eating; with this sexy new cafe the result of months of planning and experience of its owners Grant Waters and Angie Robertson. Says Angie, "Our focus is on providing the whole food, naturally."
In a recent review by The Herald Sun they were described as "#fitspo without the fanfare" and "Your health kick need not be boring. Here's proof nutrient dense does not mean flavour devoid."
The menu is filled with highlights and the cafe well patronised with health professionals and those looking for the real deal when it comes to healthy menu options. The black rice pudding is warm, served with your choice of milk, topped with bee pollen, strawberries, banana, caramelised buckinis, toasted coconut flakes. It is gluten free, dairy free and a delicious way to start the day! The toasted granola has a superfood kick with goji berries and golden berries, nuts and seeds, topped with kefir - a fermented milk for a happy tummy! This is a granola dish with a superfood boost.
The toasted granola is popular but there's also a standout raw granola. Little Sunflower serves up raw granola which takes 3 days to make! Says Angie, "First we activate the buckwheat & sprout it. Its then mixed with other activated nuts and seeds & dehydrated. Sweetening the granola is carried out with medjool dates and fruit only. Soaking increases the nutrient value along with breaking down the problematic compounds that help enhance their digestibility. This dish is gluten free and dairy free."
Here's Grant Waters placing the granola in the Dehydrator...
Almost famous at Little Sunflower are the healthy pancakes. Customers are loving the Lemon, turmeric & quinoa pancakes, mascarpone, organic maple syrup. Not only does it taste great but is art on a plate.Lemon and turmeric pancakes are made with quinoa flour so they're gluten free. The pancakes also feature Pepe Saya mascarpone and organic maple syrup. Everything is well thought out and the little touches are in place. Turmeric is a powerful anti-inflammatory with anti-oxidant properties, while lemon supports the immune system and aids digestion. Not exactly guilt free but a bit of nutritional value for the pleasure.
The Breakfast salad packs a nutritional punch with greens of watercress & spinach, ancient grains of freekeh and puffed amaranth, chia seeds and nuts in the dukkah, free range chemical free bacon pieces and topped with a poached organic free range egg. Chia, banana, coconut pudding, brazil nuts, cacao nibs is a great example of how chia can be the hero in a dish but complemented with a range of compelling tastes and textures.
The Sweet potato roesti dish is vegetarian, dairy free & gluten free. Roasted field mushroom, raw kale, sweet potato roesti is cooked in coconut oil. Tomato kasoundi, a rich spicy, aromatic tomato relish is a delightful accompaniment. A healthy filling breakfast.
Breakfast is served all day! For lunch you can imbibe Nutrient packed bowls of delicious vibrant vegetables - raw and cooked, legumes, grains, seeds, shoots, with the option of adding a protein. Or maybe a hot Pumpkin & chickpea coconut curry, forbidden black rice, kale, natural yoghurt, seeds, chia poppadums. Or indeed choose a baguette or nutritious soup of the day served with sourdough.
There's also an Angel Press cold press juicer - one serious juicer. Cold press juice options include Green love- Kale, celery, pear, mint; Sunny life- Lemon, orange, beetroot, ginger; Brain power- Carrot, apple, pineapple, turmeric. The juices are super delicious and the colours alluring.
It's about attention to detail and the little touches. The house made Kimchi takes 10 days to produce. Little Sunflower have even installed a reverse osmosis plus alkalizer water filtration system for their drinking water - super impressive.
Why Little Sunflower the name? Says Angie, "Sunflowers are natures gift of radiant warmth, they are the happiest of flowers, they represent cheerfulness and their symbolic meanings include healing, vitality & longevity. They are unique in their ability to provide energy in the form of nourishment and vibrancy, an attribute, which mirrors the sun and its energy, provided by its heat and light." Get on it.
---
2. Admiral Cheng Ho - Abbotsford
Admiral Cheng Ho is a fabulous healthy style cafe in Abbotsford exuding character and raw appeal with its salvaged timber and recycled materials. This cafe embraces an impressive combination of specialty coffee and a seasonal wholefood menu using organic and fresh locally sourced produce where possible.
Come here for your Superfood bowl as we did, packed with goodness such as Organic Acai with banana, blueberries, strawberries, maca, mesquite, lucuma, hazelnut milk. This is served with house made mapled granola, brazil nuts, fresh seasonal fruit, coconut probiotic and raw white chocolate tuille. The dish looks enticing and apart from the goodness is a fabulous arrangement of tastes and textures.
Apart from the Admiral's Superfood Bowl you may want to try the African Baked Beans with North African style baked beans or Unmami Mushrooms with slow roasted king oyster, shitake, oyster and swiss brown mushrooms on house made pumpkin, spinach and sun dried tomato polenta bread. This is served with almond feta cheese, thyme and red chilli oil (goats feta optional). You have to say Admiral Cheng Ho really packs it in when it comes to bang for your buck. Each dish is loaded with goodness and a plethora of enticing elements.
For bread Admiral Cheng Ho uses Rustica, and you may want to try the Rustica fruit toast or the simply named Toast, with Rustica Bakery Gluten Free/Sourdough or Pumpkin and house made vegan organic coconut butter.
What is also sensational is that the coffee is top notch, and a single origin haven. Admiral Cheng Ho is the sister cafe of iconic Monk Bodhi Dharma from Marwin Shaw, whose reputation precedes it. Choose from a wide selection of espresso and filter coffees. Our Ethiopian latte was as good as a latte gets, with flavours of the coffee exploding in the mouth. To enjoy coffee of this standard we really should have ordered the filter, but it's hard to imagine a finer espresso.
---
3. Bossy Boots Cafe - Brighton
Bossy Boots Cafe in Brighton is known for several things including it's soups and salads, awesome breakfasts, lunches, catering, baked goods, coffee, Italian style dishes from Nonna Nellie, and first class service. While not focussing exclusively on healthier eating, Bossy Boots boasts a range of nutritious wholesome dishes that are popular with customers. More specifically the soups and salads are among the most nutritious and satisfying in Melbourne. Check out this Indian style lentil soup above, with its alluring colour and lentil goodness. Ben Forehan from Bossy Boots is passionate about not watering soups down. Some cafes and restaurants will add maybe 10 litres of water to a soup and dilute it down to get more bang for their buck. But at Bossy Boots the soups are thick and flavour packed.
Bossy boots also serves up a fine range of nourishing soups from Minestrone to Pumpkin, using fresh seasonal and quality ingredients.
Salads abound with a large range of healthy options in the display cabinet to eat in or take home. Bossy Boots sells large amounts of healthy soups and salads all through the year; winter and summer alike! Check out options such as the Moroccan, chicken, lentil, quinoa salad, the Tuna Nicoise Salad or the Chargrilled cauliflower, bacon and spinach. Or indeed imbibe the Vegetarian Noodle Salad with peanuts.
---
4. Little Big Sugar Salt - Abbotsford
Little Big Sugar Salt is a revelation in Abbotsford with its healthier style menu and charming building. It seems their menu has had an overhaul with a plethora of eye catching healthy dishes; with one of the owners telling us they've had a "life change". Nestled in a sea of Asian style eateries, Little Big Sugar Salt has a quirky name for a health inspired cafe.

The Breakfast for Juan features breakfast corn tortillas filled with healthy produce like sweet corn quinoa and black bean salsa, pickled green tomatoes, coriander and pomegranate and brocomole and a fried egg. Extra sauces are available if you think the dish needs more kick than what the brocomole provides. The World Loves Melbourne was impressed by the fresh zesty healthy nature of the dish with creaminess and crunch; a nod to textures as well as Mexican style flavours. For the meat eaters you can get pulled pork added for a small fee, but we think these breakfast tortillas stand up on their own. Also try the popular Acai granola dish and the Bowl of Health as you move into even healthier eating territory.
Coffee here is excellent and staff affable and hospitable. The cafe features chic rooms running off a passage; grab yourself a spot at one of the timber tables. The menu is actually a print publication with quirky news and useful recipes; a highlight in itself!
---
5. Serotonin Eatery - Burnley
Serotonin is another healthy style eatery on the lips of the health conscious in Melbourne, the brainchild of Emily Hazell. Read the literature on seratonin and the release of this brain chemical for wellbeing and you will have a great background to understand where Serotonin Eatery is coming from. The catch cry is "The science of making you happy!" The science may be inconclusive right now but The World Loves Melbourne is impressed by the menu offerings such as the Nutrition Bomb, featuring poached egg, broccoli, hummus, sprouts, nuts, sauerkraut, and pickles. A great start to the day.
Also check out the Fruit filled vegan porridge or the Home made vegan lasagne. The point is that all the options on the menu are healthier options - you don't have to choose the one or two healthier options like most cafes.
The approach at Serotonin Eatery is holistic with education and exercise offered as well as the eatery. The cafe philosophy is described on the website,
"The Serotonin Eatery is a plant-based cafe providing foods that regulate neurotransmitters and hormone activity within our bodies, keeping our mood and gut happy. At Serotonin Eatery we encourage mood regulation, allowing you to have more energy to enjoy the activities you love.
Our produce is sourced from quality farmers, is organic where possible and has no BAD-itives. Everything on our nutritious menu is created in-house by our talented chefs, with each dish featuring produce in its most natural state. By including all colours of the rainbow in each dish, we are helping Australians increase their daily intake of fruits and vegetables, which currently only 6% of us are meeting. Studies have shown that an increase in daily fruit and vegetable intake is positively correlated with happiness levels."
Images: Courtesy Serotonin Eatery Facebook.
---
6. Mastic - Kew
Mastic in Kew is another impressive healthier style cafe to grace the Melbourne cafe scene, reflecting something of George Colombaris' passion for healthier eating. Mastic is an extension of the ever popular Hellenic Republic, of which the World Loves Melbourne is a fan.
The menu offers healthy lunch boxes (we all need these), Mushrooms featuring poached eggs, avocado mousse, feta, carob croutons and many mushrooms, and Poached eggs and beetroot cured ocean trout, pictured below.
An example of a healthy lunch box is Chicken, feta and smashed avocado seeded roll, Fave, kale, radish, and spinach salad with our choice of coffee or juice. It may give the energy for that post lunchtime workload in the office. Also check out the breakfast with Superfood bowls and Chia pudding full of fresh and freeze dried mandarins. The smoothies are legendary (get your green smoothie groove!).
Images: Courtesy Mastic Facebook.
---
7. Pressed Juices - various
Pressed juices has been super popular on the Melbourne scene, with it's cold pressed juices filled with antioxidants and fresh goodness, as well as it's cleansing juice plans for wellbeing. We thought a low down of healthier eating should include Pressed Juices and its healthy juice range. The extent of the range is amazing - just on Green options there are 7 green juice products! The World Loves Melbourne was taken by the Chocolate almond mylk product recently, including filtered water, almonds, dates, cacao, sea salt. The taste was different to most chocolate products we encounter but we enjoyed it, and it was an excellent healthy option.
Says the website,
"Pressed Juices develops cold pressed juices, smoothies, organic elixirs and nut mylks that deliver essential vitamins and minerals to fuel active bodies.
Formulated by qualified Nutritionists, Pressed Juices are 100% natural and 100% made fresh every day. No additives or preservatives; just raw, natural produce straight from the farm to the bottle. We do not pasteurize, meaning we sustain the integrity of our juice and the valuable raw and living nutrients and enzymes available.
Our mission is to provide the highest quality, healthiest, safest, and most nutritious juices to our customers. We value being experts of health and nutrition, and pride ourselves in empowering others make healthier choices."