LuxBite - Chic Cafe in South Yarra
LuxBite in South Yarra is a superb place to meet people in a modern chic cafe. This is no grungy Melbourne cafe with hipsters but a sleek elegant classy offering that fits the South Yarra/Toorak scene.
The owners are experienced pastry chefs who love to try the latest techniques and bring amazing creativity and passion to their craft. They love the culinary scene in Melbourne and certainly bring much creativity and finesse to the table.
OMG! Straight to the Meringue Monster. This is a famous creation which features greentea sponge, pistachio, watermelon yoghurt, sour strawberry mousse and meringue. It is so delectable. Even filling. The meringue is treated slightly and delicately with a blow torch to get that colour and taste. The flavour combination and balance of this dessert is amazing. The crunch and flavours of the pistachio combine so well with the softer elements. The inclusion of watermelon along with the stawberry is genius. In fact the stawberry mousse is sour. That green tea sponge is also amazing. Together it is a cacophony of flavour. So much going on here and so brilliant.
LuxBite is also a great place to take friends and out of towners if you want to impress. The ambience is just so cool. Sleek and inviting. High ceilings and fashionable white wallpaper. Add to that exposed brick. The chairs are of dark timber and generous. Cool modern decor pieces and floral arrangements. Very chic and very modern.
Natural light streams in to Luxbite with large front window and skylights. But there is also great mood lighting aspects with hanging bulbs and spotlights.
Immediately you are drawn to the high class displays. The cakes are inviting. These cakes are top notch made with great technique and super fresh.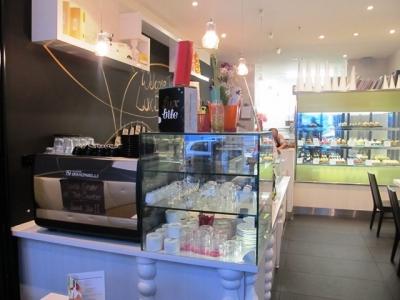 After enjoying the Merangue Monster I want to try more - the Caramel Craving or the LuxBite version of Ferrero Rocher. Or a sublime Eclair or Mile Chocolate Mousse. The options are endless and sophisticated.
Staff look smart and sharp here - again this is not grunge. Not even hipster.
All around are the Toorak crowd looking glamourous. Every visit to LuxBite feels like a sense of occasion.
Sit by the window and enjoy the ambience of Toorak Road. Or sit in the main dining area. Superb ambience.
The seats at the desk like table against the wall is also pretty cool.
Macaroons are incredible here. Of course you must try the salted caramel. Outside crisp but so chewy on the inside. The presentation is also first class with macaroons served on a red tray.
Cofee at LuxBite is also first class. My long mac came served on a chic looking black saucer.
What a great experience and air of sophistication. The prices here seem reasonable for such quality. Definitely a keeper.