Little Sunflower Cafe - Where The Health Professionals Go
Little Sunflower has taken the cafe scene by storm since opening on Ormond Road Elwood in late 2015. From day one Little Sunflower Cafe has attracted many health professionals. The World Loves Melbourne has been impressed by the authenticity of Little Sunflower Cafe; and the fact that it "goes the extra mile" when it comes to healthier eating. Check out our Best Healthy Eating Cafes.
The cafe has attracted many from Pilates groups, Wellness Centre, Ostiopaths, Natropaths and other professionals. Little Sunflower Cafe has been well received by the health and wellness industry.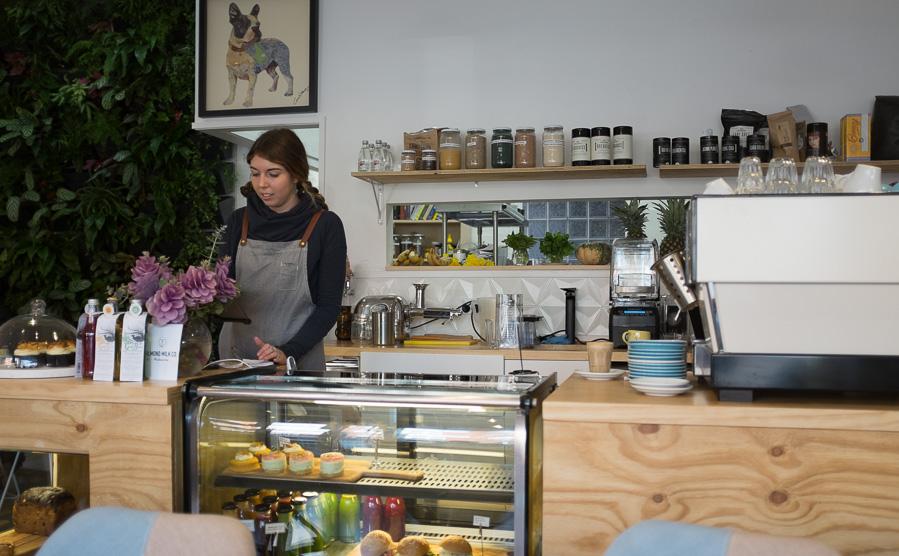 The philosophy is simple, "whole foods, naturally" but the execution has required much hard work. Grant and Angie have been working long hours since the cafe opened, not only preparing and serving the food, but many hours behind the scenes to make sure the finer details are implemented in terms of a high standard of healthy eating. For example, the granola has to be prepared in the Dehydrator for the raw granola (Dehydrator dries it out). As the cafe opens at 6am in the morning, food preparation is carried out before many of us are awake.
When it comes to healthier food in cafes, many cafes merely offer the one or two 'healthier" options. You have to search the menu and read over it again and again to get dishes that will suit.
Often cafe menus are restiricted to only a handful of heathier choices. For those with real health issues and strict diets, this can be a miserable if not daunting experience.
Or else customers are forced to "deconstruct" certain dishes to suit their dietary requirements. This can be awkward for both customers and cafe staff.
I'ts refreshing to see a cafe menu where virtually the whole menu is full of healthier menu options; not just one or two items. A more detailed description of the foodie philosophy at Little Sunflower cafe is "an Elwood cafe supporting artisan organic seasonal wild crafted handcrafted sustainable free range ethical nutrient dense produce". This means it's not lip service given to healthier eating but the real deal.
Little Sunflower Cafe is perfect for example for thos who have egg challenges in their diet; if you can't eat eggs then there's still a large range of healthy attractive dishes on the menu. Of course there are many Gluten Free options.
For those interested in healthier eating the menu options are captivating. The black rice pudding is warm, served with your choice of milk, topped with bee pollen, strawberries, banana, caramelised buckinis, toasted coconut flakes. It is gluten free, dairy free and a delicious way to start the day! The toasted granola has a superfood kick with goji berries and golden berries, nuts and seeds, topped with kefir - a fermented milk for a happy tummy!
The World Loves Melbourne has spent some time at the kitchen "pass", chatting with Grant and Angie and watching the meals go out to customers. As I spoke with Grant he went up the ladder to get down and insprect the fermenting containers of Kimchi. He then went across to the Dehydrator to check on a fresh batch of granola chards being in effect lightly toasted.
the little touches go a long way. Little Sunflower serves up raw granola which takes 3 days to make! Says Angie, "First we activate the buckwheat & sprout it. Its then mixed with other activated nuts and seeds & dehydrated. Sweetening the granola is carried out with medjool dates and fruit only. Soaking increases the nutrient value along with breaking down the problematic compounds that help enhance their digestibility. This dish is gluten free and dairy free."
A hit since the cafe opened has been the Lemon, turmeric & quinoa pancakes, mascarpone, organic maple syrup. This is a pretty dish and packed with flavour, without the guilt. Lemon and turmeric pancakes are made with quinoa flour so they're gluten free. The pancakes also feature Pepe Saya mascarpone and organic maple syrup. Yum!!Turmeric is a powerful anti-inflammatory with anti-oxidant properties, while lemon supports the immune system and aids digestion. Not totally guilt free but a bit of nutritional value for the pleasure.
Chia, banana, coconut pudding, brazil nuts, cacao nibs takes the benefits of chia with clever accompaniments around it, with crunch taste and texture. A well balanced breakfast dish.
The Breakfast salad packs a nutritional punch with greens of watercress & spinach, ancient grains of freekeh and puffed amaranth, chia seeds and nuts in the dukkah, free range chemical free bacon pieces and topped with a poached organic free range egg.
Another hit since opening, the Sweet potato roesti dish is vegetarian, dairy free & gluten free. Roasted field mushroom, raw kale, sweet potato roesti is cooked in coconut oil. Tomato kasoundi, a rich spicy, aromatic tomato relish is a delightful accompaniment. A healthy filling breakfast. The World Loves Melbourne highly rates this dish.


Quality of bread is a big deal and toast is organic sourdough from Dench Bakery. House made conserves are strawberry, rhubarb & vanilla jam; as well as Orange, lemon & ginger marmalade. Nut butter is made with almonds, Brazil nuts and cashews. Toast is also served with Pepe Saya cultured grass fed butter. The World Loves Melbourne rates toast and house made conserves as a superb breakfast dish.
Breakfast is served all day! The World Loves Melbourne is grateful. For lunch you can imbibe Nutrient packed bowls of delicious vibrant vegetables - raw and cooked, legumes, grains, seeds, shoots, with the option of adding a protein. Once again, we have tasted this dish and are impressed, our recommendation is to add the Milawa free range chicken for a protein hit. Or maybe a hot Pumpkin & chickpea coconut curry, forbidden black rice, kale, natural yoghurt, seeds, chia poppadums. Or indeed choose a baguette or nutritious soup of the day served with sourdough. The healthy options abound.
The passion for healthier eating is real, with a Dehydrator (like a low oven) being used to process their raw foods. There's also an Angel Press cold press juicer - one serious juicer. Cold press juice options include Green love- Kale, celery, pear, mint; Sunny life- Lemon, orange, beetroot, ginger; Brain power- Carrot, apple, pineapple, turmeric. The World Loves Melbourne experienced an energy surge after drinking the "Sunny life" cold pressed juice bottle.
It's about attention to detail and the little touches. The house made Kimchi takes 10 days to produce. Little Sunflower have even installed a reverse osmosis plus alkalizer water filtration system for their drinking water - super impressive.
Health professionals have been impressed; a great indicator of the authenticity and hard work of this cafe. Get on it!