Best Melbourne Breakfasts
Here are some of our Melbourne breakfast/brunch favourites -
Darling Street Espresso
Archie's All Day
Operator 25
Seven Seeds
Altair Restaurant
Stagger Lee's
Little Sunflower Cafe
One Plus Piece Cafe
Crabapple Kitchen
Top Paddock
CH James
Cumulus Inc.
Hardware Societe
St Ali
Small Victories
Three Bags Full
Hammer and Tong
Manchester Press
Common Galaxia
Darling St Espresso
Darling St Espresso is a darling cafe in Moonee Ponds with a certain level of sophistication. Gone are the days of basic cafe offerings in this city; menus now read like each dish is a well thought out work of art and taste cacophony. A modern fit out and large courtyard inspires. Food is fresh and seasonal and the menu has imagination. Bring on the tube and the Miso cured salmon, okonomiyaki pancake, tempura poached egg, ponzo dressing. This is a dream on a plate. The fritters (image Darling St Espresso Insta) are some of the best in Melbourne. A great example of a modern Melbourne cafe and the rising standard of cafes in the burbs.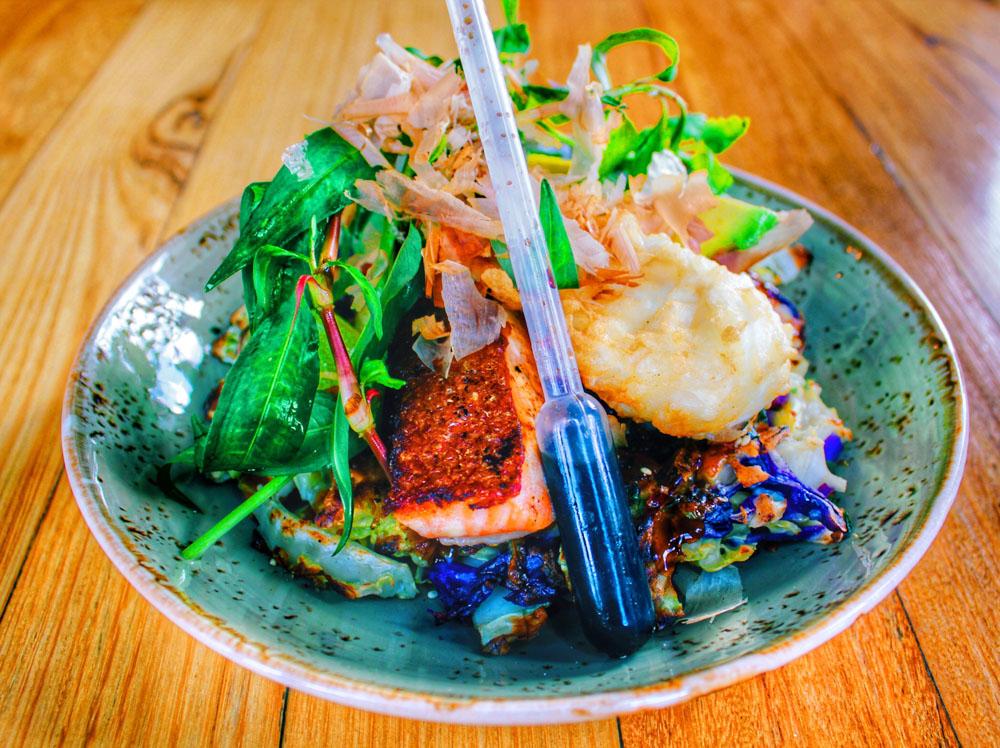 ---
Archie's All Day - Fitzroy
Archie's All day is a compelling all day open until late cafe with a relaxed fresh vibe, where a DJ will serve up tunes as well as your food and coffee. "Refreshing" would be an appropriate word for Archie's All Day, as a meeting place and hub for a catch up, where you can escape the stress of city life. So many dishes to recommend but we can never go past the Juicy Lucy which features wagyu burger stuffed with jalapeno spiked Monterrey Jack cheese, mustard, ketchup, pickles, iceberg, burger bun and add some bacon. A side of fries is a must. Healthy options are also available from the excellent menu. It's a cafe that caters for all and sundry and the kind of cafe that draws you in and you want to return to.
---
Operator 25 - CBD
Operator 25 is a revelation cafe set in a former telephone exchange located in the legal district in the Melbourne CBD. The place is pumping with interesting dining spaces full of patrons, featuring an intergenerational crowd. The World Loves Melbourne decided to visit this cafe in a heritage building having heard rave reviews. We were not disappointed.
Operator 25 has made an effort with its fit out with exposed brick walls, quality furniture, funky blackboard and top class artwork throughout... The World Loves Melbourne enjoys a cafe with a decent drinks list, including a local favourite pale ale... In summer heat they delivered with their own spiritzer - Operator's Spritzer - cold drip coffee, maple syrup, lemon, poached pear, mint, tonic water and sweet micro herbs.
Hello Operator! The young crowd imbibed the delights of Operator 25 on stolls and high tables...
The menu was compelling from ex Bacash chef Valerie Fong, with extra class in options that are not the usual Melbourne brunch fare. On recommendation we chose what proved to be one of the dishes of the year - Sweet corn fritters, fried duck egg, tomato salad, goats curd, and herb oil. Spectacular presentation and spectacular taste. Ticking all the boxes, this dish provided generous portion of fritters and the fritters themselves were fresh and moist and full of flavour. Complementing was the oozy duck egg - together with the fritters so rewarding! The salad wasn't a token but fresh and crisp. A welcome addition to the equation is the goats curd, creamy and delectable. The balance of this dish is superb and a cacophony of culinary delight! Kudos to Head Chef Felipe Guedes.
Yes we are raving but this dish was a highlight in terms of brunch for the year. The menu also offers compelling dishes such as Breakfast Tortilla filled with Scrambled Egg Mixed Mushrooms, Aged Cheddar and Green Harissa, or the House Benedict ‒ Potato Rosti, Grandmother Lamb Ham, Poached Eggs, Mustard and Tarragon Hollandaise.
For lunch try the Beer Battered Soft Shell Crab, Thai Style Salad, Toasted Peanuts, Tamarind Dressing and Sesame Rice Crackers or the Balinese Pulled Pork Burger ‒ Pulled Pork, Fried Egg, Cabbage and Carrot Slaw, Chilli Mayo, Coriander on Brioche Bun with Sweet Potato Wedges.
Says the website -
"Set in a heritage listed Melbourne building, with a modern rustic ambience, Operator25 cafe serves breakfast, lunch and everything in between, daily.
Conveniently located on the Melbourne CBD fringe within minutes of the leafy Flagstaff Gardens, there is something for everyone at Operator25.
We also cater for vegetarians, gluten-free, have a kid friendly menu, and serve specialty coffee using the finest beans from Melbourne's own Code Black Coffee Roasters."
Operator 25 is an exceptional cafe in the Melbourne CBD, with strong points across the board and prices affordable. Fun and finesse. Highly recommended.
---
Seven Seeds - Carlton
Seven Seeds is credited as being a highly influential coffee powerhouse that has shaped the coffee culture of Melbourne over many years. The World Loves Melbourne believes Seven Seeds is better than ever and continues to shine its love and significant influence on the cafe and coffee scene.
Seven Seeds is one of those Melbourne institutions we can take for granted. Walk along a nondescript street in Carlton that appears quiet and sleepy. Then stumble upon a packed house of uber coffee lovers at an unspectacular entrance almost devoid of signage (apart from a painted name on the wall).
Seven Seeds is a super passionate roastery and cafe. The lab here indicates the seriousness and passion for all things coffee. Seven Seeds never stands still but moves on ever evolving. The quality of coffee here shows no hint of dropping off, unlike some others that have diminished over the years. The coffee menu features Seven Seeds roasted coffee of course!
We visited Seven Seeds with friends from Canada (also a great coffee culture) to show them Melbourne's finest.
A converted warehouse, Seven Seeds features large amounts of exposed brick, tiles, concrete floor, mounted bikes, and the large windows allow plenty of natural light. They even led the way in cafe fit outs with many since copying the Seven Seeds look. With universities nearby Seven Seeds attracts its fair share of students. It's an eclectic mix here of the young and fashionable.
The menu at Seven Seeds has never been more exciting (and all day breakfast baby). The World Loves Melbourne believes the standard of food matches the peerless standard of coffee. Check out The Elvis french toast stuffed w/ banana caramel, whipped peanut butter and shards of candied bacon. Decadent and spot on. Have to love the candied bacon (tell yourself the acidity of the coffee cuts through all this dude food)...
Would you think of Seven Seeds in the hunt for Melbourne's best burgers? Well they should be. Several of us ordered the burger and all raved. Juicy with quality patty, right amount of salad, and curly fries to die for...
No to mention Eggs benedict on English muffins with prosciutto, hollandaise and rocket...
Then its down to serious pour over coffee. My first coffee was the entree. The Panama Pour Over (only $6) just explodes with flavour across your palate. Served with tasting notes like a fine wine. One of the best coffee experiences of my life - and there's been many thousand...
Staff were excellent and accomodated our group of 16 on a Saturday morning - we even secured a large table for the whole group. This place gets packed on a weekend and you can expect some sort of wait - but hey after all these years Seven Seeds is still super popular.
Seven Seeds has close ties with its growers and sources the best coffee. From the website -
"Seven Seeds takes its name from the precious cargo which Baba Budan smuggled out of Yemen and into India during the 17th century. By strapping seven seeds of fertile coffee to his waist, Brother Budan broke through the tightly regulated system which had, until then, kept coffee cultivation within the confines of the Arabic world. Because of Baba Budan and his determination to spread coffee around the world, we are now able to source beans from the Americas, Africa and Asia.
We are a micro roaster, cafe and retailer based in Melbourne. Coffee is our passion and we source, import, roast and sell what we believe is among the best coffees around the world. We aim to maintain close relationships with these producers and regularly travel to origin to work on securing exceptional coffee. Like all fruit, coffee is seasonal which means our coffee offerings are constantly changing throughout the year. We are careful to roast each new coffee to bring out the best and tastiest characteristics and are one of few roasteries to cup what we roast on a daily basis. Not only do we love roasting coffee, we love to serve it. Drop into one of our cafes for a chat and a brew. We also work very closely with the extended Seeds family and absolutely love what these guys do, teaming our coffee with their top quality food and service."
We note Seven Seeds has been inducted into the Herald Sun Coffee Hall of Fame. Shine on Seven Seeds, keep evolving and leading the way...
Altair Restaurant is a beacon in the eastern suburbs of Melbourne with its fine dining, charming location and clever use of indigenous ingredients. Nestled in the leafy suburb of Warrandyte, Altair serves up some of Melbourne's best breakfast dishes on weekends. A traditional breakfast is available but Altair bursts into innovation with dishes like the Black pudding (house made), white sausage, streaky bacon with Altair HP sauce on red wine rye bread. For any black pudding lover, this is a superb dish.
Or check out the House smoked salmon, soft boiled egg, fish roe 'Fairy Bread' brioche. Not every day you see fish roe fairy bread on a menu! The house smoked salmon is exceptional.
Add to this the popular Pickled Ox Tongue with pear and kohlrabi remoulade on toasted sourdough - up for best brerakfast dish in Melbourne. The pickled ox tongue is delicious, thinly sliced (even the kids love it), with kohlrabi being the vegetable of the moment. Brilliant. To be honest, many Melbourne breakfast joints echo each other in terms of menus. Not so at Altair. Here you will find unique sophisticated breakfast offerings that excite. Get on it - a short drive from the city into the eastern suburbs.
---
Little Sunflower - Elwood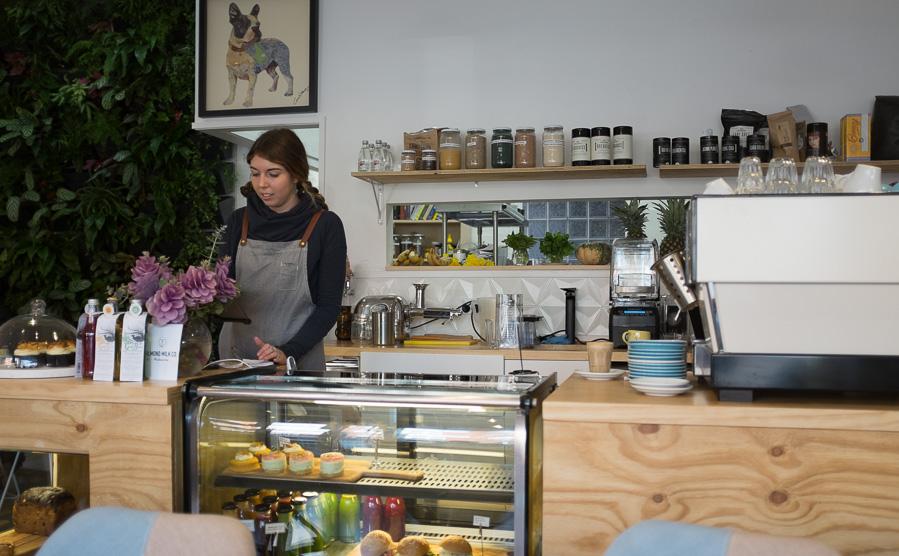 Healthy breakfast? Little Sunflower has quickly gained a loyal following for healthier eating; with this sexy new cafe the result of months of planning and experience of its owners Grant Waters and Angie Robertson. Says Angie, "Our focus is on providing the whole food, naturally."
In a recent review by The Herald Sun they were described as "#fitspo without the fanfare" and "Your health kick need not be boring. Here's proof nutrient dense does not mean flavour devoid."
The menu is filled with breakfast highlights; the black rice pudding is warm, served with your choice of milk, topped with bee pollen, strawberries, banana, caramelised buckinis, toasted coconut flakes. It is gluten free, dairy free and a delicious way to start the day! The toasted granola has a superfood kick with goji berries and golden berries, nuts and seeds, topped with kefir - a fermented milk for a happy tummy! This is a granola dish with a superfood boost.
The toasted granola is popular but there's also a standout raw granola. Little Sunflower serves up raw granola which takes 3 days to make! Says Angie, "First we activate the buckwheat & sprout it. Its then mixed with other activated nuts and seeds & dehydrated. Sweetening the granola is carried out with medjool dates and fruit only. Soaking increases the nutrient value along with breaking down the problematic compounds that help enhance their digestibility. This dish is gluten free and dairy free."
Here's Grant Waters placing the granola in the Dehydrator...
Almost famous at Little Sunflower are the healthy pancakes; another breakfast highlight. Customers are loving the Lemon, turmeric & quinoa pancakes, mascarpone, organic maple syrup. Not only does it taste great but is art on a plate.Lemon and turmeric pancakes are made with quinoa flour so they're gluten free. The pancakes also feature Pepe Saya mascarpone and organic maple syrup. Everything is well thought out and the little touches are in place. Turmeric is a powerful anti-inflammatory with anti-oxidant properties, while lemon supports the immune system and aids digestion. Not exactly guilt free but a bit of nutritional value for the pleasure.
The Breakfast salad packs a nutritional punch with greens of watercress & spinach, ancient grains of freekeh and puffed amaranth, chia seeds and nuts in the dukkah, free range chemical free bacon pieces and topped with a poached organic free range egg. Chia, banana, coconut pudding, brazil nuts, cacao nibs is a great example of how chia can be the hero in a dish but complemented with a range of compelling tastes and textures.
The Sweet potato roesti dish is vegetarian, dairy free & gluten free. Roasted field mushroom, raw kale, sweet potato roesti is cooked in coconut oil. Tomato kasoundi, a rich spicy, aromatic tomato relish is a delightful accompaniment. A healthy filling breakfast.
Chia? Check out this Chia breakfast to fuel your day!
Breakfast is served all day! For lunch you can imbibe Nutrient packed bowls of delicious vibrant vegetables - raw and cooked, legumes, grains, seeds, shoots, with the option of adding a protein. Or maybe a hot Pumpkin & chickpea coconut curry, forbidden black rice, kale, natural yoghurt, seeds, chia poppadums. Or indeed choose a baguette or nutritious soup of the day served with sourdough.
There's also an Angel Press cold press juicer - one serious juicer. Cold press juice options include Green love- Kale, celery, pear, mint; Sunny life- Lemon, orange, beetroot, ginger; Brain power- Carrot, apple, pineapple, turmeric. The juices are super delicious and the colours alluring.
---
One Plus Piece Cafe - Balwyn
Breakfast in the eastern suburbs? Balwyn? One Plus Piece has been gaining kudos in the east with locals imbibing stunning breakfast dishes in Balwyn with an all day menu. The World Loves Melbourne considers One Plus Piece to be one of the standout brunch destinations in Melbourne. Tired of same old same old? For those who may feel many Melbourne breakfasts are similar, One Plus Piece delivers on delicious and interesting breakfast/brunch options.
Talented chef Cain serves up some delicious spicy dishes in th emix. How about Chilli scrambled egg on brioche bun with avocado, bacon and herbs? Creamy egg with a hit of chilli is rewarding, along with quality bacon and fresh avocado. A lightly toasted brioche bun sets off the dish.
How about roti for breakfast with eggs? One of our favourite breakfast dishes in Melbourne right now is the Mr Franky; Two fried eggs, roti roll with tasty cheese and smoked ham, topped with smashed avocado, sour cream, drizzled with organic tomato relish served with tomato salsa. Perfectly cooked roti is a highlight, and the advent of the eggs combining with the cream and salsa, is epic. Not to mention the combination of cheese and ham. The perfect breakfast dish, that bloggers have been raving about.
One Plus Piece has become a popular cafe in Balwyn for its innovation and tasty dishes, fun Japanese anime theme, and known for its generous portions.
Cain is a talented chef who loves to innovate...
Pork for breakfast is also a trend in Melbourne. Check out the Kung Hei Fat Choy: cumin grilled pork belly, marinated feta, smashed avocado, poached eggs and herbs pictured below is for those who like pork for breakfast. If you're the World Loves Melbourne, you enjoy pork as part of a breakfast dish, fabulous with the combination of feta, smashed avo and poached eggs. And we like 2 pieces of toast (rather than just one) served with a breakfast dish.
Pulled Pork for breakfast? How about rather pulled beef? Sanji's egg benedict: 12-hour braised pulled beef, poached eggs, house made hollandaise sauce. Bloggers have been raving about this dish. Pulled beef? Often we find pulled pork in many Melbourne dishes but pulled beef is awesome with poached eggs - a twist on Eggs Benedict. So rewarding.
Coffee here is high quality 5 Senses with skilled baristas; the large number of "coffee regulars" is a testament to the coffee quality. Best coffee in the precinct.
One Plus Piece boasts several healthy style brunch options such as Green Monster (pictured below) with broccolini, kale, asparagus, poached egg, roasted almond and feta.
Also popular is the Ohara's ancient salad (pictured below): rice noodles in hoisin and soy sauce, asian slaw, cashew nuts, jalapenos, sesame dressing and a choice of chicken/beef/pork. Not to mention the delicious Atlantic salad of smoked salmon, spinach, pickled cucumber, cherry tomato, red onion, capers and feta.
Matcha tea is also on trend and with high antioxidants, is a great option.
Omelette? How about the tasty and filling gourmet Mushroom omelette from Amazon Lily with goats cheese, crispy shallots, hoisin mushroom, carrot, beansprout, roasted cashew nuts and chilli oil? Lashings of creamy goats cheese hit the spot, delightful with hoi sin mushrooms and the fresh crispy elements.
The great thing is that One Plus Piece offers an all day menu. So you can grab any of these dishes through the day, plus other dishes such as the amazing burgers! (See this article).
Two more burgers have now been added to the menu - the BFF with grilled pork, smoked ham, cheese, coleslaw, mayo and plum sauce - a delicious hit of pork belly in a burger along with ham and crispy salad makes for a substantial feed...
...as well as the K-pop with real kick in the kimchi, spicy chicken, mayo and cheese.
Craving a change from the usual breakfast and brunch suspects? Check out One Plus Piece Cafe in Balwyn where innovation and exciting flavours and texture combinations abound.
---
Stagger Lee's - Fitzroy
A major part of a cafe's attraction is its ambience, not just the quality of its food and coffee. But when you tick all the boxes of atmosphere, food and seriously great coffee you have a winner. Stagger Lees is everything a cafe wants to be. The World Loves Melbourne had the task of taking Canadian friends to a standout cafe in melbourne and Stagger Lees came up with the goods.
Some menus feature "must haves" and the menu at Stagger Lees has a compelling Mork chocolate milkshake for the discerning.
Stagger Lees is the brainchild of the folk at iconic Proud Mary in Collingwood. Many would know the song about the muderous dude who murders over a hat. In Brunswick St this may be a vintage hat or some cowboy boots. In any case the Americana theme at Proud Mary continues on at Stagger Lees.
He wore rat-drawn shoes and an old stetson hat
Had a '28 ford, had payments on that
- from Nic Cave version of the song Stagger Lee, very Brunswick...
The menu selections are all appealing here. My friends are health conscious but when Mike saw the Fat Bacon Toastie featuring Apple wood smoked bacon, gruyere fondue, fried egg served with winter greens and chutney, he was hooked. The toastie was served with eggs on top open style. This dish would impress Elvis.
Having eaten scores of burgers around Melbourne I found the Stack & Billy Burger to be one of the best around. A chart topper featuring Black Angus shin patty, bacon, American mustard, catsup, aioli, pickles and cheddar served with bacon croquettes and greens. The balance of flavours is perfect. The patty is magical. Brioche buns are a great texture and mild sweetness. Much thought has gone into this burger including killer aoli, quality pickles and cheddar. Please remind me to put this burger in my "Best burgers of Melbourne" section. Kudos to Head Chef Chris Hamburger (do I say the obvious?)...
The burger comes with amazing creamy croquettes that are almost a meal in themselves. When I said to the waitress, "Wow, I didn't realise these amazing croquettes come with the burger!" she said "Read the damn menu." But she said it in a playful kind of way that didn't offend. Banter in Brunswick...
So we ordered two of the Toasties...And we love the T-shirt behind the dish. Subtle branding.
Triology of dude food from Stagger Lees...
My Canadian friends Mike and Deb are familiar with Vancouver (the other most liveable city) and are taking mental notes re cafes in Melbourne. (Suitably) impressed.
The fit out at Stagger Lees is stunning with large windows looking out to the prime of Brunswick St, exposed brick rustic look, concrete floor, as well as savvy timberwork and retro chairs and modern cabinets (with tasty treats). Spot the hipster at Stagger Lees.
Stagger Lees also has a liquor license. If it wasn't for the Mork chocolate milkshake this would have been our preferred source of refreshment.
As for coffee this place offers only the best - check out the single origins on the board. Come here and you'll find Stagger Lees to be a keeper...
---
Crabapple Kitchen - Hawthorn
Crabapple Kitchen is a stunning cafe on Glenferrie Road Hawthorn that makes a huge impression with its interesting dining spaces, array of gourmet services, friendly engagement and charm.
Greg Feck is the luminary behind this establishment and brings to the table fine dining and a love for travel. Experience Crabapple Kitchen and experience the world. Their Friday Night Flights are something to behold, focussing on cuisines of the nations. The World Loves Melbourne visited one Saturday morning for our first brunch visit and are keen to return. Having imbibed literally hundreds of cafes in Melbourne we felt Crabapple Kitchen is a standout. There's a sense of playfulness and vibrancy here - a place of colour, flair and creativity. Upon entering Crabapple Kitchen the sound system was playing Madonna "Into the Groove" - so apt.
Get into the groove boy
You have to prove your love to me
I was getting into the groove at Crabapple Kitchen from the "get go" as its conviviality central. I want to bring my partner here, and indeed my mother in law... It's that kind of place.
I've always felt you can tell a foodie destination within seconds. Crabapple Kitchen displays nuances and finesse and a good deal of care in its menu. Walk in to a world of charm, where seating material reminds me of my childhood with blooms of floral against cream. The fitout brings the charm of yesteryear with a splash of modern, notably the exposed brick and naked bulbs (not totally naked with clear jars as coverings).
Crabapple Kitchen has some of the most engaging staff around. Some cafes struggle because staff are not certain or confident beyond a basic level of information. Ask them if they recommend a dish and staff at some cafes just reply, "Don't know, never tried that one." Here at Crabapple Kitchen that's certainly not the case with staff abreast of the menu and eager to make recommendations. Staff at Crabapple Kitchen are foodies (I know some people hate that word but not sure how else to put it). They know their stuff.
Enjoying my little elongated old school table (charm again) I ordered some of Crabapple Kitchen's fine coffee. My latte was impressive and had the required strength for a Saturday morning. Check out the caramel hue on the latte below...
Crabapple Kitchen has one of those menus you can choose from blindfolded throwing a dart. I could see I was going to spend 20 minutes in sweet indecision trying to choose, so I asked the waitress to help me with a recommendation. Having leaned towards the pancakes, I leaned back to embrace her recommendation of Sweet corn and chilli fritters w grilled Cyprian haloumi, avocado, tomato, cucumber, red onion and mint. Her expert advice was to order sides of a poached egg and a serving of chorizo. The wait staff told me the chorizo would set the dish off - and she wasn't wrong.
Crabapple Kitchen is such a revelation
Dining here is a sweet sensation
Such a pretty dish from a team that understands nuances. Hail the mint to give extra zest! My impression was of a refreshing hearty breakfast imbibing fritters with kick and a bevvy of indulgences including the haloumi and chorizo.
So pretty was this dish, I took this photo (above) to post on Instagram with filters.
Crabapple is pumping baby on a weekend. When I sent a shout out on Twitter several people messaged me about their love for the Friday Night Flight Nights where Crabapple Kitchen somehow manages to create amazing themed dining experiences of various countries and regions. On the Friday following my visit you could experience the best of Portugal.
What is different here to your ordinary plain vanilla cafe/restaurant is these guys have several top chefs and a crack team in the kitchen. Not just executive chef but sous chef for goodness sake. I'm keen to return for lunch and dinner, with my eye already on the Free range chicken schnitzel and Judy's pork chops.
Crabapple Kitchen floats my boat.
Going to get to know you in a special way
This doesn't happen to me everyday
---
Top Paddock - Richmond
Top Paddock is already one of Melbourne's standout cafes with its spacious modern fit out and extensive imaginative menu. Meeting here in a trendy part of Richmond with my salubrious brother (Melbourne businessman and food critic extraordinaire) we commented that "these people know what they're doing". And they surely do being of the stable of Three Bags Full, APTE and Two Birds One Stone - some of the best cafes in Melbourne. Chatting with one of the owners Nathan Toleman at the restaurant, the team have pulled their experience from the other cafes and have even progressed the cafe concept.
What I love is that the team have not reproduced their earlier successes but sought to give Top Paddock its own identity. In the early days of Three Bags Full it seemed there were similarities with the menu of stalwart APTE. Which is fine. But here at Top Paddock the menu options are distinctive and even exploring new ground. Kudos.
Top Paddock has a light and airy feel with plenty of space (and is accessible with nearby parking) and great use of timber paneling and modern fittings. Some serious coin has gone into the layout and to great effect. Top Paddock has a superb ambience for romantic escapades or catching up with friends. Check out the tiling along the wall, dark timber floor, semi industrial ceiling, cool world music (at the time) and the cute display cabinets with treats. The spacious outdoor area is also alluring on a fresh Melbourne morning.
This is not predictable cafe fare. This cafe is on fire with inventive dishes and sources his own ingredients. We were impressed with the Top Paddock menu options, most of which are available all day. Many brunch menus in Melbourne appeal to me with 2 or 3 standouts from the litany of choices - here at Top Paddock it was a case of 6 or 7 intriguing possibilities. If you feel like Muesli or Fruit Toast then go for it - there is always a group that are wanting simple options. Ricotta hotcakes with blueberries, maple, seeds and organic mascarpone beckon. Then there's the Pulled pork on rye with prunes, leaves and goats curd. Tempting.
A mega popular dish is the Blueberry & ricotta hotcake with berries, organic maple, seeds and double cream is a stunning brunch dish that belongs in the arts centre as a colourful masterpiece. It is the Rembrandt and Monet of brunch dishes. Wait staff tell us that one in three customers order this for brunch; and it's one of the most photographed dishes in Melbourne. The taste is as amazing as the appearance; perfect fluffy hotcake with indulgent organic maple syrup, with freshness of berries and crunch of seeds. All scooped up with a dollop of double cream. Don't tell your doctor.
Not to mention the Top Paddock breakfast with house made sausage, pickled onion, bacon, Adelaide green tomatoes, poached eggs and relish on toast. And the list goes on...
Yet we ordered the Gin and lime cured ocean trout with beetroot relish, potato galette, poached eggs, leaves, and goats curd with toast (as pictured below). This was a sensational dish visually, and the cured ocean trout was divine. The potato galette went superbly with the trout as did the acidity of the relish. Cracker.
The waiter recommended the White anchovies and jamon serrano with fried eggs, pedron peppers, and manchego on toast. I admit I expected a few key but tasty ingredients on a small choice slice of toast. I was delightfully wrong. Another generous portion of gourmet delights with visual appeal. Garnish heaven. The white anchovies brought a hit of salty seafood but not overpowering as they seemed to be cured. The fried eggs were cooked to perfection and went superbly with the anchovies. The highlight was the generous amount of quality jamon. Yeah baby. The pedron peppers (wonderfully slightly blackened) were delicious as was the manchego Spanish cheese. Of course all this came with quality bread. A Spanish style breakfast that was for me one of the best I've had in Melbourne.
And my breakfast was enhanced by a superb side plate of the house made sausage. Even that came with garnish.
Top Paddock excels in so many areas, including the coffee. The coffee devotee can grab a filtered coffee. My strong latte had a great crema and hit the mark (we enjoyed 2 lattes each). They even offer the soy coffee option that frustrates some baristas in Melbourne - but come on, the customer is king.
Top Paddock also excels with its cakes and desserts...
Pleasing to me was the opportunity for reasonably priced side plates, fresh juices on offer and reasonably priced mineral water. Yes and wait staff provide table service here. And did I mention there was a Pork belly and fried egg roll with relish for $12 and a killer Steak sandwich - dude food heaven - and on my bucket list.
Top Paddock has gone to the top of the charts for me and I left the place raving. I have a few other loves in Richmond I will be faithful to no doubt. But I found Top Paddock compelling. The crew from Three Bags Full etc haven't come here half baked but fully loaded. This is a serious culinary destination.
---
CH James - Station St Fairfield
CH James, a trio of festive spaces, has launched in Station Street Fairfield. Locals are keen to experience the modern menu and character of the venue, which includes a stunning outdoor courtyard. The World Loves Melbourne was invited to experience CH James and some of its signature dishes. The ambience here is a standout, with large welcoming windows and bright spaces, giving a feel of light and airy. Fascinating farm implements adorn the wall, a reference to the period of CH James and heritage. The fit out is such that the indoors and outdoors meets seamlessly, with the windows opening up to accommodate the coffee bars, and its an easy stroll to the courtyard.
CH James is modern but features a nod to yesteryear with its compelling story of local CH James who was prominent in the northern suburbs in the halcyon period of Melbourne's development. Charles Henry James was a businessman extraordinaire in the 1870s and 1880s, and hugely influential in forming the unique community dynamic of the north we love today. Dreamer, innovator and fiercely local, CH James was an influencer who was keen to "have a go", connect with his community and he conducted his business with distinctive flair. CH James became a model and mentor to young businessmen of the era.
CH James represented the interests of the northern community in the Legislative Council and was a champion of Fairfield, Alphington and Thornbury as well as suburbs such as Essendon, Brunswick and Flemington. CH James was also a man of style and could be spotted handsomely gowned in his silk brocade with heliotrope ribbon and fine diamonds with spangled sleeves. Hipster and fashionable. CH James and his wife Harriette were keen supporters of local charities, community projects and help to the underprivileged.
Station Street has its own place in Melbourne history. With diversity and an eclectic vibe, Station Street is quintessentially Melbourne. CH James spent much of his time on Station St Fairfield and in 1884 established a horse tramway, which ran the length of Station Street. We think this is very Melbourne.
CH James is well equipped with a coffee bar that faces iconic Station Street. Customers can pull up to the bar for top notch Small Batch coffee and the barista skills of Yuta Tanaka ex Auction Rooms. The World Loves Melbourne sampled two lattes perfectly made with fine latte art to boot.
Service here is excellent with Chris Krambias and the team personable and on their game. Chris has extensive experience in hospitality at top hotels such as the Park Hyatt in Melbourne and has a flair for service excellence.
CH James features an interesting and fine brunch and lunch menu, with refreshing and healthy dishes.
A stunning and popular dish is the Ricotta and smoked trout, soft scrambled eggs with a chive coriander pesto and toast. This dish sang on the plates, with smoked trout flavours through the scrambled egg, with the richness of the ricotta. The chive and coriander pesto set off the dish, and the toast was a perfect accompaniment.
CH James also hit the high notes with the Hungry Vego dish of Three grains, roasted pistachio, activated almonds, seasonal veg, lemon yoghurt & a poached egg. When I look at the menu as a whole there are a number of healthy style dishes. This is modern cuisine and on trend.

CH James has an impressive Lunch menu featuring healthier eating options.
The World Loves Melbourne was taken with the Pasta of the Week. This was "comfort food" heaven. Franck has cooked his superb house made gnocchi in butter and sage - a killer combination - and the roasted tomato, asparagus and beans bring great balance. This dish has been a standout since CH James opened.
Coffee here is excellent and served in proper glassware. CH James spent time sourcing the best sugar to match its specialist coffee, and uses Coconut blossom sugar, which features a slightly caramelised taste.
Drinks list includes Small Batch coffee, Mork chocolate, and Tea by Chamellia. Wine list includes boutique World Loves Melbourne favourites, Maddens Rise and Medhurst, as well as other boutique wines. Another favourite is Pizzini Prosecco, our favourite Australian Prosecco. Craft beers are sourced from Victoria, including Hargreaves Hill and Holgate Brewhouse. An interesting option is Lager from Keo, Cyprus.
CH James has developed an amazing courtyard area next to a church, featuring plantings of fruit trees and fresh herbs, used in its cooking.
CH James is a great new addition for the northern suburbs and Melbourne.
Says the website -
"We are proud to open CH James café and are inspired by the story of CH James. He had a vision of the "opportunity" of the north that we see some 150 years later. Some of us live in streets with names linked to CH James. Legend also has it the laneway culture of Melbourne was also formed by the legacy of CH James who developed the laneway next to his large French inspired residence.
At the height of his fortunes in the 1880s CH James was considered to be a millionaire and riding high. He and his wife Harriette entertained Melbourne socialites with lavish balls featuring dancing into the early hours, decorating their residence with "fine palms, exotics and blossoms." Can we add interior designer to the list? Towards the end of his life CH James had his ups and downs (hit by the Depression) but his legacy in the history of Fairfield and the northern suburbs of Melbourne is entrenched.
CH James is a "trio of festive spaces" and nod to the entrepreneurship of CH James and his sense of adventure, innovation and love of the northern suburbs. CH James is a place to relax and imbibe, with casual dining and rewarding menu choices using fresh and seasonal ingredients. Not to mention personable service and fine coffee. A garden courtyard adds to the ambience. We think CH James with wife Harriette, five daughters and their son, would imbibe the community vibe and coffee culture at CH James in Fairfield."
CH James has character in spades and boats several attractive dining spaces. Service is top notch, the coffee excellent, and the menu compelling and on trend. Highly recommended.
---
Cumulus - Flinders Lane CBD
Cumulus exudes passion for a food culture and brings a sense of fun and an air of sophistication to the Melbourne dining scene. This is where the foodies go. And it stays at the leading edge of culinary Melbourne after several years. Cumulus has a warehouse/studio type vibe - with studio type lighting, high ceilings, and large windows fronting Flinders Lane. There are 3 positions for viewing – either sit at the kitchen bar on a stool watching the expert chefs art work; or sit at the bar overlooking Flinders Lane on a stool watching the baristas at work; or sit in the middle and observe the hip collective in the room.
One of the best breakfasts in Melbourne! Even the stock Cumulus breakfast is a winner with amazing yoghurt, perfect egg, 3 slices of toast and preserves and juice and coffee - everything an officer worker needs to kick start the day. And so well put together.
But when doing breakfast one must at least tackle the "full English" also a popular mainstay. Be ready to engage some wonderful blood sausage.
Twice I have enjoyed the Shashouska (sounds like a Kate Bush song?) with baked eggs, tomatoes, onions, peppers and marinated Persian fetta with chives – in a pan. Next to that on the large plate is served great seed bread. Wow! A hearty breakfast indeed which comes piping hot (be careful of the pan). Also a nice touch is the little bowls of pink salt and pepper.
If you sit at a communal table you may overhear conversations about gyms, personal trainers or the latest business deal. Coffee is excellent at Cumulus – using a La Marzocco top rank Italian machine.
Staff are professional and engaging. You are warmly greeted for breakfast by friendly staff who show you to a table or stool, decked out with tulips on the tables and 3 different newspapers. Service is consistently great. Tested by moi when ducking in to Cumulus one summer's day just to have a glass of water and a coffee – staff obliged but I wouldn't do this often. For lunch and dinner the lamb is to die for - shared for two (but find someone who is not hungry). As good as lamb gets.
Often queues out the door due to no booking policy. I can't believe I was there at the crack of dawn and the place was packed and pumping with jazz on a weekday! Enjoying music from the five Bose speakers mounted around the room! Friendly barista explained to me that the bank vault door to the side of the current modern door is a heritage piece – and it adds to the vibe. Cumulus is a continual culinary joy.
---
Hardware Societe - Hardware Lane
Hardware Societe is a great place to go for a Sunday morning lazy breakfast in Melbourne! It captivates with French sophistication and charm, and a high quality dining experience.
If you're looking for a restaurant that's able to offer something more than the usual brunch options, with a certain je ne sais quois, then Hardware Societe is the place for you!
Any restaurant worthwhile in Melbourne may involve a table wait and I've gladly waited for 20 minutes for a table at Hardware Societe. Spectacular news is that Hardware Societe are now spreading out and have taken over the building next door. The revolution is spreading!
The counter is a visual feast with brightly coloured tarts and macaroons, extraordinary brown chocolate creations, crème brulee and a host of amazing French sweets. Resistance is almost impossible!
All eyes are on the white uniformed rock star chefs with awesome tattoos who perform wonders in the kitchen for all to see... Each dish has amazing flair and bathed in TLC. There is a French attention to detail!
Hardware Societe offers some of Melbourne's favourite dishes such as Baked eggs served in a French pan with chunks of chorizo and cheese. This is a cacophony of taste and flavour! These kinds of dishes warm the stomach and leave you with a feeling of pleasantness for hours. Oo la la!
After a big night out you may prefer the Banana bread with caramel and crushed nougat. Or Fried brioche with nutella, strawberries and toasted hazelnuts.
Even the sourdough fruit toast is sensational, served in a pretty arrangement on a wooden board with an extraordinary amount of butter. And it comes with a cute butter knife…
The quality of the food is undeniable. Everything is well cooked, great flavour profiles and the freshness (including the bread) stands out.
Be impressed by the communal table and chic plastic chairs. Where space is at a premium they're functional but also can be fashionable.
The décor has a cool factor to a sublime degree including damask dark wallpaper imported from Germany and interesting lighting arrangements with naked bulbs. The whole place has an upbeat colourful feel to it...
Coffee here is also great and sometimes underrated. The crema is velvet, and the coffee showing superb consistency, flavour and strength. A nice touch is the small round donut that comes with each coffee.
Ordering tea is an occasion with your selection coming with artistic tea cosy flair. Even the hot chocolate comes with great presentation and is not made to feel the poor cousin of hot drinks.
As gourmet trendsetters Hardware Societe are embarking on selling up market produce from other countries such as France, Spain and Italy. Come here to grab some Spanish rice for your paella, some cuttlefish or sardines (white meat), exclusive Simon Coll chocolate and Italian Turron.
Ambience is great being a vibrant bright restaurant – conversation is loud and atmosphere warm. The fact that it's on the vibey restaurant strip of Hardware Lane adds to the ambience.
Service is fantastic with hipster staff wearing aprons to set a French tome. They are both engaging and attentive. Open for breakfast and lunch but not dinner. Popular and a talking point around Melbourne. Rightly so!
---
St Ali - South Melbourne
St Ali is a hip cool fun uber café with amazing ambience, stunning coffee and excellent creative menu choices - hidden down a laneway in South Melbourne. This is one of my "go to" places in Melbourne and have loved each of my many visits. The owner Salvatore Malatesta is an icon and visionary in the industry, in the city of Melbourne, and internationally. He has inspired an amazing culture in and beyond this cult cafe in a laneway.
St Ali is named after Ali ibn Umar al-Shadili, a fourteenth century mystic and someone who apparently birthed coffee passion. One of the cool mystiques surrounding St Ali is that it can be hard to find. You wander down some nondescript laneway off charming Clarendon Street in the quest for serious coffee. You then wonder if it's the right laneway. You see a group of people emerge from a non descript entrance. And you realise this must be St Ali (no signage).
Walk in to a hip if not grungy establishment with industrial themes. The friendly staff are so warm that you don't mind waiting that 10 or 15 minutes for a table (no booking policy). The staff are also helpful in arranging tables to fit in those groups. We arrived on one occasion to meet an old friend and her partner. The attentive staff were accommodating to find us space as soon as it became available. Another time we met with friends from both Adelaide and London – dazzled by the vibe of St Ali – and staff managed to find us space during a packed Saturday brunch session.
The menu options excite, are creative and show a sense of fun. Brunch highlights include The Daddy, From Chickens With Love options such as eggs anyway with sides or My Mexican Cousin corn fritters. Or for lunch go the Smokey and the Bandit Victorian rainbow trout. Or order the Chris-P confit pork belly. The Chicadee whole chicken thigh burger is a sensation.
The cakes and pastries are also a highlight at St Ali and great with any coffee.
Music pumping, grungy concrete floor, awesome flower arrangements, and the mirror ball, all add to the ambience. Love the communal tables. Love the different interesting areas to dine.
Known to be one of the best coffee establishments in Melbourne, St Ali exudes a serious coffee devotion. The house blends are great. Single origin options are dazzling – just look up and check out the board. Panama. Costa Rica. Colombia. Honduras. And others. St Ali brew amazing Cold Drip, Pour Over and Syphon coffee. It's hard to have just one coffee - usually a coffee or three here.St Ali is a coffee wholesaler and roasts it's own coffee, supplying notable establishments across the city.
St Ali is spectacular.
---
Small Victories - North Carlton
Small Victories is a stellar new cafe in leafy historic North Carlton making its mark. Transformed by Arlic Hansen and Ben Farrant, notable Melbourne culinary identities, Small Victories is taking Melbourne by storm. Come here for superb gourmet meals, great coffee and excellent ambience. You know its going to be good when a cafe makes its own produce in house - such as the yoghurt and the smoked bacon. It's a cafe that attracts foodies with its clever nuances and flavour combinations. Small Victories rises above the pack in a highly competitive precinct.
Dining is enjoyable with several (counted 5) dining spaces with cosy timber tables and sleek communal sharing tables, stools by the counter or along the window, upstairs dining area with mini skylight/atrium or you can sit outside and enjoy the ambience of Rathdowne Street.
Coffee here is top notch with the star inclusion of Dane Johns barista extraordinaire ex Wide Open Road. Small Victories uses Wide Open Road blends and the coffee is seriously good. The lattes have nutty and buttery characteristics and are of a decent strength.
Decor is modern and cool with large naked bulb lighting (revealing a groovy filament), grey couch backing along the upstairs wall with mirror above, a marble bar and great use of timbers. Not too much on the walls giving a sense of modern chic and not old world clutter.
Funky music adds to the vibe played on a turntable with vinyl selections.
There is a menu brimming with imagination and flair. The breakfasts are wonderful. The Small Victories mixed grill is sensational with Eggs, bacon, beans, blood pudding, croquette, and two pork sausages.
This is no clumsy fry up or predictable big breakfast. The leek and cheddar croquette was superb and creamy inside and I could have eaten about six. The eggs were perfectly cooked and runny. The sreaky bacon was high quality, smoked and prepared in house. The blood pudding was delicious and served fresh and had some moisture - unlike other black puddings elsewhere which have been dry and caked. And the sausages were gourmet, tasty and not too fatty. The beans were also impressive with gremolata on top. The accompanying toast was also excellent.
I was also tempted to go with the Corn (creamed) and streaky bacon breakfast with lardo soldier and thyme salt, which looked like something different and imaginative. The toast soldier with melted lardo is awesome.
These meals come in terracotta dishes. At the time they'd run out of big plates, so my mixed grill came in two seperate plates - no problem.
The small bowl of pink salt placed on the table with the meal was a nice gourmet touch.
Or you may want to try the Granola with elderflower, poached rhubarb, lychee, organic yoghurt and berry powder.
Small Victories also excels with its lunch selections including gourmet soup, pastas and sandwiches.
Small Victories is a super impressive and chic foodie haven that excites.
---
Three Bags Full - Abbotsford
Three Bags Full is a Melbourne darling and one of our more eminent cafes. The vibe on a pumping Saturday brunch time is fabulous. Its another foodie haven and the coffee is seriously excellent.
Three Bags Full is a cafe on many a Melbourne breakfast champion's lips as a cafe of first choice. Walk in and immediately fall in love with this place.
Three Bags Full boasts a large open space and boasts natural light. Plenty of tables but often they are packed. Wondered whether the name Three Bags Full had anything to do with it always being packed out. Love the long communal table which people seem to gravitate to.
I should speak about the coffee. These guys are passionate about coffee and provide a great selection. They provide pour over, Clover and single origin offerings. I'm happy to come here just for the coffee and even line up for the privilege. Knowing they use Five Senses is comforting.
This ex warehouse is very cool and features polished floors and exposed brick. This may lend to a noisy room but who cares, I'm into that. Venture outside to enjoy the ambience of the precinct at small tables.
Three Bags Full a great name as one of the best breakfast/brunch places around. These guys cook the eggs perfectly and serve everything on quality bread. Interesting options ranging from killer muesli to the big breakfast to a delightful remoulade. And not forgetting the Veggie breakfast.
Other offerings of great cakes, salads and simple menu options. Love the sense of airiness and bright light on a beautiful sunny Melbourne morning here. Managed to get a window table but oddly I faced the other way, drawn to watching the skilled baristas and coffee devotees before me.
Great stories of people waiting half an hour for a table. It's not like there's heaps to do nearby in the neighbourhood of leafy Abbotsford. So good commitment. Tried one Saturday to come with a group last minute, but the estimated wait time was imposing.
Three bags Full is also a great option for breakfast on the way to work in the city. Love the friendly service. Busy, busy, busy – but still attentive and personable staff. When paying or just ordering coffee you're invariably standing in line and eying off their gourmet products to take away.
Three Bags Full is a stellar cafe that continues to shine.
---
Hammer and Tong - Fitzroy
Hammer & Tong is one of the new exciting cafe restaurants in Melbourne and has captivated most with chic ambience and an impressive menu.
The team is top notch and boasts ex Vue De Monde and Jacques Reymond staff that basically know what they're doing to create a superb dining experience. Set slightly back from Brunswick Street you enter via a graffiti world of Westgarth Street. The entry is understated but once inside it's immediately apparent this place hums. Especially when Johnny Cash is playing over the speakers singing "One Love"...
A partnership between head chef Simon Ward and manager Dennis Ferreira, Hammer & Tong celebrates casual dining and simple, fresh ingredients. An open bar and kitchen is the heart of the light filled space. Hammer & Tong have reworked the stylish interiors created for former premises The Brix with their own take on vintage-industrial chic.
Hammer & Tong serves up great coffee, which is a welcome start. As I savoured my coffee I admired the vintage pieces around the room including the large old scales and vintage cake display, and reflected on the lyrics of Cash singing "One Love."
Dukes coffee is Melbourne coffee royalty. Great crema and strength of flavour.
The breakfast menu at Hammer & Tong is impressive with several items I wanted to order such as the Truffled duck egg with parmesan toast and grilled asparagus, as well as the Baked eggs in tomato fondue. Well, I just couldn't go past the Spiced Corn Fritters with avocado, sour cream, smoked tomato, and poached eggs. I raved about these corn fritters all day long. Crispy outside, softer inside, a bit of kick, and a generous portion. Along with perfect accompaniments including avocado and sour cream it spoke of Mexican influences to me.
I reckon Johnny Cash would love these corn fritters -
Hey look at that beans and look at that corn
And I bet them watermelons must be three feet long
Man look at them tomatoes and look at them peas
Well I know if papa was here right now he'd sure be pleased...
Johnny Cash - Look At Them Beans
Look at that corn man. Love the micro herbs - not just for show but went well with the dish. A contender for best corn fritters in Melbourne.
Hammer & Tong has this chic ambience with a spacious area full of light, tiles with deep blue shades, funky lighting and a very cool coffee machine. You can enjoy several inviting dining spaces such as the main dining hall and coffee bar, the corridor bar and the sunroom. I dig being perched on the stools by the big window looking out over Westgarth Street.
Hammer & Tong also shines with a superb lunch and dinner menu. How about a Soft shell crab burger? Or Berries with rhubarb jelly & whipped yoghurt? Or Braised soy beef brisket (below). I want it all. The pan seared scallops, black bean salsa, Chinese sausage, corn & chilli jam caught my eye. As did the bbq pork tenderloin, farmers sauce & butter lettuce.
Hammer & Tong are open for dinner three nights of the week now, and it's highly popular.
Hammer & Tong impresses at every level and I intend to return. Maybe I'll hear Johnny Cash singing about the Legend Of John Henry's Hammer...
---
Manchester Press - Rankins Lane CBD

Manchester Press is a spacious funky cafe that you'll want to come back to. This deserves to be a global sensation like Manchester United.
Possibly my favourite café in Melbourne - it's a great place to meet with friends and has one of Melbourne's most enjoyable breakfasts. Another laneway gem where coffee meets art. Manchester Press is part of the coffee triangle (as opposed to the Bermuda Triangle) with nearby places like Brother Baba Budan and Captains of Industry.
This is a huge spacious cafe - a former gallery and named after the former printing press business. Friends of mine remember it's former life - the renovation has been impressive. The mystery is accentuated by the fact that you need to pull back the sliding door to enter.
Coffee here is amazing with highly skilled baristas that have a knack with latte art.
This place has a rustic and at times retro feel (check out the menu with old school labels on perspex). Also check out the water jars on tables (with hydrochloric acid labels). Don't worry the coffee is acidic - but not that acidic! You can really relax here – read the paper and check your emails. Chilled. So relaxed here that a customer went to the bathroom and on passing asked me to protect his back pack and belongings. I passed the test. (I now live in Rio).
Bagels for breakfast. Damn fine ones with eggs and salmon. Then there's the simple raisin bagel with jam and ricotta – good value and huge dollops of both jam and ricotta. In fact Manchester Press does bagels really well with other options (open sandwich style) and toppings available. I was told by the waitress that all menu options were available at any time – not just divided into breakfast and lunch. And that the menu changes whenever the chef feels like it… But some bagel options are more suitable for breakfast.
The soft egg bagel with salmon breakfast option is a sensation – sounds simple and harmless but it packed a mighty punch. You crack open the top of the soft boiled egg served in a cute egg cup with oriental figurines, then smear soft egg all over your piping hot bagel. Then you place some salmon from the generous pile on the plate on top of your egg and bagel. So gooood! There's lemon to squeeze over the salmon and a great little salad with lettuce, tomato, onion and cucumber - with a killer dressing. Don't think it's just about the coffee and the vibe here – check out the simple but awesome food! Coffee here is sensational and of the highest quality. Creamy and comes with amazing latte art (love the coffee meets art theme here).
Check out the art on the walls by artist William Montgomery.
Came here again for breakfast with the family and we all loved it. Now thinking of bringing the mother in law. We love the Blueberry bagel with bacon and maple syrup for indulgence. Also a great chorizo and peppers with bagel option – some real kick in the chutney. My wife ordered the salmon bagel option - this time even more salmon than mine from earlier in the week. My 8 year old son went the baked eggs and chorizo and absolutely loved it.
Sensational service every time with staff friendly and willing to explain stuff (interesting they place the bill in a glass on your table). We have a ritual - I keep going to the counter to pay at the end of my meal without producing the bill in the glass – so they go back and grab my bill from the table again. On leaving I noticed a mirror ball mounted high in Rankins lane casting an interesting light array down the lane. All adds to the coffee and the art experience!
---
Common Galaxia - Seddon
Common Galaxia is a funky if hot hipster cafe in Seddon that impresses with its amazing coffee, cuisine and modern fit out. This is a serious coffee haven with coffee from iconic Melbourne Seven Seeds and Market Lane. I remember when this cafe opened and it was taken by the style of the cafe - I would come here before work and imbibe the ambience. Green benches, great use of timber, a curved counter, large windows, and funky light fittings - spectacular use of shapes and different textures built by Fido Projects. Style in Seddon, which is more often than not, grungy.
The food at Common Galaxia is excellent, even though the coffee is such a standout featuring a Synesso and fine baristas. Were these guys one of the first cafes to feature the smorrebrod sandwiches, now a trend in Melbourne? Check out the Common Galaxia Big Breakfast, Breakfast Board and the Herb and Cheese Scrambled Eggs.
Where do you think are Melbourne's best breakfasts? Let me know at This email address is being protected from spambots. You need JavaScript enabled to view it..