Riverland's Member's Lounge before AFL Games
Footy fans can now experience the ultimate pre-game footy experience with Riverland's Member's Lounge before AFL games at the MCG. The World Loves Melbourne was invited to a pre-game VIP experience for AFL fans at Melbourne's iconic Riverland Bar and there was a great vibe at this bar right by the Yarra river. Riverland recently launched an exclusive Member's Lounge which we found highly impressive and great value for money. Our conclusion was that if everyone knew about this they'd be there.
Amidst prime riverside views, footy fanatics can expect two hours (yes 2 hours!) of pre-game footy eats coupled with a selection of unlimited beer and wine, complete with general admission tickets to any game at the 'G (apart from Anzac Day and finals series).
Bookings are required and Riverland Bar Member's Lounge is a great pre-game option for games at the MCG.
Hungry bellies are treated to mac & cheese bombs, fried chicken sliders and empanadas; as well as classic footy favourites including meat pies, dim sims, and mini hot dogs. This is well thought out - the kind of food you want at a day at the footy (you get one of each food item and unlimited beverages).
Unlimited beverages over 2 hour session.
Happy days at River Land Bar Member's Lounge.
Mini dim sims with sweet chilli and sriracha. It was great to catch up and connect with influencers and new friends in the Member's Lounge.
Popular are the Mini hotdogs. Enjoyed the chipolata sausage, mustard and pickles.
The general scene at Riverland Bar - a popular gem to visit before AFL games.
Everyone loved the meat pies. Chunky and delicious.
Fried chicken slider was another favourite with crunchy juicy chicken, American cheese, slaw and tangy chipotle mayo.
Mushroom, Spinach and Cheese Empanadas were top notch.
To top things off, the short stroll to the 'G is even sweeter with a 'churro to go' – think warm peanut butter and chocolate sauce. All in all, the food was excellent and we felt there was more than enough to eat.
"Riverland Bar has served a loyal footy crowd before and after the game for 12 seasons so we know how to provide good times," states Joel Watts, Venue Manager, "but more recently we've spotted an opportunity to really elevate that pre-game experience."
Seating groups of 4-16 (so it has the feel of exclusive), open for two hours and ending 45 minutes before the game, The Member's Lounge has punters cheering with tickets available for only $59 per person.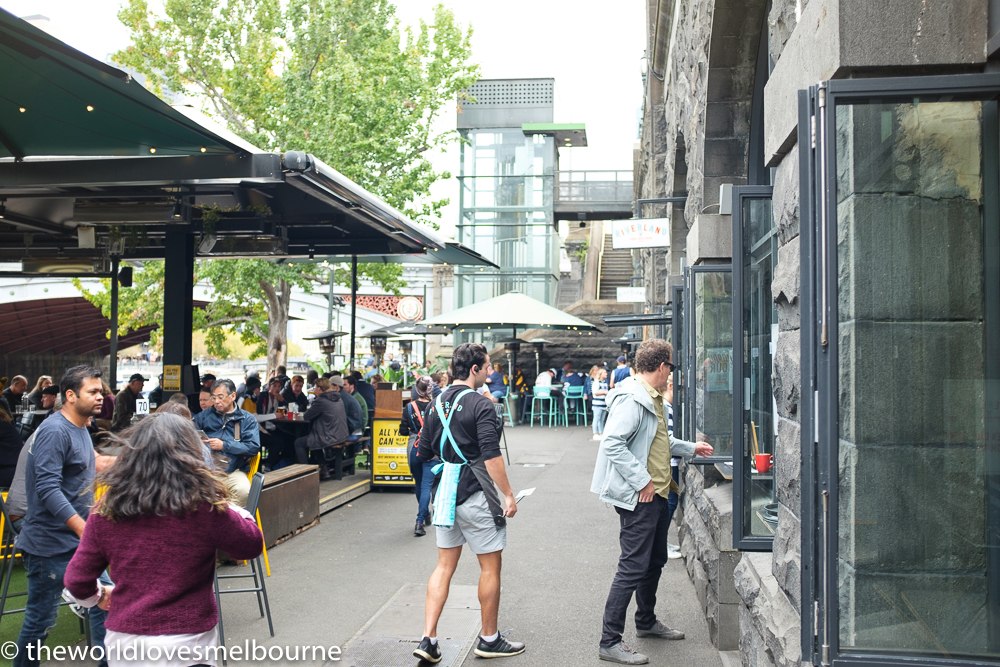 With one Member's Lounge session before selected MCG games, be sure to get in quick to nab exclusive access to the Member's Lounge.