Top 10 Dude Food Restaurants in Melbourne
The Dude Food wave has been around for some time now but appears as strong as ever... American Food and Dude Food is still super popular and we've selected our top 10 favourites...
The list (no particular order)...
1. Le Bon Ton
2. Belle's Hot Chicken
3. Trunk Diner
4. Epocha
5. Steer Bar and Grill
6. Ziggy's Eatery
7. Huxtaburger
8. Bar Nacional
9. Rockwell & Sons
10. Bomba Bar
1. Le Bon Ton - Collingwood
Le Bon Ton has a great atmosphere. It's something of New Orleans but also something of Texas in its food and ambience. Lay back casual style with American cool...
What to order? We wanted it all. The engaging waitress suggested the Smoker's Lot - a massive meat tray of smoky-moist meat. What a sensation. For me this was the best BBQ I've had in Melbourne. The meat came out warm and smokin and featured Grain-fed Riverina Angus Beef Brisket (1/2 lb), Otway Ranges pork shoulder (1/2 lb), Jalapeno and cheddar hot-link sausage, and 1/2 Chicken basted in apple BBQ sauce.
Every element was a knockout and a home run "out of the park". The brisket was high quality meat smoky-moist and with fat - melt in your mouth. The smoky flavours hit you and all meats on this board were smoked over iron bark and fruit woods for up to 12 hours...
Texan style BBQ features sausage and the meat board here featured amazing sausage infused with jalapeno and cheddar - intense and rewarding. All the meat here is intense in flavour - but the adventurous will still add the hot sauces on the table. As you do. The hottest sauce hit me between the eyes like a redneck punching me in the face...
The pork shoulder seemed a mountain of pork and more than the 1/2 lb advertised. Again, it was smoky-moist and delectable. Note the salad on the board - you need something refreshing to contrast all the meat.
The Smoker's Lot in all its glory...
Pit-smoked meats baby! There's almost certainly other house specials but we couldn't get past The Smoker's Lot. Le Bon Ton is also famous for its Buttermilk fried chicken, Crab cakes, Oysters and Cheese Burger.
A cool surprise was the 1/2 Chicken - it turned out to be a highlight with intense smoky flavours. Yep, there were no weak links in this southern style slow cooked meat bonanza...
Nothing better than imbibing amazing southern BBQ while listening to vintage Johnny Cash.
As my friend was more paleo, he opted for refreshing green salad. The World Loves Melbourne went for the golden fries - some of the best around, served with dipping sauces.
The World Loves Melbourne went for the American Brooklyn Pale Ale while Jonathon from Promised Land Coffee went for the Barossa Shiraz (refined dude).
Le Bon Ton offers an attractive courtyard area, with ringside seats to the smoking action. If the smoking unit is active you may have to visit your dry cleaner, but who cares...
Fairy lights and all...
---
2. Belle's Hot Chicken - Gertrude St
Excuse the pun but The World Loves Melbourne has a fried chicken bucket list. Belle's Hot Chicken is a Nashville style standout dude food mecca that The World Loves Melbourne finally visited, and we left on a spicy fried chicken high. Get it right - this is not just fried chicken - but spicy fried chicken. Chilli meets chicken in a wonderful connection. Belle's Hot Chicken is the masterstroke of (ex Loam) Aaron Turner and Morgan McGlone (ex Husk in Nashville and Rumours), who flew in to town to work their magic after a stint in a fine dining kitchen in Nashville.
How can you not fall in love with this? A basket of delicious juicy spicy fried wings with golden crinkle cut Old Bay Fries sprinkled with Paprika. Imbibe your fried chicken in various cuts. Wings, tenders, Dark Meat (Drumstick and Thigh), Fish and Mushrooms are the main options. There are degrees of spice and heat - Southern, Medium, Hot, Really Hot and the extreme Really F**kin Hot (for the brave).
The joy didn't end there, having also ordered an additional tender of spicy (extra) hot fried chicken chicken, quality pickles and a smoky Almost Arnolds Beans side. The spicy hot tender was substantially hot (they did warn me) but we enjoyed the heat. What amazed The World Loves Melbourne was that with every Meat dish you also receive a side included. Great value! Don't underestimate the power of the beans side - it rocked my world. The whole meal was substantial and didn't break the bank.
On another visit we ordered the Baller Bucket of 16 wings, 4 sides & sauces. Brilliant value!
While waiting for the food we nipped out into Gertrude street to find Matt Beyer, a Belle's devotee, with the legendary Morgan McGlone.
All the chicken is quality La Ionica chemical free chicken. The chicken is not soggy and greasy but features a crunchy exterior and juicy interior. Quality cuts make a huge difference. On weekends they serve Waffles and chicken (now famous).
The ambience of this diner is modern and chic, with booths and retro signage of the DINER sign a talking point. Located below The Everleigh, large windows overlook trendy Gertrude Street.
American beers grace the drinks list, as well as "natural" wines.
Belle's Hot Chicken lives up to the hype as far as The World Loves Melbourne is concerned and we look forward to future visits. Highly recommended.
---
3. Trunk Diner - CBD
Trunk Diner is dude food heaven and a compelling destination to enjoy cocktails and American style cuisine. It is my kind of place - unashamedly. Grab a first class cocktail and lean over a dripping juicy gourmet burger in a chic ambience. The World Loves Melbourne was recently at Trunk Diner to check out latest menu and renovation changes. The invitation was alluring - "escape the concrete jungle and celebrate the start of Spring and Trunks new designer cocktail list in their freshly redesigned urban courtyard". I've been to Trunk Diner before and have always enjoyed the experience.
The ideal summer day in Melbourne

should

comprise

of

escaping

the

daily

bustle

with

cocktails
in
a
spacious
courtyard.
Trunk
has
summer
covered.
With
a
retractable
roof
in
the
diner,
Melbourne's
'she
loves
me,
she
loves
me
not'
weather
is
taken
care
of.
Diners
can
escape
at
Trunk
come
rain,
hail
or
shine.
Check out the

coveted

city

courtyard...
As

always,

Trunk

doesn't

fault

on

tasty

fare

with

the

Diner

continuing

to

serve

its

classic
American-styled
menu
including
their
legendary
Wagyu
Beef
Burger
(which
can
be
'doubled
up'
on
everything)
or
their
signature
Diner
Dogs
(Hillbilly,
Breaking
Bad
or
Chili
Cheese).
And
for
those

counting

the

calories,

there's

Trunk's

Chop

Chop

Salad

to

top

off

a

summer

day,

guilt

free.
T

he Tuna ceviche above is impressively delicate for a dude food establishment...
Trunk have an attractive menu featuring Diner Dogs, Mains, Salads, Quesadillas, Sandwiches and Salads...
These Ribs were a killer - sticky, messy and tender with some kick - the way ribs are meant to be.
The Fish of the Day main with corn and BBQ rice is also popular in case you were thinking its just a meat fest!
Seems some sharp and engaging young staff are here to fire up the Diner. Customer service was first class all night.
Every self respecting dude food haven needs a killer burger, and Trunk delivers. This is a standout from the pack - using premium ingredients. I found it to be one of the best in Melbourne. The foundation is -
175gram Fresh Ground Wagyu beef,

grilled brioche, baby cos lettuce,

thick cut tomato & house-made pickles... and I added extras such as Gruyere cheese...
The joy was in the Supersizing of doubling everything! Yeah baby! Rock and roll.
The cheese melts down on the juicy Wagyu...
And every dude food lover knows chips have to be top notch - these are golden and crispy. Always a good sign when your first movement is to grab some hot chips - but then you can't stop picking at them...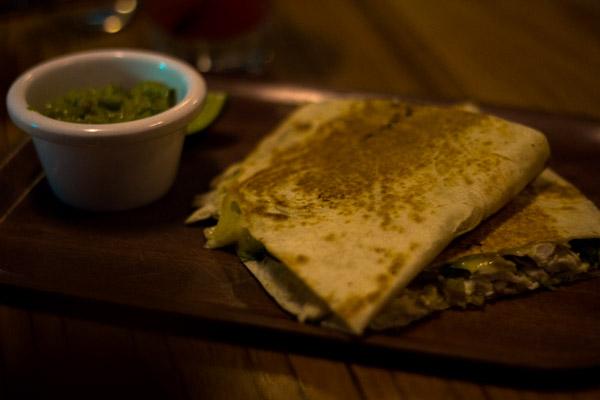 The Quesadilla option is also attractive...
Desserts keep up the high standard at Trunktown Diner...
Highly recommended.
---
4. Epocha - Carlton North
Epocha is simply one of Melbourne's best dining experiences, featuring a formidable team, stellar European cuisine and a killer ambience at this terrace property. Nestled in Rathdowne Street close to the city and opposite Carlton Gardens, Epocha exudes charm and elegance, if not an air of sophistication. The World Loves Melbourne was invited with other media to sample some of the fine wines and cuisine offered by Epocha.
We dare to place Epocha in a dude food line up, even though this is fine dining with finesse. The large share plates would make any dude estatic - Lamb Backstrap, Bird, Scotch Fillet, Rib Eye 550g, and Veal Rack 700g...
Epocha has an immediate impact as you enter; this is about a fine dining experience, with Epocha meaning "a new or distinctive era". Distinctive and distinction. Epocha blazed from the "get go", gaining a hat in The Age Good Food Guide and quickly establishing itself as a serious culinary destination in Melbourne.
Greeted by owners Angie Giannakodakis and Guy Holder, we were given a taste of their culinary and hospitality philosophy before sampling the food. Angie has a pedigree of running the front of house at The Press Club, and Guy has worked at fine Melbourne dining establishments and as Catering Manager at The House of Commons in London (I could imagine The Chancellor of the Exchequer dining at Epocha). They know what they're doing ten times over, and work hard at providing diners with that certain je ne sais quoi.
The fit out is a nod to the classic, and is understated rather than overstated. Large windows with chunky frames, elegant timber floor, and green wicker chairs and wooden tables embedded with tiles.
We were treated to a presentation from award winning Dan the Sommelier who has recently returned from France working in some of the great wine houses. Dan and the team thrilled us with exciting wines that the Sommeliers are talking about in France.
Having been brought up on big Australian reds I enjoyed the nuances of these French wines. Of late I've been breaking out of my "big red" mould.
The European inspired menu offers a plethora of highlights, with head chef Michael Bolam brilliant at the helm. Mini crumpets, honeycomb was a brilliant starter.
The house made dark bread was served warm inside these knotted cloths, with generous amounts of freshly house churned butter. Another nod to the European.
The Fava puree and brioche toasts was a delight, with us wanting more of the toasts to accomodate the generous amount of exceptional fava puree.
I was taken by the artistic presentation and indeed the stunning floral crockery (haven't seen this number in Ikea), as we were served Swordfish carpaccio, grapefruit, caperberries. I love a carpaccio and the flavours balanced wonderfully with the creamy Swordfish and piquant graperfruit and caperberries. My carpaccios of late have been beef and kingfish, and I found the creamy Swordfish carpaccio unique and refreshing.
I was also taken with the fine cutlery that wouldn't have looked out of place in my late great grandmother's mansion in Kew.
Imbibing on a Thursday night, the restaurant was packed and humming. No need for background music, as the ambience feeds of itself in this house of finery.
Whole fish oven baked with lemon, dill. There was a sense of theatre as the whole fish was presented then served with French wines.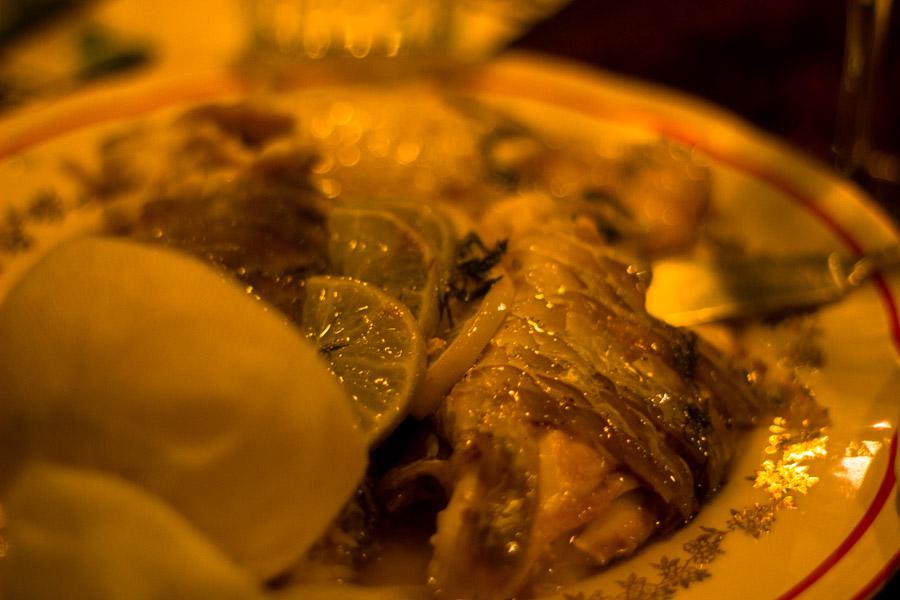 The accompanying salads were fresh and zesty.
Bird - breast, thigh, leg and wing was cooked to perfection, and was further enhanced by crispy Roast Potatoes with duck fat. Indulgent.
Scotch fillet with a bone marrow sauce was again perfectly cooked and pleasant on the eye...
With Angie a passionate Greek, we were served Ouzo of the highest quality.
Desserts at Epocha are served table side from the trolley. Basil panna cotta with rasberry jelly was totally unexpected - but worked so well - surely one of the best desserts in Melbourne.
In fact the night was rounded off with Sauternes.
Epocha is a restaurant of distinction of the highest order, and I want to return for a romantic evening or dinner with business friends. A keeper.
---
5. Steer Bar and Grill - Windsor
TWLM experienced the best of Steer at a classic event, it's Escoffier Dinner. August Escoffier is one of, if not the most legendary chefs of all time. 'The chef of Kings and the King of chefs' Escoffier ruled the kitchens of France and Britain for the early part of the twentieth century and his achievements were vast and beguiling. Although his famous dishes live on and you know them well; Peach Melba and Beef Rossini to name but two, there was another more important way in which he has left his enduring mark on our industry…he organised it. Escoffier invented a la carte dining.
Steer Bar and Grill saluted this great industry figure by serving

classic French cuisine in the style that made Auguste

Escoffier a legend. A collection of classic French beef

dishes created in his style with wines from the Rhone.
The evening was spectacular and a highlight of 2013 for The World Loves Melbourne and Melbourne Sensory. It was a triumph for Executive Chef Shaun Nielsen and the team and a cracker event as part of Good Food Month.
Domaine de la Verpaille Cremant de Bourgogne NV
Escoffier's recipe for sauce Newburg is very simple and its pairing with crayfish or lobster is truly a

classic combination; lobster and Madeira, you can't go wrong.
Nielsen: I wanted to shape the dish into a canapé form, to be presented on dressed silver platters and

walked through the dining room. To achieve a neat and tidy canapé I've decided to stuff a classic

savory choux bun with the warm lobster salad, the rich, powerful Madeira cream sauce poured

over, filling the choux pastry.
We found it indulgent and rich compared to most "refreshing" modern starters but it was wonderful.
Double Beef Consommé, Spring Vegetables and Herb Crepes
Reserve des Armoiries Cotes du Rhone 2009
The consommé is a true classic, technical and a good representation of a chef's skill. Achieving the extraordinary clarity of the stock with a deep and complex flavor is not that easy, in fact you rarely see consommés made in the traditional way these days.
Nielsen: Escoffier often chose to serve herb crepes with his consommés and so will I, finely julienned into

the soup with another crepe on the side, stuffed with an oxtail salad, the flesh taken from the stock

bones.

Seasonal local organic vegetables will also garnish the soup; sparkling in the deep, rich clarified

double stock.
We found this dish to be hearty and rustic with quality of stock top notch and the crepe a great accompaniment.
Steak Americaine, Melba Toast
Chateau Beauchene Cotes-du-Rhone Grande Reserve Rouge 2011
Escoffier never served a raw egg yolk with his steak Americaine or tartar as it's more commonly known these days. Escoffier bought the condiments together into a preparation similar to a tartar styled sauce, served on the side.
Nielsen: Great grass fed beef will be diced and served chilled, the condiment of cornichons, capers, onion, fine
herbs are to be mixed through to your personal taste.
Scooped onto Escoffier's Melba toast, a great way to enjoy high quality beef in its purest form and not
an egg yolk in sight.
We judged this dish a highlight. As a lover of tartar I enjoyed the hit of quality beef without the effect of the egg yolk.
Pasture Fed Full Blood Wagyu, Sauce Chasseur, Pommes Parisienne
Ogier Crozes Hermitage Oratorio 2010
Meltingly tender beef, pan seared and seasoned with a little cayenne pepper, basted in foaming brown butter, the pan juices reserved for the sauce, classic French fare that Escoffier perfected. Sauce chasseur; these days most people think of a packet mix from the supermarket but as always these sauces have a deep, rich history and this one's correct preparation is a textural masterpiece. A sauce made al a minute, in the same pan the beef was cooked, shallots, mushrooms, brandy, white wine, veal stock and finished with tomato, butter, parsley and thyme; utterly delicious.
Crunchy, golden pommes Parisienne add texture

and substance to this complete, classic dish almost

forgotten in the world of Thermomix machines,

emersion circulators and pre-preparation.
This was also a spectacular dish, not just in terms of the phenomenal beef but the sauce that sang to us in its complexity and depth.
Poached Grain Fed Beef, Endive Salad, Blue Cheese Dressing
Reserve du Crouzau Cotes du Rhone Villages St Gervais 2009
Poaching beef is all but forgotten in today's kitchens; I do recall this preparation from my younger days, great beef is the key…
You need powerful beef bouillon for the poaching and 300 day grain fed beef, I will be using Rangers

Valley Angus beef from Northern NSW.
Escoffier was famous for his blue cheese dressings, research shows that the commonly used

Roquefort cheese was not his favorite; it was the darker, moodier Fourme d'Ambert from Auvergne.
After the beef is poached and resting, the rich bouillon is reduced slightly and a little cream is

added to enrich it further and napped over the sliced beef, the sharp salad and dressing cutting the

richness of the beef perfectly.
I enjoyed the presentation of this dish. The poaching of beef was something new for me, but the quality undeniable. As a lover of blue cheese this combination was the perfect match.
Beef Bourguignon, Duchesse Potatoes, Asparagus Fricassee
Domaine Tour-Saint-Michel Chateauneuf-du-Pape Rouge Cuvee des Deux Soeurs 2009
Escoffier didn't create this famous dish, he refined and standardised it…making it his, lifting a peasant dish to the tables of the establishment in Paris and London.
His recipe is extremely simple but also very exacting, his masterful ability to create consistency

through his 'mother sauce' standardisation and intense quality control makes this dish at home in any

environment.
I've chosen full blood wagyu cheeks and lower heal muscles for the braise. The intense sauce of red
burgundy, penetrating the muscles as they slowly co
ok.
The braise is finished in the oven, the top piped with Duchesse potato and baked until it is golden
brown and crunchy, ready to be shared at the table, sautéed asparagus the perfect accompaniment.
I'm amazed this was a peasant dish originally. Again, this was a rustic and hearty dish of note.
Domaine Loew Gewurztraminer Vendange Tardive Ostenberg 2009
Created for Dame Nellie Melba in 1892 at the Savoy Hotel in London by Escoffier, he served the dish to her in an ice sculpture, poached peaches, rich vanilla ice cream and raspberry sauce, garnished with spun sugar.
I will bring together this great combination of flavors but modernize the presentation and textures with

glass wafers, vanilla wafers and dehydrated raspberries.
Having experienced several Peach Melba's over the years, it was fascinating to go back to the source. Poached peaches reminded me of my youth. I also enjoyed the combination of flavours and modernising of the presentation.
Nielsen: I think the man himself would approve…. but then sack me for correcting the repertoire!!
We left Steer on a high - big thanks for such an epic culinary journey of one of the masters. The food was stellar, service top notch and the matching Rhone wines superb. Magnifique!
---
6. Ziggy's Eatery - Balaclava
Ziggy's Eatery is a highly impressive modern burger joint on Carlisle St St Kilda that specialises in gourmet burgers and dude food at excellent value. These are not burgers slapped together but you get the impression of a kitchen of skilfull and passionate foodies that care for their customers. We were impressed at the high level cuisine here and the resonating passion of the owners. They simply serve some of the best burgers in town. The World Loves Melbourne was invited as a guest of Ziggy's.
Check out the Texan Giant Burger at Ziggy's as one of the best in Melbourne. It ticks all my burger boxes. The bun is critical to any burger, and where some burger joints in Melbourne fall down. Ziggy's offers a fresh soft brioche of high quality. Next, the meat patty is quality beef with right amount of seasoning and is a giant 250g. Not for the faint hearted!
Aoli is excellent adding to the flavour of the burger, together with a killer Texan sauce. Not to mention the tomato, cheese, onion and lettuce of quality. Overall juiciness factor was high. Unapologetically I prefer a juicy burger to a dry one. The combination of flavours just works here. A burger to reckon with.
Ziggy's is an all round dude food destination of note. Even the chicken wings with 3 types of tangy sauce hit the mark... Especially with a Mexican beer...
Ziggy's has an attractive fit out with edgy artwork adorning the walls. The use of timber is attractive including a large communal table. Or eat outside and enjoy the ambience of bustling Carlisle Street.
We found this restaurant to be family friendly. Our kids loved the food here, and especially the burgers. The menu is broad and has something for everyone.
The owners are friendly foodies and attentive. We enjoyed connecting with them as much as the outstanding food.
Check out the Texan Giant burger again... We could have ordered the Spanky with German mustard and gherkins and special sauce. Or the Hot Bikini with hot pineapple, or Pepper with green peppercorn, to name a few. Interesting gourmet burgers.
Importantly, the sauces are great here. Rich but not overpowering and a perfect accompaniment to the dude food.
Ziggy's menu doesn't fall away after the burgers. We took on this Middle eastern inspired Beef Shawarma wrap with grilled beef strips, tahini, yoghurt, Spanish onion, tomato, salad and fried onion - that blew us away. Not a simple wrap but infused with interesting spices and flavours. The portions are generous here, and we think you won't leave hungry.
In fact for the health conscious there are some geat salads here, including the popular Grilled Haloumi salad. Or enjoy a vegetarian wrap, called the Foollafel Wrap with Middle Eastern style veggie fritters!
Equally impressive is the Pork Belly burger with Vietnamese coleslaw and Hoteriyaki sauce. A great fusion burger. The pork belly itself was highly impressive as perfectly cooked sticky and melt in your mouth. This is an indulgent dish and great value for the price.
Chips are important at a burger joint. Ziggy's delivers with these fries tossed in their secret sweet and tangy sauce. Moorish indeed.
The World Loves Melbourne was highly impressed with Ziggy's Eatery and plans to return soon. A revelation and highly recommended.
---
7. Huxtaburger - 3 locations
Huxtaburger is a contender for Melbourne's best burger. Just across the road from the epic Huxtable restaurant on Smith Street is this popular burger joint that delivers big time on quality gourmet burgers, great crinkle cut chips and beer. A killer combination. The value here is incredible and might just get you through the latest Global Financial Crisis.
To understand Huxtaburger you need to understand where it is coming from. To present such a quality burger as "The Huxtaburger" for only $8 is incredible. Who else can do this? No-one else I know of in Melbourne. Some burger joints serve old school burgers for around the same price but this is gourmet all the way.
They are bringing value and accessibility with quality. Huxtaburger is usually packed with a line up out the door and people waiting to swoop on a table. You can eat at the counter or grab one of the tables and enjoy the ambience of Smith street. With a black and white colour scheme you would think we are in Collingwood. But you also might think we are in an American diner in Collingwood.
Huxtaburger has done its homework on what makes a great burger. They simply have great buns. Glazed brioche buns. The burger bun melts in the mouth. You don't get that heavy starchy hit of bread but rather the bun combines wonderfully with the rest of the burger.
The strength of Huxtaburger is that they keep it quality and simple. Other burger joints add varieties of burger that just don't work. Everything at Huxtaburger works.
My favourite is "The Huxtaburger" which has those awesome buns, crunch of great lettuce, quality gherkin, sublime patty of Moondarra Wagyu beef and melted cheese, tomato, mayo and ketchup. For a little extra you can get some great crinkle cut chips.
Like everything Daniel Wilson does, there is adventure, amazing gourmet flavours yet sublime balance. There is kick in the mayo and pickles but it doesn't dominate the quality beef. The sensation is of a delectable light and slightly sweet burger. A contender for Melbourne's best burger.
At huxtaburger there is also a tie in with the Cosby show. The burger called "Bills" contains bacon, egg, pineapple and beetroot for only $10.
The "Theo" with the double pattie and double cheese caters for those that love a huge mother of a burger - and it's the one I've imbibed on many occasions.
Then there's the "Denise" which has some kick with Jalapeno. There are burgers for kids that are super affordable. You can always tailor make your burger by adding stuff - like an extra pattie for $2. Service is great here - in the three times I've been the staff have been engaging and friendly and professional. Table service at a burger joint is sensational.
---
8. Bar Nacional -CBD
Bar Nacional formed delights with its modern Spanish cuisine with a twist and loads of sophistication and technique. At the same time it remains honest cuisine without pretense. This restaurant has come to play. The World Loves Melbourne was here to investigate the claim Bar Nacional is bringing San Sebastian to Collins Street.
We were not quite prepared for the level of sophistication here. I was joined by my friend Jonathon (one of Melbourne's best baristas and ex St Ali) for a complimentary dinner to sample the Bar Nacional menu. From the outset the staff were professional and engaging, bringing context and explanation of dishes with enthusiasm.
Bar Nacional occupies a compelling space at the end of Collins St in a legal and professional precinct. It opens up for the after work office crowd with delightful tapas but also brings finery and sophistication if you want to dine in for a longer stay. The fit out is modern with fashionable tables and chairs including high stools, mood lighting, and an attractive counter/serving area where cured meats hang from above.
Smoky Bay Oysters with a jamon vinaigrette were fresh and arresting as we began our culinary journey.
Famous already are the Charred brussel sprout croquettes with preserved lemon aoli - anyone with an aversion to brussel sprouts and haunting childhood memories needs to head to Bar Nacional for some therapy. For a start the croquettes are perfectly cooked with crispy outside and super creamy inside, but its the flavour of the croquette which is the killer. And the dab of lemon aoli is the signature note. Rustic pleasure.
Bar Nacional thrilled with this quality Charcuterie board full of A grade Spanish treats such as Bull Negro, Guanchiale, Lomo (beef tenderloin), Jamon, Chorizo and Terrine with pickles. Notably the 2008 Jamon (can that be right?) was a chart topper, as was the Duck terrine.
Served with crunchy biscuit breads, these cured meats were top notch. The World Loves Melbourne was allowed in the kitchen and we chatted with the friendly staff who exude passion for their craft.
Morcilla! Blood sausage baby. Seriously this was the best I've tasted so far in Melbourne. Moist blood sausage with a spice kick. Not dry. Not benign. It's alive. And perfect with apple puree.
We were loving the journey so far. Many of the dishes are clean, but Bar Nacional lifts the lid on some delightful rich and indulgent dishes. This is not the quinoa revolution by any means! A good example is this Crispy pig head, served up in its rich indulgent glory but with a playful plate up with shallots and carrots. How can a pig head be served up with such refinement?
Dining in a suit I felt like I needed some tracky pants as we slipped into this moorish dish of Duck and chicken liver parfait with brioche. Indulgent yes.
And it all went superbly with the Spanish Tempranillo we were drinking. The Sommelier was recommending Spanish wines all the way which is fair enough. We stayed with this Tempranillo the whole night but the wine list at Bar Nacionale is highly acclaimed (Lady Oenotria has described it as "banging").
Meanwhile the attentive wait staff were quick to spot we needed more brioche for our parfait and obliged.
The standard at Bar Nacional is consistenly high across dishes. No weak links. I enjoy simple Spanish food but there's something impressive about the sophistication at Bar Nacional.
Lardo, pickled vegetables and radishes is a simple description for a dish that sings. Slivers of Pork fat greeted us, again arranged in playful fashion, surrounded by pickled vegetables and radishes, and a large Duck egg. I made use of leftover brioche from the previous dish to mop up runny duck egg and fat - indulgent overdrive.
I felt like I was being satiated into oblivion. Bring it on. The Ox heart charred in the Josper oven with artichoke foam was brilliant, again displaying technique. Nice touch with the cress on top. Ox heart is tasty at the best of times but these guys have the oven working a treat to add a further dimension. Big flavours but also with nuances.
Honestly we were super impressed and thought we were at the culinary summit. Only to be told larger Raciones were to come.
From the moment I set eyes on the next dish I was in love. The Flathead with smoked eggplant cooked on pear tree wood was amazing - smoky woody flavours permeating the sweet Flathead was a winning combination. Normally I find most fish dishes fairly tasteless, but this one hit me between the eyes.
I checked out the oven in the kitchen later - it's unique how they cook the dish on flat wood (having experimented with different wood flavours) with a smokiness coming from the bark.
The Wagyu from Robin's Island (not where Nelson Mandella was incarcerated but off the coast of Tasmania) was tender and a premium cut of meat. The Jerusalem artichoke puree and crumbs were spot on.
Being a pork belly tragic I was enthused by this Greenvale Farm Pork Belly with compressed pear and mint. The pear and mint were so refreshing complimenting the pork. The mint added an extra dimension and was in no way a token add on. And the salt and vinegar crackling was a hit!
Another already famous dish is the Tocino del Cielo – heaven's bacon, salted maize caramel... Heaven's bacon - pork infused salted maize caramel flan had us floored! Caramel Flan infused with pork, and served with dehydrated popcorn and large cornflakes. Elements of sophistication and fun. The Caramel Flan was high powered and combined brilliantly with the infused pork. Ebullient bliss.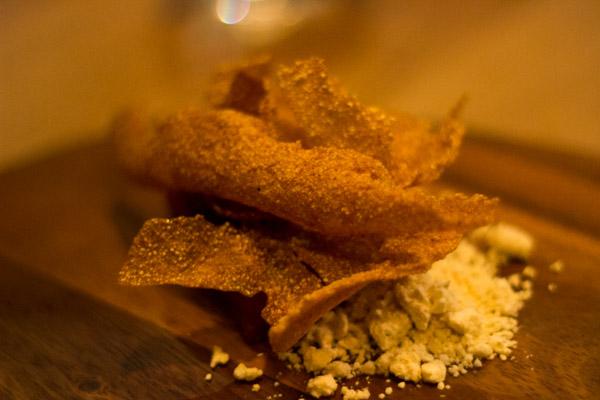 The second dessert experienced was described to me as Rice Pudding and was a kind of deconstructed cereal dish. What looked like rice bubbles was in fact candy. And the large flakes on top were in fact made from milk! Inside was a delighful scoop of ice cream.
An award winning dessert (Gourmet Traveller Top 10 Dishes of 2013) was my pick of the amazing array. The Burnt orange crema Catalana, bay leaf, polvorón and crunchy fennel seeds is a stunning dessert. The various textures combine together with crunch and creaminess, and the hit of orange is ultra satisfying. The top of the brulee is covered in fennel seeds and something resembling a Spanish shortbread biscuit that crumbles easily. The dish is not sickly sweet but sophistiated with nuances.
Bar Nacional served us up a Spanish feast. Since then I've recommended it highly to my corporate colleagues for sophisticated and creative, even fun dining, but without pretense.
Bar Nacional reaches the heights in terms of its cuisine - it certainly does bring San Sebastian to Collins Street.
---
8. Rockwell and Sons - Smith Street
Rockwell and Sons provides American style soul (comfort, dude) food in Smith St and has one of the most acclaimed burgers in town with the Double patty smash burger. Another contender for best burger in Melbourne but not the mainstay of their imaginative menu.
Rockwell and Sons has a modern fit out with chic timber framing, funky lighting and exposed brick walls. Rockwell also pours a mean latte...
Rockwell and Sons offers "dude" food gems such as Southern Fried chicken sandwich, Rib sandwich, cheese dumplings, Lamb dog, Calamari roll with pickles, or even a delectable Lamb shoulder... But the star of the show is the Rockwell Double patty smash burger of rock star fame...
The Double patty smash burger consists of a sexy brioche bun from Brasserie Bread (important to have great bun), excellent juicy patty action, cheddar cheese drooled all over the meat, crunch gherkins and a killer sauce. For mine it's the sauce that makes it... This sauce reputedly includes 3 different kinds of mayo. So good. The burger is a triumph of juicy melted and crunchy bliss! And the price point is kind to the wallet.
The burgers are better at Rockwell and Sons... As are the fries!
And the fried chicken is legendary, with Wednesday night events in hot demand (need to book ahead).
Rockwell also boats amazing home made french fries with aoli... Critical to get this right when you've got a rock star burger.
Rockwell and Sons is the perfect place to dine with friends or even pull up at the bar on a stool as I did. Service was engaging and friendly. Even the barista chatted to me over the bar while pouring coffees...
Rockwell is long and elongated... Cool tunes playing. This is a great vibe without pretense.
The logo is a classic...
Rockwell and Sons is highly recommended for unpretentious dude food with great vibe and at a reasonable price in a cool part of Smith St.
---
9. Bomba Bar - CBD

Bomba Bar is one of the hottest destinations in Melbourne with its killer ambience, exciting Spanish cuisine and a sexy wine and cocktail list. Jesse and Vanessa, Melbourne culinary royalty, have transformed former The Aylesbury - already a hit - into something even more rewarding as a Spanish Workers Bar. The World Loves Melbourne was at Bomba with media/bloggers to sample it's offerings. They may not set put to be a dude food haven but we like the pork jowl in particiular and the large raciones with meat dishes...
Bomba is launching out with Vermouth of sophistication soon to be on tap and currently imported bottle, including an amazing Vermouth from Barcelona that's alluringly aromatic. Vermouth is big in Barcelona right now, notably some hip specialist Vermouth bars. Often drunk at the start of the evening with snacks, Bomba pleases with its unique Vermouth range served up with snacks such as Smoked almonds and olives. Check out The Independent publication from the UK on Vermouth back in vogue - time to rediscover Vermouth. Vermouth could be my drink of the summer. It's taking over gin and tonic as drink of the moment.
Jesse Gerner exudes Iberian passion in the kitchen and with Vanessa are such congenial hosts. They seek to please in attention to the detail, treating customers as VIP guests. No pretension. The Aylesbury was a hit and Anada in Gertrude St is another success.
Bomba Bar delivers with this Shark Bay Prawn pil pil. Of course pil pil refers to the unique sauce that derives from the Basque region of Spain. These prawns are sumptuous with appropriate high garlic content. And the oysters (below) fresh and tangy - with Bomba serving up quality Coffin Bay and Wapengo lake rock oysters.
Vanessa Gerner is a vivacious host who exudes positivity and passion for good food and wine. She and Jesse are visionaries in the industry, focussing on honest hospitality and bringing us the best of global trends with creative flair.
Bomba Bar's transformation to a Spanish Workers bar is impressive. The ambience is rustic, alluring and warm. Use of textures is top notch, including recycled timbers, woven straw light shades, copper reinforced benches, and sexy lighting tones with red and orange tinge.
Jesse Gerner and Andrew Frisk head up the kitchen with a love of all things Spanish...
Lamb ribs hit the mark...
But it's the epic Pork jowl that steals the show. In fact the Pedro Ximenez braised pork jowl with celeriac...
So indulgent. Amen to a fat cut of meat. Melbourne is pork belly crazy but check this jowl brother. It will change your life. Infused with sweet Sherry flavour and almost creamy, it wows. Important is the knob turnip celery to cut through the fatty goodness. The skin is super sticky and I ate it eyes shut.
Bomba's big busty meat dish is the standout track on a pretty heady album.
Grilled asparagus. lemon, egg and migas, is arresting with its refreshment and zest.
Bomba also satisfies with Slow cooked pork belly ribbons... I sneaked a couple of extra ones while my fellow diners weren't watching.
Adam Valentine from Hot House Media motions to the kitchen and we are graced with Broad bean and goats curd Spanish toast. This hits the high notes with a cut of spicy morcilla (black pudding baby) on top. Humble toast yet so delectable.
Bomba was packed on a Tuesday night, not only downstairs but upstairs at the Rooftop Bar. Were we in Spain? Such a unique ambience in Melbourne.
Bomba has also delivered in its Rooftop Bar - with added dimension to The Aylesbury version. Like Etihad Stadium it has a retractable roof, great for big game cocktail sessions. We were treated to Vermouth and Negroni's. A Negroni is another incarnation of Vermouth of course.
Bomba has everything needed in a rooftop bar. Views are stunning on the 5th floor. Unlike some rooftop bars in Melbourne it has adequate heating. And a decent bar menu including many of the tasty tapas options downstairs.
We were treated to a boutique premium service from Uber taxis - a popular Melbourne and international service that is perfect for your ride home. Check out their app - so easy and rewarding.
Highly recommended.