Best Dumpling Restaurants in Melbourne 2023
Where are the best dumplings in Melbourne? Dumplings should have superb fillings and broth, the casing shouldn't be too thick, and there should not be piercings in the casing for the broth to escape.
Shandong MaMa - Mid City Arcade CBD
Shandong Mama is an exciting addition to the Melbourne culinary scene in Mid City Arcade and can lay claim to the best dumplings in Melbourne. Mama is a retired ex accountant from China who spent years cooking for friends in her social circle in Shandong Province. She's had the courage to start this homely restaurant with her delightful family here in Melbourne. Friends and relatives are part of the scene. Mama has a passion for healthy, delicate cuisine. It's exciting to see a Shandong Restaurant (one of the 8 major Chinese cuisines) in Melbourne.
Shanghai Street Restaurants
Superb dumplings at Shanghai Street Dumpling House on Little Bourke (and La Trobe). I understand they are related. Right up there with the best dumplings in Melbourne. Wonderful wrappings and skilfully put together. Having been to these restaurants many times I can't recall any dumplings having pierced skins for the broth to spill out. The quality is consistent! Fillings are great and burst with flavour! The Xiao Long Baos are sublime! The pan fried dumplings are superb – I love the golden colour on the outside and great fillings. I love the flavour of pork, fresh coriander, ginger and spring onions. These guys are at the top of my list!
These are some of the best dumplings in Melbourne! The Little Bourke St (and another on La Trobe) place hums – nearly always packed with a line down Little Bourke. Wonder why they don't fit in more tables – with only about 25 seats and a handful of stools. Run by dumpling house royalty these experienced dumpling specialists offer great value but with it extraordinary quality!
Incredible dumplings! Love the pan fried pork dumplings – or menu item 18 to be precise. I loved the thin well pleated wrappings of the dumplings – the pan fried element came through with crispiness. For $8.80 I got 15 great dumplings – top value for the CBD! Fillings great and juicy but the key is always to have no tears or holes in the wrappings for contents to escape and lose their punch! Also have enjoyed the fried chicken and crab dumplings here – 10 for $8.50. Really tasty and quality again.
There are some dumpling houses with cheap dumplings but they don't have the quality to match. What is the use of 15 dumplings for next to nothing if they're rubbish? Not so with this wonderful establishment!
Love the simple décor and open ambience. Seats by the window are popular looking out onto Little Bourke. Friendly and attentive staff. You can see the kitchen staff working away inside the restaurant – the open kitchen is small but adds to the excitement.
The pleasant surprise is that the Dumpling House is not just about dumplings! Have been here now many times – a favourite "go to" lunchtime haven. The spicy pork sauce and noodles with bok choy dish is tremendous – the sauce is so flavoursome with a pork mince and a real kick with the chilli! Love the arrangement - the sauce is set to one side in the bowl but you can mix it all over the noodles. The bok choy complements the spiciness! Recommended by the waitress as her favourite (although yet to catch on yet I'm told). For the price of only $6.80 it was amazing value!
Sat on a stool overlooking Little Bourke and so did the elegant woman next to me – who ordered about 8 dishes – greatly reducing my counter space so I was really hunched eating my meal. I was going to an important function that evening so I was trying to protect my shirt and tie from flying sauce, noodles and bok choy! Was mostly successful although had to visit the men's at work to wipe off the pork sauce drops on the Van Heuser! Couldn't believe someone could eat so much – was she another food critic? It's all good! Keen to try the wontons and buns! Love this place!
---
HuTong Dumpling Bar - CBD
Hutong Dumpling Bar is a serious contender for Melbourne's best dumplings. The Xiao Long Baos are sublime and a well crafted and tasty dumpling. The food here is of a high quality for a reasonable price. Added with excellent ambience, this restaurant is a winner.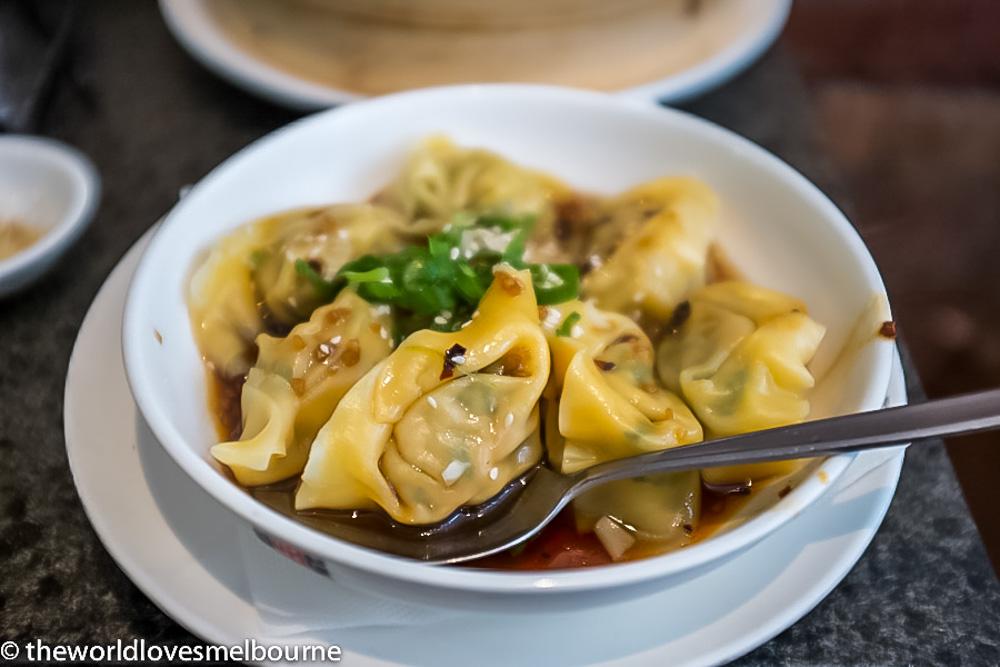 The dumplings are a class above most others. You can see the chefs preparing the dumplings by hand with fine skill through the kitchen window. The excellence of those Xiao Long Baos is in the fine casing that only takes a little bump or prick to break. Yet these dumplings hold together well. The meat filling inside is tasty and of quality. But the high note is the soup or broth that fills these dumplings. When you eat them they just explode in your mouth with wonderful flavours.
People who say they can find cheaper dumplings nearby – honestly, they need to consider the great quality of HuTong dumplings. Getting 1000 dumplings for $5 might sound great but if they're average to start with who cares. And the atmosphere here is excellent. The upstairs section has a great ambience with attentive staff.
On my first of half a dozen visits to Hutong I was given a lesson in dumpling consumption by a waitress... Never I repeat never cut a dumpling in half. Always consume in one hit. First dip the dumpling in soy and chilli... When eating those Xaio dumplings the waitress told me to put the dumpling in my mouth then consume the broth in the dumpling - before eating the rest. Absolutely sensational.
Shredded pork here is also great. The twice cooked pork (which I've had twice) is a sensation with rice. People keep asking me what twice cooked means and why it's necessary – come here and try the twice cooked pork and you'll find out. Simply, cooked twice means cooked partially using one method then finished off cooking with another method. Or in some places it may mean undercooked the first time and sent back to the kitchen to be cooked properly. Wouldn't happen here. The noodles also rate at Hu Tong. And I enjoyed the fried rice with good fresh ingredients - and not too greasy. You'll keep coming back.
---
Spice Temple, Crown
Spice Temple has developed several famous dishes in the dumpling department that thrill. The King Prawn wontons with aged black vinegar dressing make an immediate impression in terms of presentation and your first foray into the spicy sauce that imbibes this dish. The wontons themselves are beautiful and the style and filling first class. Thin and elegant wontons. The dish was generous - although I was eating a shared dish by myself (I'm no stranger to that).
The combination of flavours and balance was impressive. Dancing on the tongue this dish was to be savoured. I felt a compulson to consume the spicy sauce almost as a soup. Apparently I'm not the first to do so. Soon my lips were burning but I wasn't deterred. Sizhuan peppers and chilli bringing the heat.
---
Ping's Dumpling Kitchen - Clayton
Melbourne's best dumplings in Clayton? Ping's Dumpling Kitchen in Clayton is a local favourite. I was totally amazed the first time I tried their dumplings. And then kept on coming back! Part of a great culinary scene in Clayton. These dumplings are also great value and of high quality. Again, fragrant and tasty fillings without too much oil. And again, well put together dumplings without piercings in the casing that allow the broth to escape.
---
I Love Dumplings - Bridge Rd Richmond and various
I Love Dumplings is a popular dumpling house on Bridge Road that is growing in reputation and popularity. This is a great place to dine in with modern fit out of exposed brick, impressive artwork, funky lighting as well as traditional lamps, large tables that cater for groups, timber floor, and steel counter.
We felt like dumplings on a Sunday afternoon and I Love dumplings was an obvious place to visit with its forthright name. We can identify. I Love Dumplings satisfies with great dumplings but these guys deliver on a range of cuisine not just dumplings. The fried rice is a popular item and there is a huge range of Asian dishes with option of small or large sizes. And my visit on a Sunday was to a packed restaurant with many groups and a roaring take away trade.
I Love Dumplings delivers on the Pork pan fried dumplings and the Chicken and prawn dumplings. These dumplings are delicate not stodgy and full of flavour. The fillings are excellent and no holes in the casings so the broth inside is preserved. I ordered 15 of each and it was an excellent meal.
The wait was slightly long on the dumplings but the place was packed, so it's all good.
I intend to go back for another visit to I Love Dumplings. Highly recommended.
---
David's Prahran
David's in Prahran is a Melbourne institution and the occasion of many a fine dining memory. Come here for Chinese cuisine, with heartfelt connection to owner David Zhou's life in Shanghai. Check out some of the fine dumplings I imbibed at David's for "Beyond the Bund" event...
In the spirit of sharing, the offerings have been selected to show the variety that China has

to offer. In traditional Chinese cuisine flavours change from region to region as one travels

throughout the country. David has emulated these delicious contrasts through his menu

choices.
From the eastern coastal province of Jiang Su comes the Lion Head, a sumptuous pork

and chestnut meatball concoction in a delicate chicken broth.
To represent Shanghai, customers indulged in the newly crafted crunchy prawn clusters, satisfyingly crisp parcels with a melted butter center. I found these to be particularly indulgent with a creamy prawn hit!
---
The Oriental Teahouse - various locations
Oriental Teahouse in Melbourne Central is a revelation with class fit out and ambience and exciting cuisine.
Attention to detail and excellence is the trait of David Zhou (also of iconic David's in Prahran). The philosophy is to create a social hub with a tea house of high quality with signature teas and dishes. It's a great concept which appeals to the five senses. Restaurants are located in Melbourne Central, Little Collins St, South Yarra and Chadstone.
Oriental Teahouse delivers on its range of high quality teas. Not only that but it has the largest tea bar in Australia. Come here to sample from the amazing range. Here I enjoyed the Relaxing blend. David Zhou (originally from Shanghai) says they even get the right water temperatures to match the leaves of various teas.
I was a guest and part of a sampling of a Fire in the Bowl promotion at Oriental Teahouse. At reasonable price you receive a huge bowl of fresh chilli, sweet potato noodles, 8 pork and chive dumplings, fish, chicken, vegetables, szechuan peppercorns and much more... So many textures. So many flavour combinations. So much variety. A decent amount of top notch dumplings. And the dish is well presented and colourful. Absolutely brilliant.
Oriental Teahouse has won awards for its dumplings. To combine these in such a superb dish with a host of other well suited ingredients is a delight. There's 3 levels of heat - I elected the medium level and the spice and heat was pleasurable.
The menu is divided into steamed, mixed basket, golden fried, pan fried, soups, vegetarian and other options. Their mixed basket appeals to me as it contains innovative dumpling options including Roast Duck and Shark fin dumplings.
Oriental Teahouse has a top notch fit out and atmosphere. Strangely this was my first visit to Oriental Teahouse, but I'm keen to return. For meeting with friends this is a great place. Prices are reasonable and every facet impressive. The tea displays are inviting, the use of timber creative, and the dining areas interesting.
Oriental Teahouse is the mastermind of David Zhou. Talking with David he is a passionate Melbourne food identity who has been successful for a long time in a competitive industry. Oriental Teahouse also offers yum cha. Along with various tasty dumplings you can order chicken feet, pork buns, sesame prawns, deep fried octopus and several other treats. These containers contain quality teas - black, white, green, oolong, fruit and herbal. You can enjoy a wide selection on site or you can purchase something like 60 teas to take home.
Oriental Teahouse is a modern and innovative restaurant (4 of them in Melbourne) that provides customers with an impressive dining experience.
---
Din Tai Fung
Check out our Best Cheap Eats in Melbourne.
Din Tai Fung, arguably the world's most famous dumpling specialists, have officially opened the doors to their biggest Australian restaurant yet, and the first outside of NSW at the world-class shopping mecca, Emporium Melbourne.
Located on Level Four, Emporium Melbourne (with internal as well as direct external lift access on Caledonian Lane), the 235-seat restaurant boasts three private dining rooms, an Australian-first for the group.
Earning cult status since introducing Australia to its delicious Xiao Long Bao (soup dumplings) in 2008 at its flagship World Square Sydney restaurant, the latest venue will, of course, feature Din Tai Fung's signature glass-enclosed dumpling kitchen where customers can watch the masters at work.
Dendy Harjanto, Australasian Director of Din Tai Fung said: "We are humbled by how Australians have embraced Din Tai Fung, and we feel Emporium Melbourne is the ideal location for our biggest restaurant yet."
It's not just about the dumplings at Din Tai Fung with other favourites including Spicy Shrimp and Pork Wonton Noodle, Egg Fried Rice with Crumbed Chicken Fillet, Triple Mango Crushed Ice and the signature Lychee Mint Freeze. A bespoke wine list drawing from cool-climate Victorian wine regions, with eight by the glass, also features food and wine matches.
From the first Din Tai Fung opening in 1974 in a modest Taipei stall, the Emporium, Melbourne, is now home to the most recent restaurant in this thriving business.
For two talented restaurateurs heading up Din Tai Fung for Australasia, Dendy Harjanto and his wife, Shin, are two of the most lovely, down to earth people you'll ever meet. With an endearing mix of humility and pride in his craft, Dendy explained to our table of food enthusiasts how the dumplings are lovingly made.