YOMG Burgers Loves Melbourne
YOMG has surprised many as a frozen yoghurt sensation becoming a tour de force in the world of burgers. To the extent that their burgers are arguably the best in Melbourne. Check out our article on Best Milkshakes in Melbourne.
We visited during a quiet holiday afternoon around 2.30pm and found the place packed with line ups; a miracle to get a table.
YOMG just get it right; modern vibe with loud music, compelling burgers, shakes and fries (and of course the frozen yoghurt). Neon signs, elongated design, funky boards and counters, chairs and stools, and an attractive outdoor area bring appeal.
The Creeper is $17.50 but worth every cent; soft bun, with Double beef (100% Angas beef grass fed and house made, massive patties), triple cheese (decadent overdrive), double bacon, onion, jalapeno jam (packs some kick), jalapenos and Sriracha Mayo (a creamy hot sauce). You know you're alive when you take on this burger. The name of The Creeper is apt as it creeps up on you with surprising heat, but also as being a massive burger you may struggle to complete. It also creeps up on you to win you over. So good!
The burger is massive; looking like a monster from the deep coming for you (it can barely fit into the cardboard box). It's like man or woman v beast. Can you deal with the challenge?
The regular burger with cheese was awesome without sending you into a food coma.
We ordered the American Fries; Elvis would be proud of these loaded American fries with oozy melted cheese, cripsy bacon, ketchup and American mustard. Almost a meal in itself and hits the spot.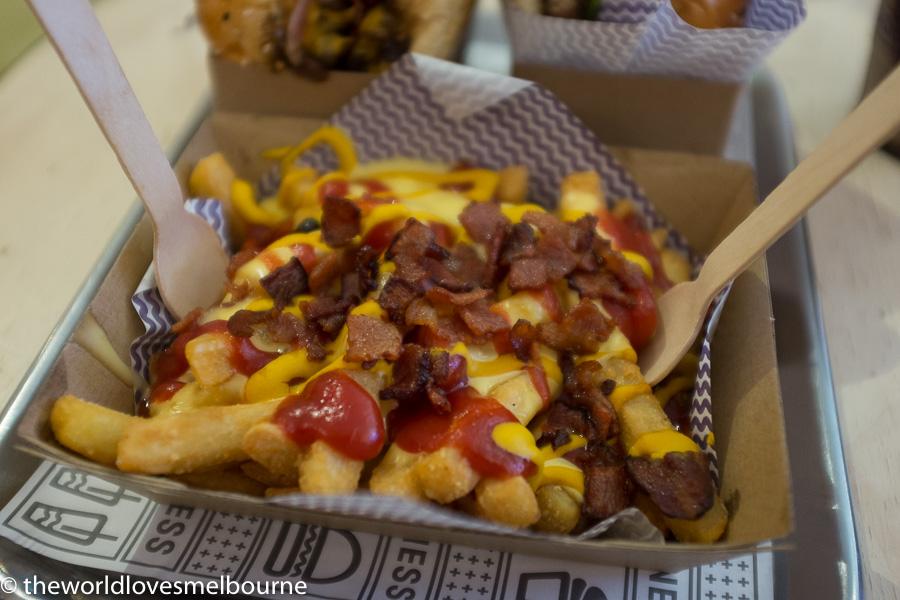 Shakes are a sensation and the Oreo Ripple was thick (how we like it) and rich and indulgent. You can see the Oreo ripple around th esides; you may need to stir to avoid a layer of Oreo on the bottom when you finish.
YOMG lights up Kingsway in Glen Waverley, making us pass up dumplings for burgers.