Meatmother Loves Melbourne
Meatmother now stokes the fire with a different kind of heat! The World Loves Melbourne was invited along to experience the new Meatmother. Check out our Best Steak and Meat Restaurants in Melbourne.
Re-launching, Meatmother, the Richmond restaurant synonymous with the American BBQ culture in Melbourne promises to again show the city why they are at the forefront of the hospitality trends, reinventing their cult Swan Street restaurant and bar. The cooking method is charcoal, with coals in the pit. The menu offers more choice, a step up from the previous limited menu.
DJ Mell Hall with the beats and Aperol Spritz. Meatnmother also served us up their delicious "Smoked Old Fashioned" with Apple smoked Woodford Reserve Bourbon, sugar syrup and bitters. (Also check out the famous Bacon sour).
With meat still as ever at the heart of their menu, the new Meatmother is now focussing on cooking over premium white charcoal, which allows all the natural flavours of their amazing locally sourced produce to come through.
They're grilling, (still smoking), roasting and barbecuing until scorched and succulent.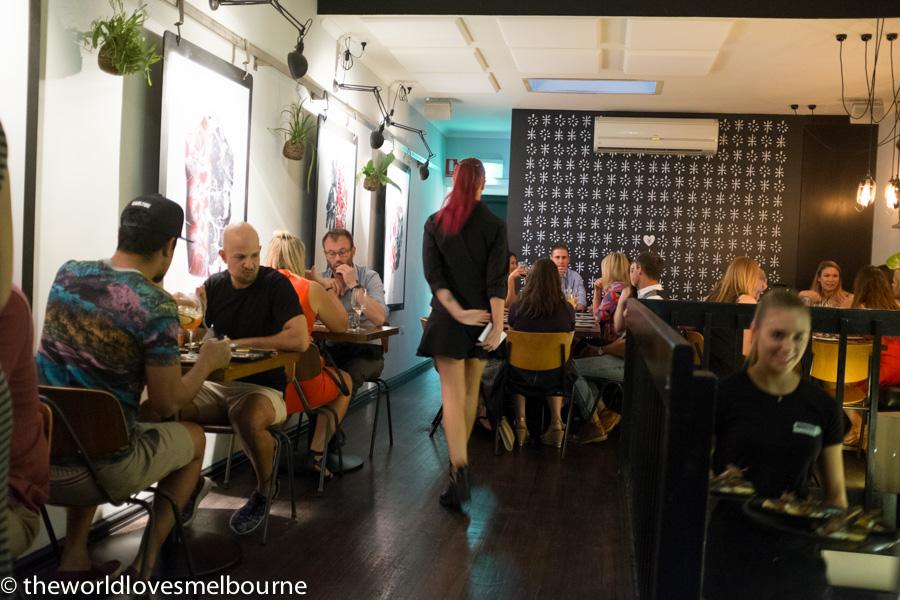 Some of Melbourne's leading media and bloggers were on hand to sample the new menu.
The menu is Australian BBQ reimagined – incorporating the best techniques for cooking over charcoal from around the world, not limited to one cuisine.
Not only have the team changed the heat in the kitchen they have also enlisted the talents of renowned chef Adam Liston from Northern Light in Smith Street as a consultant, remodeling the kitchen and menu, with nearly every element having some contact with their custom made pit.
The re-launch into Melbourne's coveted food scene has seen Meatmother transform into Meatmother 2.0 with the introduction of daily pit specials – think charcoal skewers of milk-fed lamb and pulled suckling pig buns, a new look, sharp, refreshing cocktail list and a tight craft beer and wine list. Meatmother has changed, but ultimately the proposition remains the same: that if you treat ethically-raised, quality produce with the same respect and approach the cooking process in the most natural way, the results are simple but incredible.
Milk-fed lamb skewers with saltbush and yoghurt and slice of lemon were tender, juicy and delicious. Perfect with a "Backyard Spritz" with Grapefruit Vodka, Aperol, rhubarb cordial and Prosecco.
Along with the Lamb we experienced delightful Fried Pedron peppers with charcoal salt (1 in 10 was meant to be super hot).
Spiced wagyu beef meatballs with hot sauce had some real kick! Another tasty dish.
"We're still Meatmother, we've still got the same attitude, we now just want people to come, enjoy and share our incredible new dishes and drinks with friends in an always fun environment – not leave feeling they need a little sleep," says owner Neil Hamblen.
Succulent marrow brought a touch of decadence.
A highlight for The World Loves Melbourne was the Beef Brisket, smoked and peppered, with burnt eggplant and zucchini pickle. The Brisket had wonderful smokey flavours. Charred broccoli was a perfect accompaniment. These guys are famous for Brisket and the new Meatmother is still bringing their Brisket A game.
Meatmother was serving up a selection of crowd pleasers. The Pork Spare Ribs were on point and had to eaten with fingers; featuring House BBQ sauce and roasted peanuts. Meatmother has always been famous for its ribs and the tradition continues.
Meatmother also impresses with its modern decor and artwork.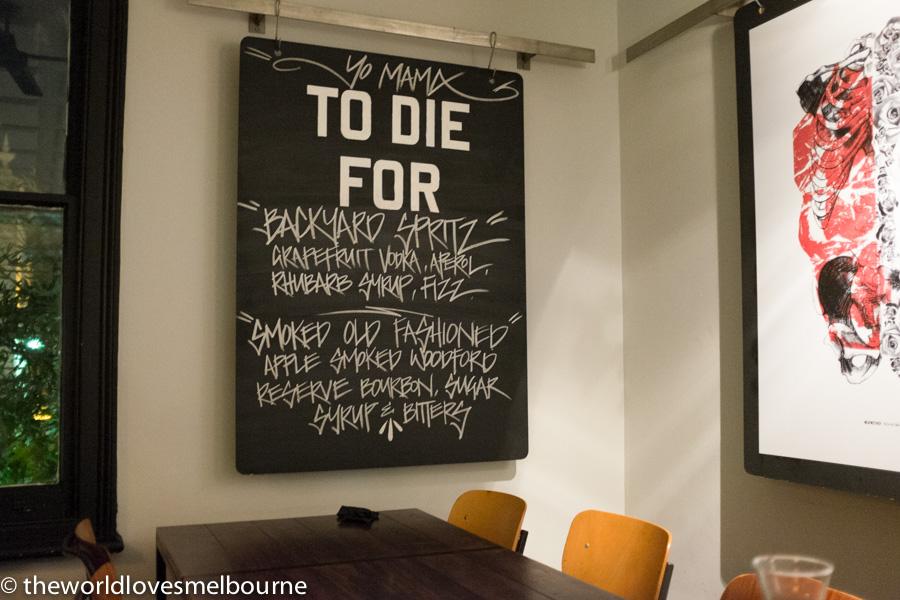 Meatmother is still rocking BBQ and is delivering in new ways with its charcoal action. Neil Hamblen was on hand extending hospitality to all and spoke of his passion for all things BBQ and meat, and the desire to extend the menu at the new Meatmother.
Meatmother has transformed itself with lunch and dinner and is still a walk-in affair (with bookings taken for lunch only). Get on it!