San Telmo, Improv Conspiracy, Lily Blacks in Meyers Place
San Telmo, Improv Conspiracy and Lily Blacks are some of Melbourne's best experiences; and are all together in Meyers Place. The World Loves Melbourne (David and Ted) was part of a promotional journey invited to check out all three venues in a night of enjoyment and discovery. It's a great concept - to market three top venues next to each other for a complete night out. And we recommend Melburnians do what we did and get on board. Amongst other things surely San Telmo is one of the best steak and meat restaurants in Melbourne.
San Telmo
San Telmo is a top Argentinian restaurant in Melbourne and one of the best places in town for meats and steaks.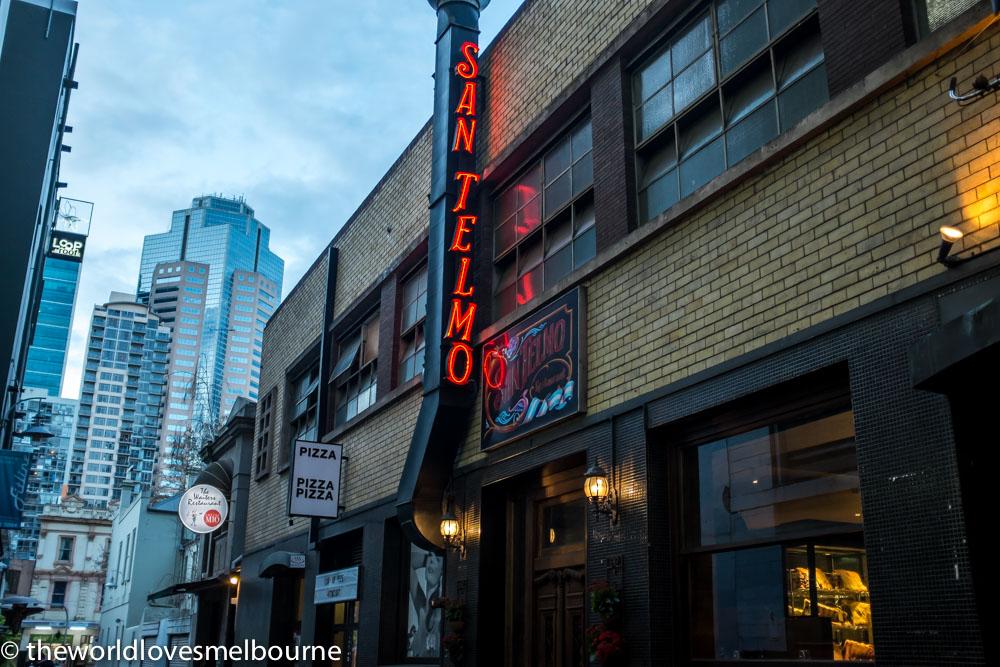 Walk into a world of flames, cow hides, open kitchen, relaxed dining, antique doors and 1930's coloured glass soda bottles.
The World Loves Melbourne loves the dark tones of San Telmo with its South American vibe echoing the neighbourhood of San Telmo in Buenos Aires (a place visited by The World Loves Melbourne). Yes we've eaten fine steak in Buenos Aires so we were keen to compare.
The Argentinian Parrilla Grill is also a standout attraction, particularly the theatre from sitting at the counter with the kitchen action unfolding in front of you.
A signature dish is the Empenadas with beef, chorizo, capsicum and pea. This is a traditional Argentinian pastry cooked to perfection with golden crunchy exterior and burst of rustic flavours inside. You can't visit San Temo without experiencing this.
It's entertaining to sit watching the action at the parrilla.
Of course a South American experience is not complete without a Ceviche featuring lemon cured white fish.
A highlight was the Vacio steak featuring O'Connor's premium pasture fed flank steak. This was served with fresh and zesty Lechuga baby cos lettuce with shallots and horseradish dressing, and the Papas crushed potato, green olive, parsley and garlic aoli. The perfect combination. Of course O'Connor meats are some of Australia's finest, and are taken to next level from cooking on the parrilla.
The potatoes were crunchy on the outside and soft inside. The chimichurri sauce, traditionally served with steak, was a tangy delight.
Argentinian wines were a perfect match - and we preferred the more full bodied reds.
Another highlight is the small dishes such as this Morcilla, spiced black sausage. this was so flavoursome melt in your mouth. One to file away for next time.
Steaks cut in the kitchen before being served.
San Telmo gets busy.
Burnt carrots with hazelnuts, thyme and garlic, goats curd.
In the mood for steak we ordered the Ojo de Bife O'Connor's premium dry aged rib eye. This is the premium cut of steak at San Telmo and was again a melt in your mouth experience. Bring on the marbled fat we say!
A steak lovers paradise.
San Telmo is an outstanding Argentinian restaurant.
---
Improv Conspiracy
Then it was on to Improv Conspiracy for comedy across the road...
Improv Conspiracy is a superb affordable comedy experience in Melbourne. Nestled amongst Melbourne's Meyers Place, Improv Conspiracy consists of a group of dedicated improvisational artists who have studied at Chicago's iO theatre (think Stephen Colbert, Tina Fey, Amy Poehler etc.).
Assemble in the waiting room (we scored a free beer) with an air of excitement before the live performance.
The World Loves Melbourne enjoyed the intimacy of the small theatre; up close and personal with the performers!
Improvisation is a growing art form in Melbourne and on the Saturday night we visited, this group of performers showcased a format created by the father of improvisation - Del Close. It's called the Remix, where a guest storyteller opens up in front of an audience and a show is inspired from his words. The storyteller on this night was a well known Melbourne cartoonist who delivered fascinating stories; and the improvisation and comedy that followed was both hilarious and clever. My mate and I said afterwards that there was no way we could deliver any sort of comedy like that on the spot.
The story teller on this night was standout cartoonist Andrew Weldon.

Andrew Weldon's cartoons have been published widely locally and internationally. He is a regular contributor to The Age newspaper, to The Chaser's publications and has drawn cartoons for The Big Issue Australia since its inception in 1996. His cartoons have also appeared in The New Yorker, The Spectator, and Private Eye. He has published two books collections of his cartoons - 'I'm So Sorry Little Ma

n, I Thought You Were A Handpuppet' and 'If You Weren't A Hedgehog... If I Weren't A Haemophiliac...', as well as several books for children.
Andrew related some hilarious stories from his life experiences and the ability of the team to bring improvised comedy off the back of the stories was amazing.
---
Then it was on to the dark and mysterious Lily Blacks where upbeat bartenders tickled our tastebuds. This is all about bringing the golden era of cocktails to a Melbourne laneway.
The art deco bar was sufficiently dimly lit, with a glow coming from behind the impressive gin and others spirits collection. French style art and discreet lamps were contrasted with exotic plants. The ambience at Lily Blacks is particularly compelling.
Even though staff reserved a table for us, we were also invited to sit at the bar where we engaged the exceptional bartenders.
Both of us were in a scotch mood, and the cocktail menu delivers. The Lion and Rose is a scotch lovers dream with a blend of Lagavulin 16, vermouth and amaro. Bold and boozy. As they say, "Smoky whisky fans this way, please." What a cocktail - we love cocktails where you can taste the alcohol and it's not masked.
Lily Blacks is the perfect sophisticated way to end an evening. What an experience and great concept - we highly recommend dinner at San Telmo followed by fabulous comedy theatre at Improv Conspiracy then cocktails at Lily Blacks. All in the same precinct in Meyers Place! Sensational.