El Atino brings the flavours of Latin America to Bridge Road
I love the variety of food options that Melbourne has to offer. Although there tends to be parts of the city that are concentration with particular type of cusine, popular stretches such as Bridge Road offer a range of restaurants from Japanese, to Italian and authentic Latino food at El Atino.
When El Atino opened late in 2015, there was only breakfast and lunch items available alongside a small food store stocked with Latin American staples including house-made chimichurri, plantains, empanadas and a range of hot sauces. Now, the offerings have expanded to include a full dinner which head chef Martin Zozaya satisfies customers with an amazing spread of food covering a region that includes Mexico and South and Central America.
Latin food is flavourful and always inventive. In true Latin fashion, El Atino's food should be taken in with friends or at least one other person. Dishes are prepared to be shared which makes for a fun interactive evening.
We started off with two versions of ceviche, one with sweet potatoes and toasted corn nuts and the other with thinly sliced zucchini, cherry tomatoes, red onion and a lime vinaigrette with a hint of habanero. Don't under estimate the spice in this dish. It was absolutely delightful but neither of us expected to drink all the water at the table before we finished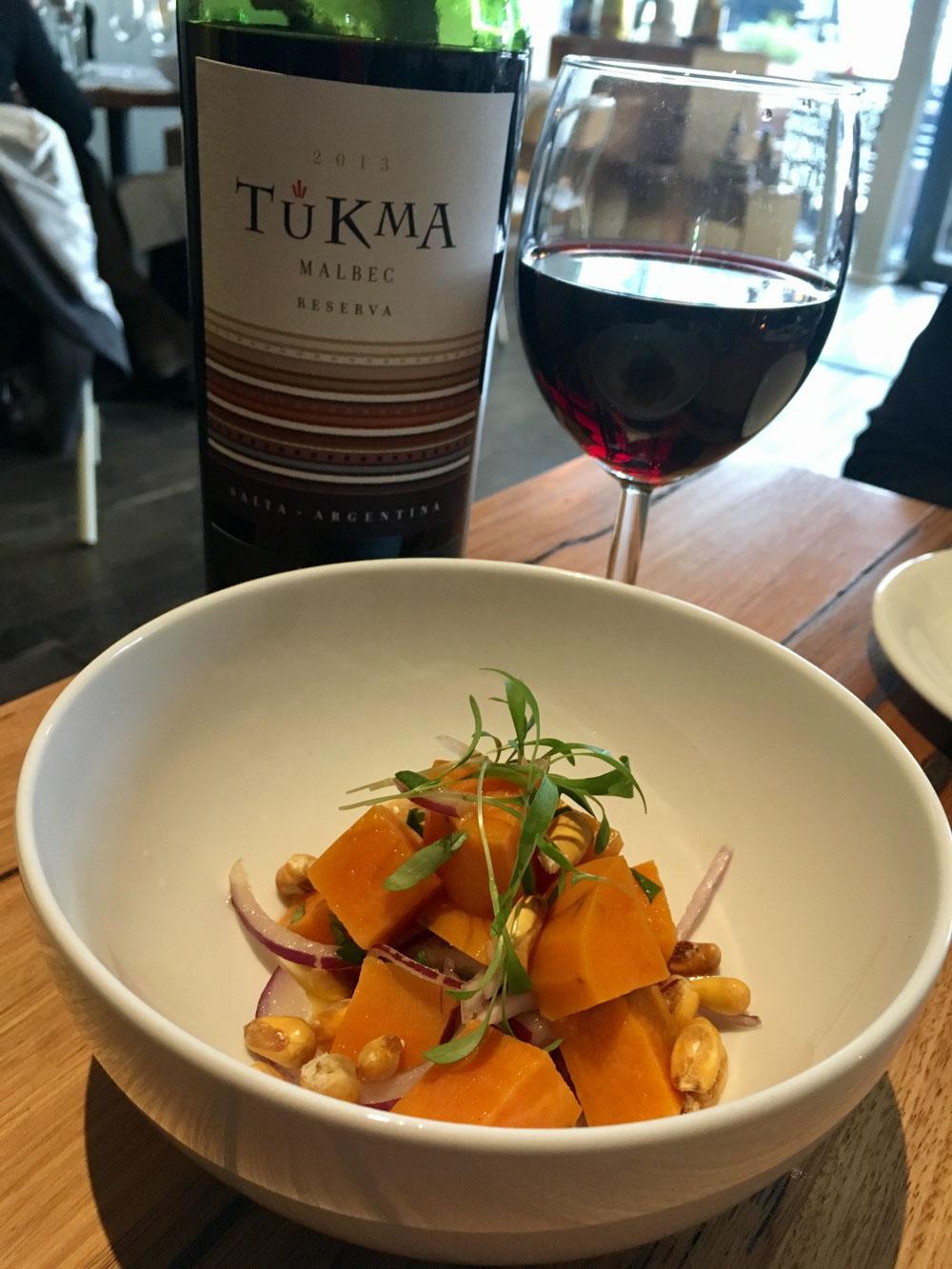 Next up was the stone salsa and steak with DIY salsa. The strips of meat came out over a small flame keeping it warm. It was well flavoured, cooked perfectly medium rare and the salsa (with a splash of orange juice) provided the burst of colour and flavour to tickle the taste buds. You can actually control the spice level in this dish as the more you crush the salsa the spicier it gets.
Seafood is best when its fresh and the Havana prawns were succulent and cooked in dark beer and coconut sauce and served with some bread for dipping. This dish was quite strong and had a bit of a bitter aftertaste. It definitely wasn't suited for my pallet but is definitely work trying as its one of the more popular dishes on the menu.
We finished off the savoury potion of the night with jalapeños stuffed w/ goat curd and longaniza. These were absolutely divine and a must try when you visit!
There's always room for dessert, in my opinion. And the chocolate sweet sin brownie was the perfect way to end the evening.
Patrons will swoonover this small and buzzing cantina that captures the mood, excitement and most importantly the authentic flavours of Latin dining. Besides grabbing your favourite items from the shop to recreate your Latin feast, El Atino also offers interactive cooking classes so you can learn to cook like the pros. It's a one stop shop to be well verse in the art of Latin food.