Musou Malaxiangguo stir fry dry pot restaurant launches in Melbourne CBD
Musou, a stir-fried, dry pot restaurant now joins the retinue of other EFC brands including Gotcha Fresh Bubble Tea, JiYu Thai Hot Pot and Da Long Yi. The World Loves Melbourne was invited along to experience this exciting culinary concept.
Musou celebrates the ancient culinary art of 'chao' or stir-frying. Originating in the Han dynasty, the humble stir fry has now become a technique of searing and charring food over high heat in little oil throughout kitchens around the world.
Musou is taking this culinary technique to a next level, offering a range of a prosaic and exotic ingredients to tempt and enjoy. We loved the fact there are several restaurant venues together in a hub and the fact we could enjoy teas (bubble milk teas and fruit teas) from Gotcha next door with our meal at Musou.
Situated at two CBD locations, 398 Elizabeth Street and 208 Little Bourke Street, Musou is downstairs from Da Long Yi Sichuan Hot Pot and JiYu Thai Hot Pot.
The venues are therefore offering TWO time honoured methods of cooking, stir-fry dry pot (including customised special fried rice) and traditional hot pot under the one roof.
Designed to cater for all preferences, the Little Bourke Musou kitchen is open plan, where guests can see their customisable bowls being compiled and cooked in front of them in the method of Ma La Xiang Guo or simply, dry pot, AND Ma La Tang, single serve and fully-prepared hot pot.
The important element for a Chinese stir fry cuisine is 'wok hei' which is called the 'breath of the wok.' The hallmark of an outstanding chef is handling the wok over intense heat to achieve the wok hei and this is what the expert Musou chefs are trained for.
As Musou chefs work quickly, ensuring that the as much of the wok's surface area is in contact at all times with intense heat. In this manner, they are able to get the desirable caramelised and seared flavour imparted into their food.
Delicious, nutritious and freshly stir-fried to order, dust the cobwebs off with Musou's Malaxiangguo special sauce, customise your own special fried rice and have your taste buds pleasantly spiked with the tongue-numbing Sichuan peppers and chillies, Musou menu ingredients range from western style stir-fry, (beans, tofu, mushroom, noodles, broccoli, seafood etc) to the more adventurous (boneless duck feet, beef ribs, pork trotter, dry lotus, kelp knot etc).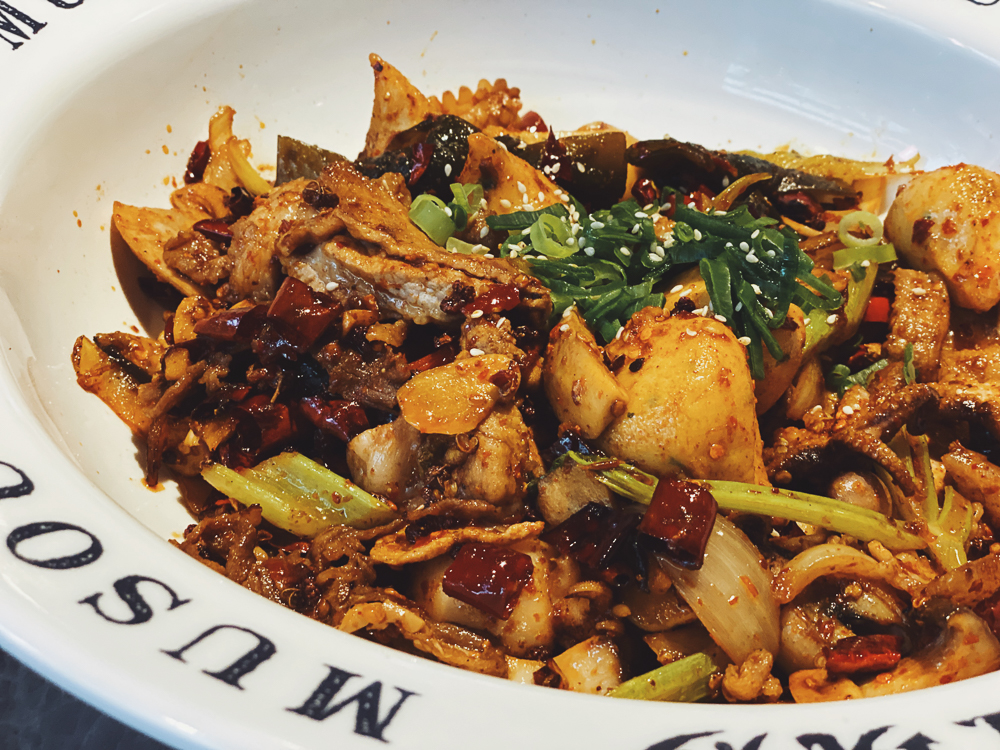 We went with 7 ingredients in our Malaxiangguo stir fry pot including 4 seafood (fish balls with roe which we highly recommend, calamari, baby octopus, and cuttlefish), 2 meat (pork belly and beef slices) and one vegetable (King Brown Mushroom). They also added in kelp knot (which we also highly recommend). This was a signature dish and our favourite dish.
Perfect to create your own bowl with a myriad of tantalising combinations to choose from. Diners can then dial up their spicy preference to their individual taste with the choice of either non-spicy, little spicy, medium spicy and extra spicy bowls to feast from. We went for medium spicy which was still welcoming heat. It was fun to build (appreciated the waiter assistance) and was full of flavour, with awesome spice hit with that Sichuan numbing nuance.
Also recommended is Stir Fry Prawns with Chilli Sauce (also welcome spice and heat) and the Stir Fry Noodles with Beef dish.
Travel upstairs to Dal Long Yi and you will find steaming, swirling and spicy hot pots, with a variety of various sauces, soups and ingredients to select from.
Or upstairs to JiYu for delicious, creamy Thai-style hot pot with an array of fresh seafood and creamy coconut or Tom yum style broths. Sides of steamed rice, traditional Sichuan fried bun and crispy spring onion cake can be ordered to snack on.
Each of the many options pair perfectly with your choice of beer or soft drinks for beverage options of choice. Highly recommended.