St Ali North and the Californian Dream
St Ali North is a stunning cafe in the northern suburbs that evokes feelings of a Californian dream with its tall tree leafy surroundings and cycle track adjacent (breaking news: now closed). We met with another family here - east meets west of Melbourne. St Ali North was the perfect epicentre for a cafe rendezvous.
The quality of St Ali North is top notch and on a par with highest standards of St Ali South. There's no hint of quality dropping away from the South Melbourne cafe icon. Get out your iphone and filters like I did, the sun rays across the chilled St Ali North setting are alluring.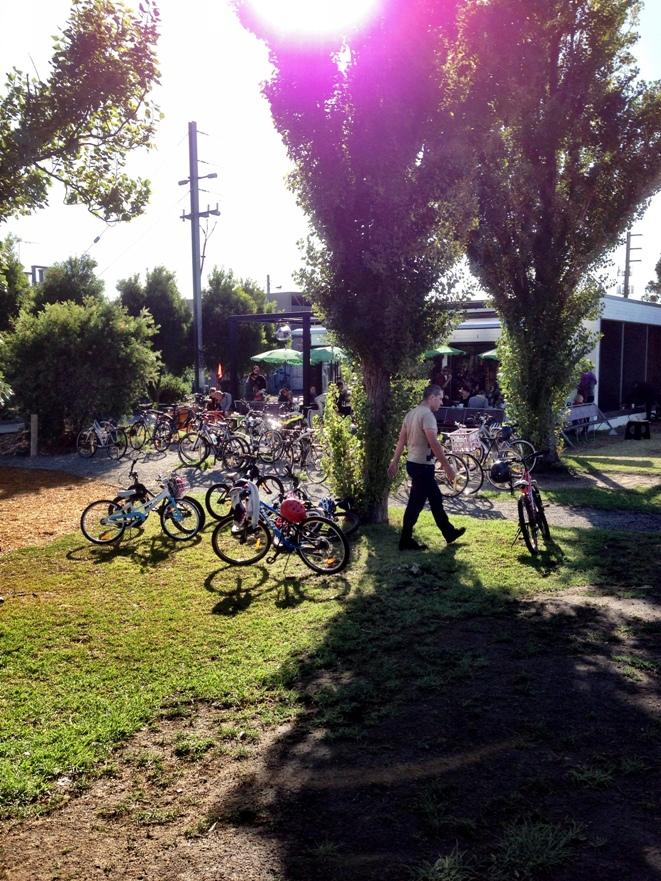 St Ali North is along a bike track Capital City Trail - so go for a ride and imbibe. You can even grab a brew from the window while on your journey. The first thing that strikes me is the attractive outdoor space, the playground and the collection of bikes out the front. All we need is skaters and it's like California 1979.
St Ali North is the perfect place to bring your family or connect with friends. It's mega social. It speaks of community. We were there on a packed Saturday brunch time - loads of vibrant groups enjoying the Melbourne sunshine and fine coffee and cuisine. You just need to pounce on a table when it becomes available.
The ambience is retro featuring a low ceiling like a studio. The building is spacious with the throng spilling over to the outside tables. Pot plants and pastries adorn.
Yes it can be described as hipster. And hipster staff were engaged and attentive - we were impressed.
The coffee here is sensational. I enjoyed a couple of lattes here, flavoursome and with intricate nuances. The testament to St Ali North coffee was the long line from the counter down the street. Enjoy tasty treats from the display cabinet as we did.
The menu impresses with options such as the My Mexican Cousin through to Buttermilk Pancakes with Pepe Saya. I went for the Poached eggs at 65 degrees with salmon and sourdough - extremely satisfying as a hearty breakfast of generous portion.
As reported by St Ali, "My Mexican Cousin has long been the most famous and best loved dish at St Ali in South Melbourne. It lent itself to the restaurant of the same name at the Melbourne recital centre. And now our chef Chris Hamburger at St ali North has revised the recipe and it has become a best seller there too selling 400 plus portions a week within two months of opening." A corn fritter sensation that comes with avo and feta mash..
We understand there is a close relationship between the South Melbourne St Ali and St Ali North. The same management team oversees both.