Jinda Thai A Foodie Favourite in Abbotsford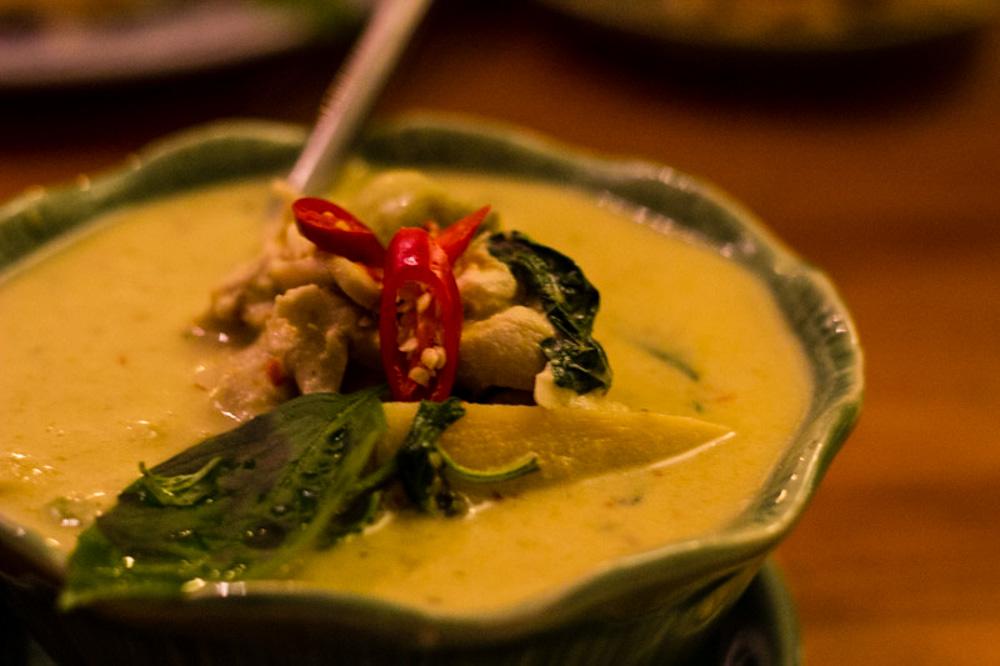 Jinda Thai has quickly established itself as a formidable modern Thai restaurant and has a large fan base. Check out our Best Cheap Eats in Melbourne. Also check out our Best Thai Restaurants in Melbourne.
Dishes are authentic, with the odd modern twist, and the staff are upbeat and service excellent. Jinda Thai is also giving back to the punters with a meagre $3 corkage. Walk in to a vibrant modern space full of natural light, which has a different but alluring ambience at night with chic lighting.
We dined at Jinda Thai in catching up with good friends from Adelaide, who have a penchant for Thai cuisine. We wanted to take our friends to a "now" Melbourne restaurant (no offence to older institutions) and Jinda Thai are in fine form. We brought along the kids knowing there's a risk of exposing them to spices and some heat. Jinda Thai don't "dumb it down" for Western tastes. This is about fresh, tasty, authentic, well presented food.
First up the starters are a highlight, with these Prawn twisters pleasing adults and kids alike with minced prawn, coriander roots, Thai pepper and a spring roll like casing. I could eat these all night...
Jinda Thai has a modern feel with large warehouse converted into a trendy restaurant. Exposed brick and wooden floors ensure vibrant noise levels. Here at 6pm the restaurant was soon full, with more diners arriving later for a second sitting...
Moo Ping Sticky Rice is a rewarding dish with marinated pork skewers and homemade nam jim. Jinda Thai doesn't hold out on the heat and spice, but discreetly they serve the sauce in a separate bowl. These Skewers with sticky rice were a highlight. Oh we love sticky rice and find it's not always available at the Thai establishments we dine at.
Here we have Grandmother Jinda portrayed on the wall. Note the attractive, not cheesy, artwork around the room. Cool lanterns and hip decor. No kitsch here...
We ordered another serving of the Skewers (love the cane basket for the sticky rice)...
The Barramundi Fillet featured a wonderfully crispy skin, with delectable white flakes of barramundi inside. The fish has the right kind of texture and sweetness to suit Thai cooking. This was deep fried fish with green apple salad dressing of green apple, red onion, fresh chilli, coriander, lemon juice and fish sauce. A great combination. We should have ordered another serving of this, as the kids also loved it. One for next time...

Jinda Thai has a casual but hip modern ambience.
Here's a close up pic of the zesty apple salad...
Green Curry Chicken was creamy, spicy and a delightful amount of spice. The heat in this dish creeps up on you...
I find many Thai restaurants in Melbourne cook great pork neck dishes, and the Thai style marinated pork neck at Jinda Thai from the grill was top notch.
The Thai special fried rice with chicken was a meal in itself and one for the kids...
We also enjoyed the Seafood noodles, that surprised us with the level of spice. The kids balked at this dish and its level of spice, finding out that noodle dishes can be hot and spicy...
Jinda Thai offers simple but enjoyable desserts. I'm tipping more people order these because they're not too heavy, and are affordable.
Coconut ice cream was a hit...
The Cakes look attractive, but the Coconut ice cream gets the nod.
Jinda Thai impresses at every level for its freshness and enthusiasm and is surely one of the best Thai restaurants in Melbourne...