Best Thai Restaurants in Melbourne 2021
Looking for the best Thai restaurants in Melbourne? Here are our favourite Thai restaurants in Melbourne (not necessarily in order)...
Jinda Thai - Abbotsford
Jinda Thai has quickly established itself as a formidable modern Thai restaurant and has a large fan base. Dishes are authentic, with the odd modern twist, and the staff are upbeat and service excellent. Jinda Thai is also giving back to the punters with a meagre $3 corkage. Walk in to a vibrant modern space full of natural light, which has a different but alluring ambience at night with chic lighting. Surely one of the best Thai restaurants in Melbourne.
We dined at Jinda Thai in catching up with good friends from Adelaide, who have a penchant for Thai cuisine. We wanted to take our friends to a "now" Melbourne restaurant (no offence to older institutions) and Jinda Thai are in fine form. We brought along the kids knowing there's a risk of exposing them to spices and some heat. Jinda Thai don't "dumb it down" for Western tastes. This is about fresh, tasty, authentic, well presented food.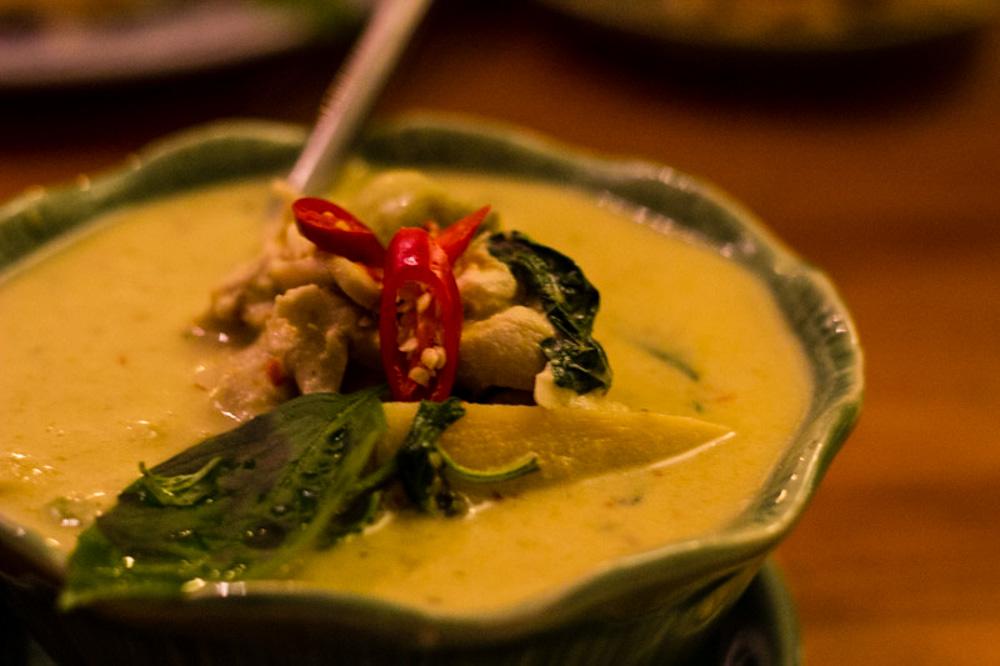 First up the starters are a highlight, with Prawn twisters pleasing adults and kids alike with minced prawn, coriander roots, Thai pepper and a spring roll like casing. I could eat these all night... Jinda Thai has a modern feel with large warehouse converted into a trendy restaurant. Exposed brick and wooden floors ensure vibrant noise levels. Here at 6pm the restaurant was soon full, with more diners arriving later for a second sitting...
Moo Ping Sticky Rice is a rewarding dish with marinated pork skewers and homemade nam jim. Jinda Thai doesn't hold out on the heat and spice, but discreetly they serve the sauce in a separate bowl. These Skewers with sticky rice were a highlight. Oh we love sticky rice and find it's not always available at the Thai establishments we dine at. Grandmother Jinda is proudly portrayed on the wall. Note the attractive, not cheesy, artwork around the room. Cool lanterns and hip decor. No kitsch here... We ordered another serving of the Skewers (love the cane basket for the sticky rice)...
The Barramundi Fillet featured a wonderfully crispy skin, with delectable white flakes of barramundi inside. The fish has the right kind of texture and sweetness to suit Thai cooking. This was deep fried fish with green apple salad dressing of green apple, red onion, fresh chilli, coriander, lemon juice and fish sauce. A great combination. We should have ordered another serving of this, as the kids also loved it. One for next time...
Jinda Thai has a casual but hip modern ambience. Green Curry Chicken was creamy, spicy and a delightful amount of spice. The heat in this dish creeps up on you... We find many Thai restaurants in Melbourne cook great pork neck dishes, and the Thai style marinated pork neck at Jinda Thai from the grill was top notch. The Thai special fried rice with chicken was a meal in itself and one for the kids...
We also enjoyed the Seafood noodles, that surprised us with the level of spice. The kids balked at this dish and its level of spice, finding out that noodle dishes can be hot and spicy... Jinda Thai offers simple but enjoyable desserts. I'm tipping more people order these because they're not too heavy, and are affordable. Coconut ice cream was a hit... The Cakes look attractive, but the Coconut ice cream gets the nod. Jinda Thai impresses at every level for its freshness and enthusiasm and is surely one of the best Thai restaurants in Melbourne...
---
Ya Jinda Thai - Doncaster East
Ya Jinda Thai is the sister restaurant of the epic Jinda Thai in Abbotsford and just as excellent. The Take Away menu impresses with top notch curries, fried rice, stir fry, Pad Thai, Satay platter, Spring Rolls and other favourites. Dining in is also a delight with a stunning modern restaurant layout and superb service. When Ya Jinda arrived in Doncaster we were overjoyed and our experiences have not disappointed. I'm still not sure whether the locals understand the excellence of this gem in their midst. I'm told the Fish and tamarind is a signature but haven't tried it yet. Will be looking forward to trying more of the menu in 2021.
---
Tom's Thai - Seabrook/ Point Cook
Tom's Thai is a shining light in the Seabrook/Point Cook area with it's impressive Thai dishes. Named after it's owner, Tom's Thai has a selection of signature dishes experienced by The World Loves Melbourne. We highly recommend this local hero restaurant for your Thai food fix.We were struck by the quality of ingredients, the string of top notch dishes, upbeat staff, and authentic Thai flavours. Tom's Thai on Point Cook Road in a strip of shops and restaurants (good parking) is a Thai restaurant with interesting dishes - some well known Thai favourites including curries and some street and "off the boat" Thai excellent dishes. We also felt the prices were more than reasonable, especially for feeding a family.
A signature and highlight of the menu is the Penang Beef Cheek from the curry menu featuring tender melt in your mouth beef cheek (slow cooked for 3-4 hours), dried chilli, lemongrass, kaffir lime, seasonal vegetables and coriander root in peanut coconut red curry. A sensational dish. This is a southern Thai curry of note, and Tom's Thai executes it brilliantly.
Singha Thai beer fresh on tap!
Som Tam Gai Yang with green papaya, beans, roasted tamarind sauce, chilli with Char Grilled Chicken is a standout dish. Papaya salad and grilled chicken is one of the great Thai food combinations, with each served separately on the plate rather than mixed together. Soft tender quality chicken with crispy skin, combined with a compelling papaya salad.
Skewers at Tom's Thai are another highlight. Moo Ping grilled pork skewers were rewarding with dipping sauce. Melt in your mouth.
Enjoyed this Roti Duck with roast duck wrapped with roti bread and Thai peanut sauce. A delicious hit of roast duck with generous filling inside roti, with thick sauce made by Tom.
Pad Pik Khing Moo Kob is a fabulous traditional Thai dish that is zesty and tangy with fresh Thai ingredients as well as subtle spice and first class pork belly. Features crispy roast pork belly with green peppercorn, green beans, kaffir lime, chilli, seasonal vegetables, red curry paste and Thai basil. Such a great dish!
Tom's Thai is well above what you would expect from a local Thai restaurant in its authenticity and flair. Highly recommended.
---
Rock Sugar - South Yarra
Rock Sugar is a popular thai restaurant in South Yarra with pop culture flair
Thai food is laced with exotic flavours and fragrances from lemongrass, Thai basil and kaffir lime to coconut milk, fish sauce and a host of other herbs and spices that create such memorable dishes. You can spice it up if you want; this is Thai food at its best.
The World Loves Melbourne was fortunate to be treated to a Rock Sugar feast to remember. The menu is full of tantalising options - we wanted it all. The selection of small and medium size dishes range from fresh seafood straight from the Spencer Gulf in South Australia to classic chicken satay. Some of our top picks are the chicken satay with turmeric and peanut nam jim, the Hiramasa kingfish with chili, pomelo and salmon roe or the short ribs with tamarind nam jim, pickles and chilli salt.
No Thai menu is complete without a good authentic curry. There are more than five curry options on the menu and the Massman Curry was spectacular! Think 18 hour slow roasted beef shin, peanuts, potato, coriander and pickled shallots. This is a rich, aromatic curry and the meat is stunningly tender.
Rock Sugar not only appeals to your nose and mouth, but the presentation of the food is picturesque! The whole baby snapper stole the show sitting perfectly upright on the plate. Watch out Angry Birds as this #angryfish could start a new trend.
The drink list is as funky as the menu. Aside from fabulous food, Rock Sugar has signature, made to order 'rocktails' including Blue Bird (sake, lemongrass, lychee, Violette and citrus) or if you're feeling adventurous, the Chilli Chocolate Martini (chocolate sorbet, cognac and chili) is an mesmerising combination of sweet and spicy (not for the faint at heart). Just for added kicks, almost all the 'rocktails' are served in bubble tea cups even including the massive straws! You'll still be able to get traditional Thai beers and there is a killer wine list as well.
For dessert, be sure to try the turmeric crème caramel with blood orange goodness or the chocolate mousse! Both are a light and delicate and a perfect way to finish of the evening.
Rock Sugar has captured the fresh and fragrant essence of Thai food and the team's passion will no doubt keep this restaurant as one of the most sought after venues for Thai.
---
Chin Chin - Flinders Lane CBD
Chin Chin continues to colourfully dominate in a competitive Melbourne culinary scene after about 3 years, with kudos to Chris Lucas and the team. With heralded restaurants stumbling and some falling, Chin Chin is still packed with diners every day rain, hail or shine. The World Loves Melbourne popped into Chin Chin for lunch, dining solo. Whereas on a previous visit we experienced the fabulous "Feed Me" option, this time a couple of dishes and rice, and a glass of wine was sufficient (before my business meeting).
Chin Chin has a striking ambience with pop artwork, Asian images, the neon rabbit, and cool typeface of its logo. The lighting is slightly dim, the crowd energises at atmosphere of its own, there's activity and sometimes there's a sense of rush. In fact these are elements of Asia itself and you feel like you actually might be somewhere in Bangkok or Singapore or some other Asian city.
Chin Chin has succeeded with the whole pop art concept. The menu (pictured above) is a piece of art in itself...
Another area where Chin Chin shines is that Asian fusion is done outstandingly. Every dish has punch. The spice and heat factor are not dumbed down. Spice Temple is another restaurant that comes to mind where the spice is authentic and not watered down. Melbourne diners are discerning and want the authentic. Credit to rock star chef Benjamin Cooper whose profile is growing nationally and internationally.
The Wok Fried Salt and Pepper Squid with Nuoc Cham and Vietnamese Mint (above) was tangy and resfreshing. The Nuoc Cham brought the spicy kick to turn wonderfully crisp squid into something else. The chilli, mint and lemon was a nice touch to set the dish off with zest.
Chin Chin excells when it comes to fresh ingredients. The World Loves Melbourne rates the Caramelised Sticky Pork with Sour Herb Salad & Chilli Vinegarette as one of the best pork dishes in Melbourne. The fresh zingy Asian salad ingredients with this dish complement perfectly and cut through the richness of the pork. The sauce in the bowl was also a highlight which I absorbed with a side of rice.
The ability to secure a table with a no bookings policy is a challenge, but the strategy has proved highly successful. Washed down with Tempranillo, this was a rewarding lunch.
---
Jade Fox - Doncaster East
Jade Fox pleases as a cafe by day and modern Thai restaurant by night, albeit you can get Thai inspired dishes as part of the lunch menu. Big flavours, modern presentation, and dishes with a host of elements feature.
Try the Whole Barramundi (house special) Red Ocean Sunset with red curry and seafood, Thai Fish cakes, School of Prawns, Green Curry, Massaman Curry, or the Lychee Red Duck Curry, or the Pad Prik Pao with pipis option.
Other showstoppers include Pepper Chilli Pork Ribs and Crispy Pork Belly.
Nestled next to Jackson's Court, Jade Fox is a revelation in the east, with fine engaging service and spacious modern restaurant.
---
Mr Nice Guy in CBD
Mr Nice Guy is a lively Thai restaurant that stays true to traditional Thai flavours but gives them a modern twist. We visited Mr Nice Guy and encountered adventure and a passionate team who enjoy their creative license in the kitchen. These are the guys that impress at Middle Fish and have taken their prowess deep in to business and legal territory in the Melbourne CBD.
Pla Liamthong is a bubbly and savvy operator with a sense of humour and a penchant for exciting Thai cuisine. She and partner David Haltner (Mr Nice Guy) are a tour de force and have opened this restaurant with business partners.
I was then appreciative of the funky fit out including creative lighting and colourful tiled walls and tables. Thai artist Torlarp Larpjaroensook has used actual Thai bathroom tiles for this project to great effect. Mr Nice Guy is modern and quirky and has a cultural feel to it.
Image: Mr Nice Guy Instagram. We were then given a masterclass in Thai cooking in the open largish kitchen. The Chef sourced authentic Thai flavours to marinate the meat. It was all about the masterstock. Aromas were incredible as this stock simmered away on the stove. While Middle Fish concentrates on Southern Thai, Mr Nice Guy also breaks out into other Thai regional styles and flavours.
In the kitchen is Shanghainese chef Jiaqi ''Will'' Tang, who has experience at Cafe Vue, Vue de Monde and Maze. I'm wondering whether the Vue De Monde experience accounts for the foam techniques? Mr Nice Guy has designed a menu that encourages shared dishes - again a departure from traditional Thai eating.
Mr Nice Guy serves up a plethora of delightful Bar Snacks such as Mushroom spring rolls (that's fusion right here), Pacific Oysters, Chicken ribs and Fish Cakes (fusion is in the chunky texture, unlike usual Thai fishcake mash). These bar snacks were delectable and I particularly enjoyed the spices on the chicken ribs. The salads were fresh and a pleasing balance of flavours and textures.
Image: Mr Nice Guy Instagram. The Home smoked Tasmanian salmon was a stunner with the quality of Salmon to the fore, along with Coconut Reduction, Baby Beetroot and Pickles to accompany. Utterly enjoyable in its nod to Tasmanian salmon and its match with Thai flavours.
Technique was displayed in spades with the Hurstbridge Pork belly, Kha Na, Chilli-Garlic, and a coup de gras of Oyster Sauce Foam. I have to say I'm still into foams and the presentation of this dish was first class. The Pork belly had been cooked for 12 hours and given light spices - and was melt in your mouth. I can say I've never seen foam served in a Thai dish before and I like it. And yes the crackling was crunchy.
Mr Nice Guy is a standout in terms of Thai cuisine and one of the best Thai restaurants in Melbourne. What you find here is a passionate dedicated team and a symphony of fusion flavours that makes this a compelling culinary destination.
---
Longrain in the CBD (change of ownership since this post)
Longrain is an impressive Thai restaurant that pleases with its sexy fit out, high calibre cuisine and exceptional service. It brings fine dining to the Chinatown precinct and is considered by many to be the best Thai restaurant in Melbourne. Longrain was an impromtu venue to catch up with fellow members of The TV Dinners new wave band that thrilled audiences in the 1980s. The lads were in town from Adelaide to see the resurgent Sunnyboys (who the TV Dinners once supported) at the Corner Hotel in Richmond. As new wave rockers we were into driving guitar, seedy venues and loads of anarchy... We looked to bands like The Clash, The Buzzcocks and The Jam for inspiration.
The anarchists JL and Tony (aka Johnny Dynamo and Fab Charisma) are now lawyers and professionals but still love to rock out... We were also joined by a Melbourne filmmaker. Crazy stories of rock and roll and filmmaking over sophisticated Thai dinner... Longrain is a cool place to connect with its exposed brick, creative artwork, eclectic lighting and timber floors.. The World Loves Melbourne has also visited on several other occasions and Longrain is one of our favourites restaurants in Melbourne.

Longrain always delivers in terms of fresh, Asian cuisine and killer ambience. The Sashimi of Kingfish, caramelised cashew nut nahm jim, trout roe, micro herbs with a ton of heat went surprisingly well with the 2013 Kir Yianni Petra.
The World Loves Melbourne noted the solid number of diners at Longrain on a lazy weeknight..
How can you come to Longrain and not have some of the Eggnet. It was a flavour explosion of Filled eggnet, prawns, peanuts, caramelised coconut, cucumber relish. And superb with Greek wine. I found the Kir Yianni to be something like Sauvignon Blanc with straw characteristics.
The Prawn salad, mint, chilli, lime and roasted rice matched perfectly to the 2013 Kir Yianni Petra. This was the designed match for the evening, as the strong flavours of the salad matched with the Kir Yianni Petra - low in alcohol and higher in acid.
The oysters at Longrain were a hit with Freshly shucked oyster, red chilli nahm jim, coriander and lime... Loved the Thai influences. Another hit at Longrain is the Betel leaf, either with smoked trout, mint, peanuts, chilli paste or with pomelo, mint, green papaya, toasted coconut... Betel leaf was once a kind of novelty but is now a common feature at Thai restaurants. Of course Longrain has been doing it so well for so long...
Longrain also has a great wine list and Heathcote Shiraz was the right choice... The pork skewers at Longrain were also tasty with right amount of spice.
The highlight at Longrain was the Caramelised pork hock, chilli vinegar, crisp garlic. The Caramelised pork hock with chilli vinegar at Longrain is a melt-in-your-mouth delight. The pork is cubed then deep fried until it is crisp and has an irresistable sweetness. This is serious caramelisation that causes the pork to have a lovely stickiness. The chilli vinegar cuts through the sweetness like South African fast bowlers through the Aussie middle order. We ordered a second serving .
The TV Dinners were known for hits such as You Got It (profound lyrics of "she's my nightime girl with long black hair, who's always with me, cause she don't go anywhere...") and Avon Lady (Avon Lady - if you don't come back I'll join the navy)... Entertaining and energetic with raw emotion and passion. Playing many a venue and the odd crazy party. Some of the live venues we played have now been replaced with apartment blocks.
Other courses were ordered at Longrain but I had to leave.... The Sunnyboys went on to smash it at the Corner Hotel and are now playing gigs over the summer in Melbourne.
The TV Dinners have played the odd reunion gig over the years and we can hopefully make it to the next one... Longrain continues to rock on as an iconic and fine dining sensation in Little Bourke St. I'm a happy man.
---
BangPop in South Wharf
BangPop is a brilliant Thai restaurant in South Wharf that recreates the energy and excitement of Bangkok's hawker stands. A common thread in Melbourne has been the need for authentic Thai. Some establishments serve limp version of Thai dishes that fail to endear.
From the spice-driven menu to the frenetic buzz of the colourful dining room, guests are invited to enjoy a truly immersive experience without having to even think about getting on a plane. I was able to lunch at BangPop 3 days in a row and while I intend to return again soon, here is my review...
In Thai language, the word 'bang' means a village situated on a stream, while the 'pop' element encapsulates the bold flavours, vibrant colours and larger-than-life personality of this Yarra-side restaurant. Thai's love their colours and BangPop displays the brilliance of purples and greens, and reds and yellows. The Duck curry above is one of The World Loves Melbourne's favourite Thai dishes in Melbourne.
With an emphasis on affordable and casual communal dining, the compact menu constantly acknowledges its street food heritage. Hawker stand staples, such as grilled pork neck and chicken spare ribs, have found their way from the food carts of Thailand to Melbourne's Docklands. For mine, BangPop serves up one of Melbourne's best lunch specials for $15 including main and glass of wine, beer or soft drink.
What I love is that BangPop doesn't "dumb" down authentic dishes to suit the masses. Actually what the masses may well want (I can't speak for them but speculate) is an authentic experience, and that includes the heat in the dishes. BangPop brings the heat and fire, enough to brighten up a grey Melbourne day, but keeps the flavour (heat doesn't kill it).
You can approach BangPop like the Thai street food culture, starting with small plates and say a salad, then moving on to the larger plates...
You may enjoy your Duck in a salad - surely one of the best Thai salads in Melbourne, with crunch, spice and perfectly cook duck...
The Pad Ka Prow Moo is a wonderful dish with wok fried pork with Thai basil, chilli, garlic, and jasmin rice. I've had variations of this dish in the past where the heat has overpowered. But here the balance is right with spice and heat and flavour all predominant, all with perfect rice accompaniment.
It strikes me that although this is street food there's a sense of finery and celebration around this restaurant space and it's cuisine. The kitchen brings a sense of refinement to the street food offerings, while all the time demonstrating a strong understanding of the importance of flavourful dipping sauces and aromatic condiments.
Rich and creamy! BangPop serve up a sumptuous Green curry. I love the idea of being presented with a bevvy of condiments - allowing me to adjust the balance of the meal. The fact that the waitress explained each condiment to me and its effect, was impressive. I found the balance of all dishes perfect as it was, preferring not to use condiments but to discern where the chef "is coming from" in terms of balance.
BangPop offers an affordable, succinct and constantly evolving wine list featuring fruit-driven, aromatic European varietals, such as Gewurztraminer and cool climate Rieslings, complementing the full-bodied flavour of the food. The beer offerings consist of a handful of tried and true Thai beers and a sharp selection of craft beers. There's a crossover from kitchen to bar as ingredients like Kaffir lime leaves, ginger and coconut water infuse the cocktail menu.
BangPop is a great spot to soak up the riverside atmosphere. Highly recommended as one of the best Thai restaurants in Melbourne.
---
Son in Law - Collingwood
Son In Law is a delightful modern Thai restaurant that hits the spot on all fronts. Traditional names are present but this is about modern Thai or "Thai with a twist". Good restaurants are run by good people and Tony is an excellent front of house, eager to please. We remember the previous restaurant Ayatana but this is something different. The World Loves Melbourne (David and Mario) was invited to sample the bright vibrant experience that is Son In Law.
The fit out is light and airy with modern design; on trend with casual but smart Melbourne dining. Several dining spaces add interest; such as the downstairs dining area overlooking Johnston St with opportunity to sit at a counter along the window, the upstairs dining area and the dining out the back.
The move to Collingwood has been great for Tony and his wife; with Son and Law busy even over the holiday period.
And no wonder. Every dish we consumed was on point. And comment should be made about the beer and wine list; the best we've ever seen in a Thai restaurant (if that's not patronising). Craft beer overdrive and iconic well chosen trendy wines.
Son in Law Eggs are a must order; Instagram art on a plate but more than that delicious textures and flavours for a simple dish. It set the trend for the night; bright modern food with decent and appropriate levels of spice. Sweetness with heat featuring sweet tamarind, chilli, fried shallots.
Crispy Barramundi Fillets are another highlight, with many of the dishes bringing a crispy style. Delectable small fillets of crispy barra with a fair amount of kick. Roasted dry chilli, mint and coriander, red onion and roasted ground rice come together wonderfully for a flavour packed dish.
Roti came as a separate dish and could be considered a small dish in itself. Well cooked fluffy roti with pleasing peanut sauce was refreshing.
It was also great to see leading bloggers Lisa Eats World and In Love With Brunch in the restaurant.
Service here is excellent with staff vibrant and cheerful.
Another high point was the Crispy Soft Shell Crab and Tiger Prawns; a variation on the traditional Thai Green Curry dish. In fact you can order the Thai Green curry straight up, and if a traditionalist, Son In Law is still for you. Yet we enjoyed the modern and adventurous dishes, with the soft shell crab and tiger prawns cooked perfectly and combining as a seafood triumph against spicy green curry. Enjoyed with coconut rice this was a hugely rewarding dish.
By now we were thinking every dish is modern, on point and wonderfully spiced. The food is also affordable; you won't break the bank at Son In Law.
Deep Fried Chicken Ribs is a highly recommended dish, with choice of spicy dipping sauce. The food here can be shared, and you might find yourself fighting over the ribs. Crispy, juicy inside, served hot and with kick of spice. Hard to resist.
Having eaten plenty, we now imbibed the Twice Cooked Crispy Pork Belly stir fried with chilli jam, green beans, bean shoots, and kaffir lime leaves. We enjoyed this crispy dish; and you need to heed the words "twice cooked crispy" as this is not the typical crispy on the outside tender inside pork belly dish. It's crispy all the way. We love that it is not served as a pile of pork but with crispy beans and bean shoots, and a compelling sauce. Again, this is crispy heaven.
Dessert was also excellent; the pick being the Marshmallow and Nutella Puff. Decadence and a contrast to the food we had just eaten, complementing well.
The trio of Steamed Coconut Pandan Puddings was more traditional, and also rewarding.
We highly recommend Son In Law as a modern, vibrant, affordable, savvy and cheery Thai restaurant.
---
Cookie in Swanston St CBD
Come to Cookie for amazing Thai food in an amazing restaurant and beer hall in an amazing building, being Curtin House. Cookie is of course upstairs and features as a bar not just a restaurant. This is one of those "go to" places to take out of towners - as much for it's character and uniqueness, as for it's imaginative quality cuisine.
Image: Cookie Instagram. Walk up the stairs of the cool Curtin House to a place hidden away from the hustle and bustle of Swanston Street. Enter the dimly lit but uber cool large dining area. Was asked where we would like to sit and saw an opportunity out on the stately balcony. My friend and I, meeting for lunch, felt like royals out there on the balcony overlooking Swanston St. I highly recommend you score a balcony booth on a sunny Melbourne day.
The menu is impressive with a great number of imaginative selections. To our amazement out popped head chef Karen doubling as a lunchtime waitress. Head chef Karen is a delight and has a large number of creative and skillful Thai chefs to manage.
The food is a modern twist on Thai with clean flavours. Love the pork belly - Karen told us it's in the pork belly top 10 - and it tastes like a chart topper. Thai sausage was also tasty and great! As were the Thai patties/cakes… So are about 70 other dishes from the huge menu. Sensational! Went there with my friend the legendary Rudy who spends half his life in Asia and who gave the thumbs up – the perfect lunch.
Fusion is a good word to describe Cookie. It gives it's unique interpretation of dishes. Such as the stir fry pork belly with red curry. The option of small, medium or large dishes on the menu is great! You can tailor your eating experience! And an extensive bar menu! The fusion extends to the décor with an almost retro feel to combine with the modern.
I noticed several work groups here at lunchtime. As the food came out reasonably quickly Cookie is a quality option for office workers. The ambience is superb and noise levels loud – but I like that! Also great for a romantic night out!
Cookie has several personalities which makes it a fascinating and exciting establishment. It carries a different persona after 5pm.