Seven Seeds Still On the Rise Years Later
Seven Seeds is one of the best cafes in Melbourne and is credited as being a highly influential coffee powerhouse that has shaped the coffee culture of Melbourne over many years. The World Loves Melbourne believes Seven Seeds is better than ever and continues to shine its love and significant influence on the cafe and coffee scene.
Seven Seeds is one of those Melbourne institutions we can take for granted. Walk along a nondescript street in Carlton that appears quiet and sleepy. Then stumble upon a packed house of uber coffee lovers at an unspectacular entrance almost devoid of signage (apart from a painted name on the wall).
Seven Seeds is a super passionate roastery and cafe. The lab here indicates the seriousness and passion for all things coffee. Seven Seeds never stands still but moves on ever evolving. The quality of coffee here shows no hint of dropping off, unlike some others that have diminished over the years. The coffee menu features Seven Seeds roasted coffee of course!
We visited Seven Seeds with friends from Canada (also a great coffee culture) to show them Melbourne's finest.
A converted warehouse, Seven Seeds features large amounts of exposed brick, tiles, concrete floor, mounted bikes, and the large windows allow plenty of natural light. They even led the way in cafe fit outs with many since copying the Seven Seeds look. With universities nearby Seven Seeds attracts its fair share of students. It's an eclectic mix here of the young and fashionable.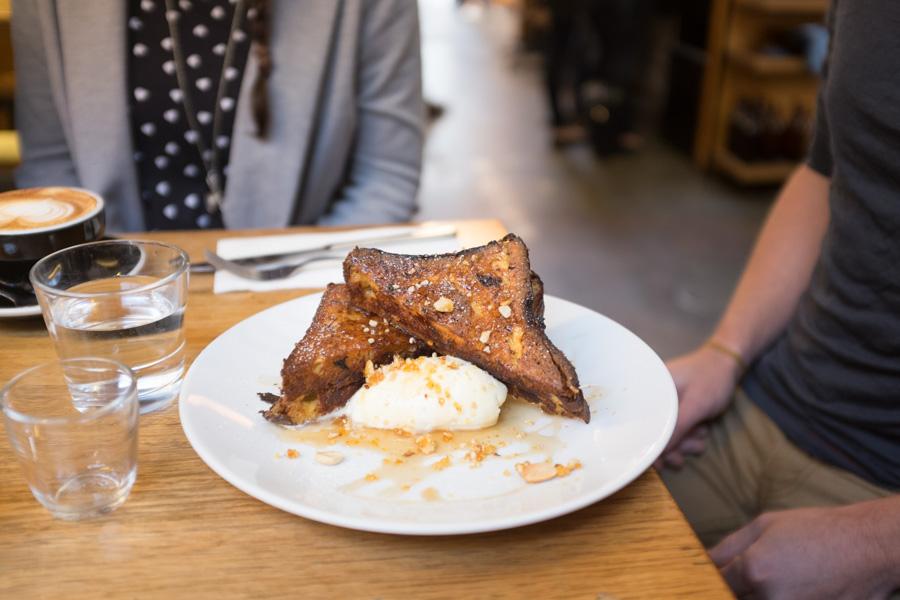 The menu at Seven Seeds has never been more exciting (and all day breakfast baby). The World Loves Melbourne believes the standard of food matches the peerless standard of coffee. Check out The Elvis french toast stuffed w/ banana caramel, whipped peanut butter and shards of candied bacon. Decadent and spot on. Have to love the candied bacon (tell yourself the acidity of the coffee cuts through all this dude food)...
Would you think of Seven Seeds in the hunt for Melbourne's best burgers? Well they should be. Several of us ordered the burger and all raved. Juicy with quality patty, right amount of salad, and curly fries to die for...
No to mention Eggs benedict on English muffins with prosciutto, hollandaise and rocket...
Then its down to serious pour over coffee. My first coffee was the entree. The Panama Pour Over (only $6) just explodes with flavour across your palate. Served with tasting notes like a fine wine. One of the best coffee experiences of my life - and there's been many thousand...
Staff were excellent and accomodated our group of 16 on a Saturday morning - we even secured a large table for the whole group. This place gets packed on a weekend and you can expect some sort of wait - but hey after all these years Seven Seeds is still super popular.
Seven Seeds has close ties with its growers and sources the best coffee. From the website -
"Seven Seeds takes its name from the precious cargo which Baba Budan smuggled out of Yemen and into India during the 17th century. By strapping seven seeds of fertile coffee to his waist, Brother Budan broke through the tightly regulated system which had, until then, kept coffee cultivation within the confines of the Arabic world. Because of Baba Budan and his determination to spread coffee around the world, we are now able to source beans from the Americas, Africa and Asia.
We are a micro roaster, cafe and retailer based in Melbourne.
Coffee is our passion and we source, import, roast and sell what we believe is among the best coffees around the world. We aim to maintain close relationships with these producers and regularly travel to origin to work on securing exceptional coffee.
Like all fruit, coffee is seasonal which means our coffee offerings are constantly changing throughout the year. We are careful to roast each new coffee to bring out the best and tastiest characteristics and are one of few roasteries to cup what we roast on a daily basis.
Not only do we love roasting coffee, we love to serve it. Drop into one of our cafes for a chat and a brew.
We also work very closely with the extended Seeds family and absolutely love what these guys do, teaming our coffee with their top quality food and service."
We note Seven Seeds has been inducted into the Herald Sun Coffee Hall of Fame. Shine on Seven Seeds, keep evolving and leading the way...