Egg Unlimited Redefines Corporate Catering
Egg Unlimited brings artistic flair and premium quality to corporate catering in Melbourne. Over the years I've been exposed to a myriad of corporate catering companies as I meet with clients, directors and generally eat my way through corporate life. Often it's the same old uninspiring fare with not much savvy or inspiration. Enter Egg Unlimited, which employs some 30 people in Elsternwick and has been making waves in the catering scene in recent years. The World Loves Melbourne was called on to sample some of the Egg Unlimited hampers, which we did suitably at the office in Docklands...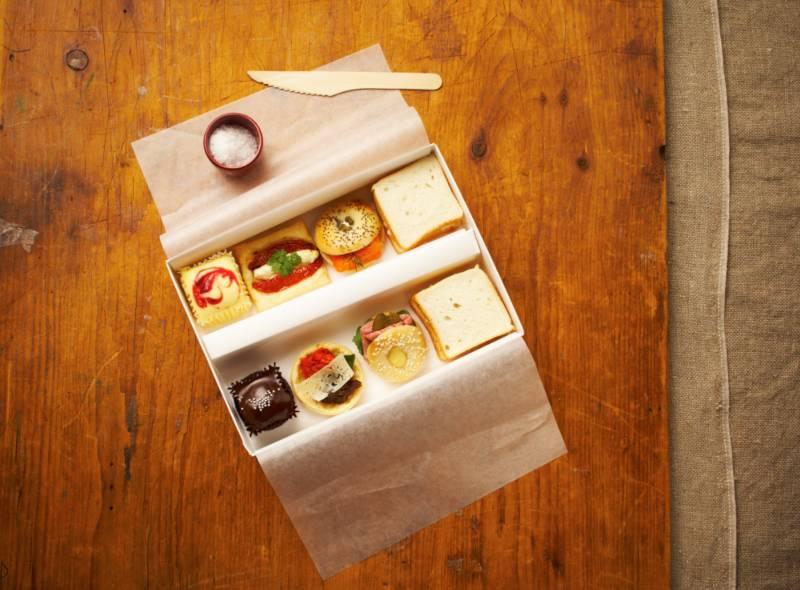 Egg Unlimited is a corporate catererer of distinction. When the hampers arrived there were plenty of "oohs" and "ahs" heard in the office just for the sheer quality of the presentation, let alone the food itself. Each hamper looks like it belongs in the NGV for its artistic appeal. I'm tipping your clients and staff will be impressed as we were by the presentation.
Check out the Deluxe Lunch Box for One corporate packs (above) featuring 8 exquisite pieces. Again, the presentation is exceptional. We sampled the items and loved each one, noting the variety and balance for a rewarding lunch. You get the impression these are not mass produced but care taken over every cake and sandwich and tart. The marketing manager in our office commented how each sandwich had crust all around and the fillings of chicken or egg were generous portions. My favourite was the Poppy seed bagel with smoked salmon, crème fraiche and Lilliput capers, as well as the Sesame seed bagel with pastrami, dill pickle, mustard mayo and rocket.
Egg Unlimited offer quite a unique menu of individual lunchboxes and hampers for the corporate world, which are a great sidestep away from the typical ribbon sandwiches and wraps offered out there. The hamper above was one of our favourites. We couldn't stop eating the sandwiches and the mini rolls with caesar salad fillings. White square sandwiches filled with free range poached chicken, house mayo and flat leaf parsley were outstanding, and the Multigrain square sandwiches filled with free range egg, house mayo and chives were a sophisticated take on the egg sandwich.
Kudos also for the White baguettes filled with finely sliced gypsy ham, gruyere and green mango chutney, and the Pumpkin, blue cheese and crispy sage gallettes were exceptional.
The Against The Grain Hamper above featured low carb lunch options for 5-6 people. The Prawn and Vietnamese mint rice paper rolls with lemongrass and marinated bean thread noodles were superb with some kick in a sate filling, and the Rare roast Angus beef, anchovy butter, tomato relish and baby rocket tartlets were a hit with staff. The Char grilled free range chicken marinated in lemon, garlic, coriander, olive oil, bay leaf and cracked pepper were full of flavour (love the char taste) and the Fresh green asparagus spears wrapped in goats curd and prosciutto were hugely popular. The Green zucchini and torn mint omelette souffles were also impressive.
The Breakfast Hamper below hits the mark in terms of healthy content and taste, featuring that smoked salmon bagel again!
Our hampers were delivered to The World Loves Melbourne by Asha Cruise the Sales and Markeing Manager of Egg Unlimited. Asha has a corporate background so she knows what it's like struggling with awkward canapes that demand a napkin. Everything at Egg Unlimited is the perfect one to two bites and packaged ready to serve/eat (so no need to plate it up to serve)! How good is that!
Established in 1997, Egg Unlimited commenced as a bespoke bakery, supplying miniature breads to Melbourne's finest corporate caterers and hotels. Egg established itself as a leading supplier of unique mini bread and pastry products, all handmade and baked in their custom made tins.


The demand for these little breads quickly grew and within twelve months, Egg released its first canapés range – the bread and pastry range filled with delicious and seasonal produce. From here, the Egg Unlimited team became known around Melbourne as 'the people that do the little smoked salmon bagel''. The little world of perfectly sized cocktail food had hit and was the toast of the Spring Racing Carnival, the Grand Prix and every leading Melbourne corporate catering event in between.


By 1999 Egg had developed its sweet canapés range, a delectable feast of miniature sweet goodies that included the ever popular chocolate ganache cake and uniquely shaped, perfectly portioned, pudding range. The popularity of the sweet range saw the Egg production grow with the demand for corporate catering grow to over 8000 units a day. No rest at Egg! In 2004 Julie devised the Deluxe Lunchbox range to refresh the tired old boardroom lunch. The Hamper range was to come in 2009 and with it more options for corporate catered lunches. Like the Lunchboxes, the Hamper range included classic Egg Unlimited flavours along with some new favourites.


In 2011, Egg Unlimited released its Wellbeing range. The Wellbeing range is incorporated across all Egg Unlimited product lines, from breads, sweets, lunchboxes and hampers and is an ever-growing list of items that focuses on seasonable, sustainable and positive eating.
We were also presented with this superb Baby Cakes selection, featuring rich chocolate cake, carrot cake and berry swirls.
Egg Unlimited catering menus deliver uncompromising, gorgeous food for any occasion. Whether it's a conference, wedding or cocktail party at home, you can rest assured that your guests will be talking about their food for a long time to come. For a fully catered staff function affair, their experienced staff can look after all aspects of your event, including set up and bar service. You can also order from their boutique wine list. Their seasonal canapé menu is innovative and modern and skilled kitchen staff will have it prepared and presented beautifully for you.

Egg Unlimited also has had the privilege of being asked to be involved in beautiful and bespoke weddings. From cocktail parties in a private home or garden to picnics with tailored lunchboxes and dessert gifts.
Check out Egg Unlimited for your catering needs...