Pete Evans and Launch of Valet Chef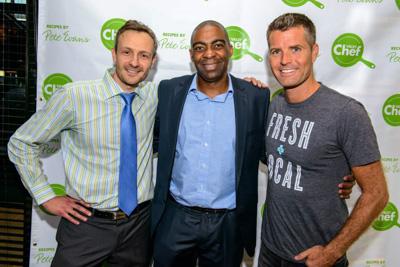 Celebrity Chef Pete Evans and a dedicated team recently launched their exciting new online food delivery initiative Valet Chef at Chiara restaurant. Joining Pete Evans and his team on the night were Australian Organic CEO Andrew Monk, former AFL Footballer , life member at Collingwood Football Club Chris Tarrant; and his brother and INCA Organics representative Jamie Tarrant. The World Loves Melbourne attended as a pork belly tragic, but willing to learn and change my ways.
The launch was also in celebration of Australian Organic Awareness Month. Celebrity Chef

Pete Evans latest venture Valet Chef is a brand new certified

organic food delivery service offering fast, delicious, convenient, healthy meals for the home.
Pete Evans has partnered with the inspirational team at Valet Chef, led by CEO, Dayo Sowunmi and
CTO, Artur Mickiewicz.
Valet Chef has been operating and delivering across Melbourne since August 2014, with a growing
number of loyal, happy customers. It is taking Pete's healthy everyday brand straight into people's
homes and offices.
It strikes us that quality food delivered to your door is becoming a growing phenomenon. Certainly it registers as a trend in other countries and cities - where ordering online and having food delivered is super popular (notably parts of the US and Europe). Melbournians love to eat out, but we also love convenience when it comes to cooking at home. To be honest, I personally dislike spending too much time in supermarkets. My palette has become decidedly more gourmet in recent times, and I much prefer markets to supermarkets. I find a trip to my local supermarket involves packed aisles and aggressive drivers in carparks (excluding me of course), which I can do without. And when I look around the aisles, there's not much I want.
But what if you could order decent healthy food online and have it delivered relatively quickly to your door in a box? Valet Chef offers an array of tasty organic paleo based meals based on Pete Evans recipes. Pete told us at the launch that the beauty of Valet Chef was that you still get to follow the recipes (recipe cards provided) and cook the meals. These are not just meals that you heat up. Each meal is estimated to take some 30 minutes to prepare. Not hard for most!
"Valet Chef brings everything I love about food together" comments Pete Evans. "My recipes are

prepared in perfect portions, ready for you to simply cook in about 30 minutes – all the hard work is

done for you. We source our produce from trusted local suppliers and only choose fresh, certified
organic, seasonable foods so you get the nutrients at the right time, as nature intended. All the
recipes are Paleo inspired (dairy, gluten, grain and refined sugar free). You'll support local business
and shop sustainably by keeping your food miles low, and there is no wastage. Together, Valet Chef
and I are now delivering my passion for healthy food straight into your home. From my kitchen to
yours – healthy every day."
"We wanted to time our official launch with this month's Australian Organic Awareness Month"

comments CEO and co-founder of Valet Chef Dayo Sowunmi. 'We are incredibly passionate about

spreading the message of how important it is to choose certified organic ingredients and be more
aware of what you are eating".
The best advertisement for me was when I walked in to the launch and encountered a couple who simply raved about the Valet Chef service. I thought they must be working for the company - but they weren't. A charming lady told me that Valet Chef had changed her life, in terms of convenience, quality of meals and health. Big call but I believed her.
Some of Pete's recipes include Barramundi with Chorizo Relish (you put together the relish with array of ingredients), Spaghetti and Meatballs with pork mince, and Moroccan Spiced Lamb Meatballs. I spoke to many people at the launch that were enjoying the selection of meals. Pete said the range was fairly small at the moment but will expand.
It was interesting chatting with Pete about paleo food. I suggested I loved burgers too much and Pete told me I could have 2, as long as the ingredients were quality and not involving cheap mince, and that I did away with the bread. He advocated open burgers without bread. I'll give it a go for sure!
For The World Loves Melbourne this was an interesting foodie event. I got to meet movers and shakers in the organics industry including the owner of Melbourne's most prominent organic store in Northcote. These were health conscious motivated people. Infectious.
Check out Valet Chef online.