Kong - A Korean Revelation
Some Melbourne restaurant launches are duplicates of a trend or riding on the back of the latest wave. Then there's the trendsetters. Kong is a Korean and Japanese fusion restaurant in Richmond that is a revelation rather than a replication. Melbourne food identity Chris Lucas has done it again, with head chef Benjamin Cooper working wonders. After the success of Chin Chin and more recently Baby Pizza, Lucas has captured the imagination with Kong. The World Loves Melbourne visited Kong for a family birthday and was blown away by the new offering.
This is not Chin Chin 2 although the familiar touches are here, including a walk off the street dining policy. The neon signage, film projection on adjacent wall, panda overdrive, and fun menu were noted. While we've seen a trend to Korean BBQ in Melbourne we haven't seen anything quite like this. Kong brings Korean flavours to the masses with fresh and playful expression.
Kong pleased with the Wood fired Edamame soy bean pods w chilli and sea salt starter. You could eat this snack all night, and even the kids loved it. The wood char effect makes this simple dish.
We arrived soon after 5.30pm on a cold Melbourne Wednesday winter's night - and by 6pm the place was packed. As we were a group of 5 we shared the communal table with the masses. Not a problem. For a smallish venue Kong utilises every available square metre...
Kong offers customers a menu of interest, excitement, flair and broad appeal. Meat freaks love it. Those who love Korean flavours are sold. And those who love fresh full flavours in cuisine love it. And there's a level of finesse with every dish. We enjoy introducing our kids to world flavours and Kong is a great restaurant for this. Approachable Korean.
So what are the must have dishes at Kong? Seriously I don't know. As everything was so good I'm assuming there's classics we haven't tried yet. Pretty much the whole menu is for sharing.
The Seared Yellow Fin Tuna w Horseradish Ponzu & Edamame Salsa (above) was a pretty and arresting dish, which I wanted all for myself. By now Kong was hitting its stride with a vibrancy and range of flavours.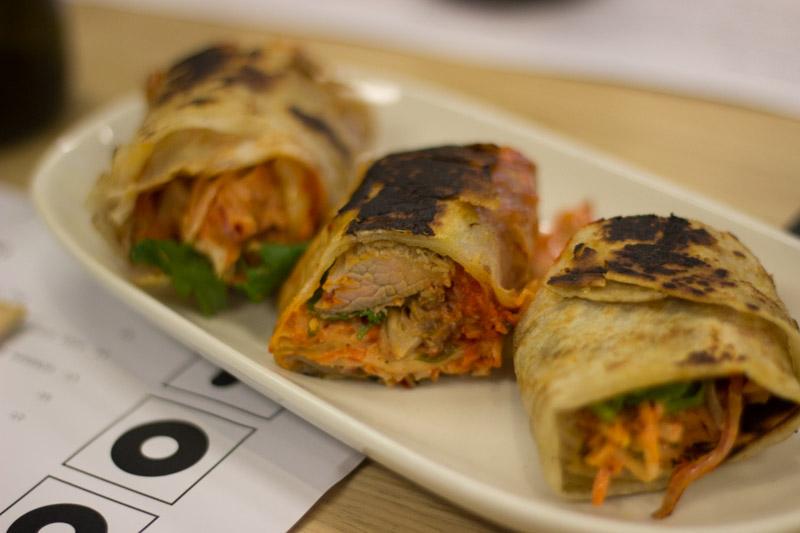 A huge hit at Kong has been the roti. We ordered 2 types, the Pulled Pork w Slaw Kimchi and Burnt Chilli Mayo and Teriyaki Roast Ora King Salmon, Wok Fried Broccoli and Tomato. Both were sensational, with tender thin style roti and generous rich full flavour fillings. Is this Korean comfort food?
We were keen to try the Kimchi at Kong - the Korean distinctive which Kong flags on its signage - "it's not ordinary cabbage, it's fermented cabbage." This kimchi rocked our world.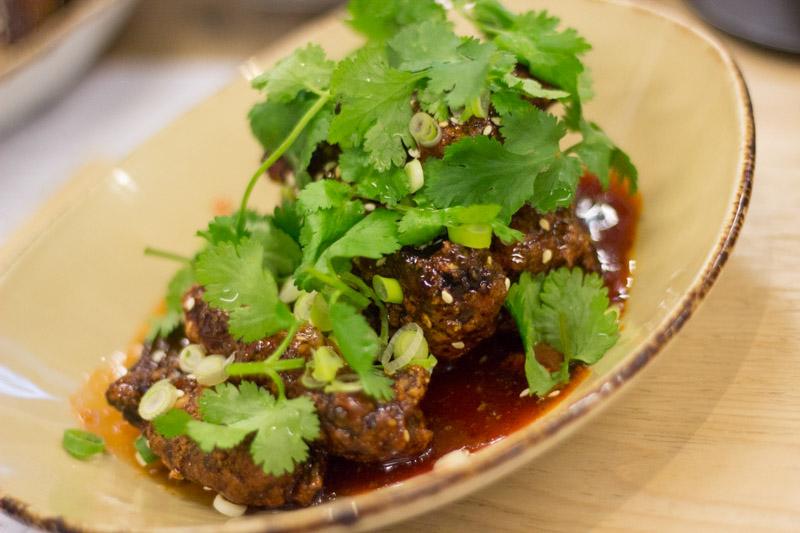 Chicken wings are a simple dish but at Kong they are served perfectly cooked and with sticky sauce. We checked the Korean Fried Wings w Honey, Garlic & Sesame and BBQ Soy Wings w Sesame and Spring Onion.

Service was impeccable with staff focussed and helpful. We never felt rushed despite people lined up out the door and into the Melbourne cold...
Even the sides are outstanding such as this Wok Asian Mushrooms, Red Oak Lettuce Ponzu & Chives (below). It seems much thought has gone into every aspect of Kong.
Kong then revealed one of its stars of the show - the ribs. We ordered 2 large serves at some expense - but worth every morsel.
We enjoyed the BBQ Baby Back Pork Ribs w Soy and Sesame as well as the Kalbi Short Beef Ribs w Pinenut Ssamjang and Daikon Kimchi.
These are how ribs should be in terms of colour, texture and taste. Again the key is in that sticky sauce. We abandoned any politeness on show and just picked up the
Kong is already famous for its Korean flavours but is also acclaimed for one of the best BBQ trays around. The BBQ tray at Kong is legendary. Yes we can score great BBQ around Melbourne but the fusion of flavours on the Kong BBq tray puts it up there with the best.
The Kong Bossam BBQ tray from the Natural Fire selection featured Pulled Chicken & Pork, Pork Belly & Beef Brisket w Lettuce, Pickles, Kimchi & Walnut Ssamjang. Let me say from the outset the Walnut Ssamjang was a revelation in itself. Rich, thick and walnut crunch.
The Korean flavours such as the Ssamjang and the Kimchi are brilliant with BBQ meats. They beat a mound of potato, for example.
Korean beers are perfect with the Kong fare. Normally I'm a red wine drinker but when it comes to this kind of food, beer is my weapon of choice. The whole drinks menu is impressive.
Kong has a brilliant vibrant ambience. It's that hot place to be right now...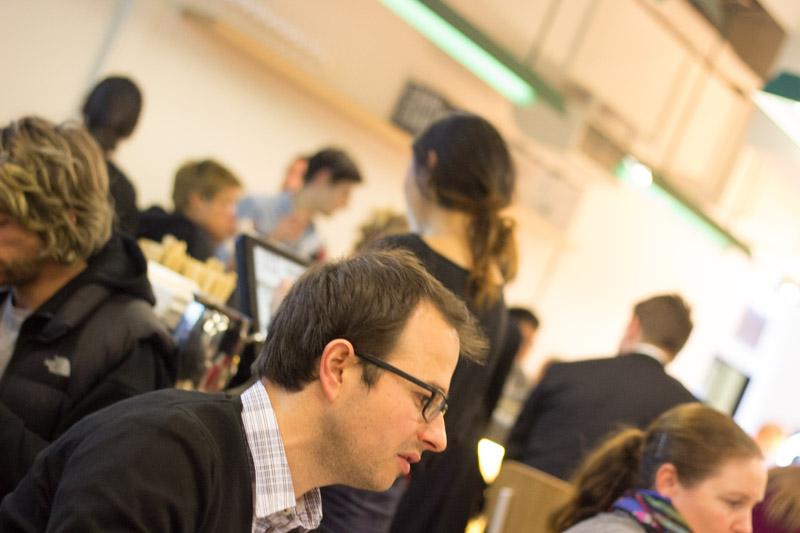 I also have to mention the Pork crackling was a hit on the BBQ tray - and was quickly grabbed by a family member.
More of the ribs...
Kong is a great place for the whole family and these drinks are perfect for kids.
Kong has a limited range of desserts but we were all satisfied with the offerings ordered. The Apple and Walnut Tart w Miso Butterscotch & Japanese Whisky Ice Cream hit the mark. Of course I would like more whisky in the ice cream...
The Coconut Sago w Passionfruit & Pineapple Trifle also got rave reviews by our family. This was a light dessert but packed punch in the fruity flavours.
It was interesting to see Black Sesame Ice Cream on the menu - a family favourite after we visited a Japanese restaurant in Sydney.
Kong is a sensation. It gives punters what they want, or in fact gives them something they didn't know they wanted until now. Kong is affordable despite us spending a decent amount for my wife's birthday celebration. It's a revelation that adds to the Melbourne and even Australian culinary scene...