Best Vegetarian Restaurants in Melbourne 2022
We have searched Melbourne for the best vegetarian experiences and have put together our "best of" list.
In no particular order -
Smith and Daughters (vegan) and Smith & Deli
Vegie Bar
Green Man's Arms
Red Pepper (also served non vegetarian)
Trippy Taco
Lord of the Fries
Yong Green Foods
Moroccan Soup Bar
Smith and Daughters, Smith & Deli - Brunswick
Smith and Daughters has an amazing feel to it; a Latin American restaurant on Brunswick St that was founded by two zany and extrovert ladies, award winning chef Shannon Martinez (ex Gasometer, The Sweetwater Inn and South), and Mo Wyse (ex Manager at The People's Market), bringing her design and business savvy expertise. Smith and Daughters has established itself as an icon of vegan dining. Let it be said, Smith and Daughters is not exclusively for hipsters; it brings vegan food to Melburnians in a new way.
Croquettes, tamales, and paella have been highlights on my visits.
Smith & Deli is a revelation; always packed and a retro deli that serves up some of the most innovative food in Melbourne.
---
Vegie Bar - Fitzroy
Vegie Bar has been a vegetarian mainstay for years and is nearly always packed out, making it a place to be seen in eclectic Fitzroy. The restaurant promotes healthy eating at a reasonable price, offers food from around the globe and does not believe food should be overworked but have minimal human involvement.
We came here with friends and enjoyed a large selection of quality dishes. Some of us at the table were vegetarian and some were at the other end of the scale (ie never ate vegetables). A couple of us wondered whether we could secretly slip some chorizo onto the pizza when it arrived – but that was deemed an inappropriate idea. Some of us were here to experience something new (or unfamiliar) and we should keep it that way.
Vegie Bar pumps with communal tables, exposed brick, specials written on a whiteboard, funky lighting, group tables and a great little area upstairs where you can peer on hipster HQ below. There's plenty of action as staff meander through the throngs to deliver meals to tables. Funky music is playing but you can't really hear it because this place is loud with convivial conversation.
The pizzas are wonderful and great value. Images credit: Vegie Bar.
Vegie Bar has been consistently great for well over 20 years and is still going as strong as ever...
---
Green Man's Arms - Carlton
Green Man's Arms is a vegetarian revelation in Carlton and Melbourne's first vegetarian pub. This was an inspired albeit risky move, but has proved popular with locals and those who love vegetarian food. Of note is that the drinks menu is top notch, this is a fabulous place to dine.
The menu changes seasonally, and is proving to work for those who are choosing a more flexitarian approach to their diets with weekly meat-free days. The vegetable is the hero of each plate and is given the same respect and time as animal protein often receives. The eggplant schnitzel, for example, takes slices of eggplant that are marinated, braised and pressed, then panko-crumbed, fried and served with potato aioli and cabbage slaw.
Smaller dishes at Green Man's Arms may include Mezze Plate, Cucumbers and Goats Curd or Slow-baked carrots with roasted hazelnuts and chervil.
---
Red Pepper (also serves non vegetarian) - Bourke St CBD
Red Pepper serves both vegetarian and non-vegetarian food with authentic Indian flavours and textures, but it shines so much in terms of vegetarian offerings (and so is a worthy inclusion in this list of restaurants). Jagjeet Kaur has been delighting Melbourne diners since 2006 bringing the best of Indian experiences to Melbourne. The restaurant is iconic and has built a following over the years, with stories of customers visiting time after time regularly for years on end.
A specialty is the Thali lunches featuring Express vegetarian Thalis that are simply outstanding. An example is Rajasthani Thali with sumptuous Daal, Gatte Ji Sabji and seasonal vegetables.
These Thalis provide city workers and lovers of Indian food with an affordable and exciting lunch option in the Melbourne CBD. No need for boring lunches!
Red Pepper also features a renovated restaurant with engaging staff and a fine range of non-alcoholic and alcoholic beverages, including Indian cocktails and beers. Dinner Set Menu is also compelling and is highly affordable.
Delicious Rajasthani Thali with sumptuous Daal, Gatte Ji Sabji and seasonal vegetables. Such dishes are a truly sensory experience.
Express Thalis also include the delicious Amritsari Thali. Chole Kulche is a famous Punjabi dish that is also considered a healthy dish, loaded with proteins and fibre. Puffed fried bread with spiced chickpeas.
Thalis feature on the Red Pepper lunch menu, for the complete lunch, including variations on the Express Vegetarian Thali.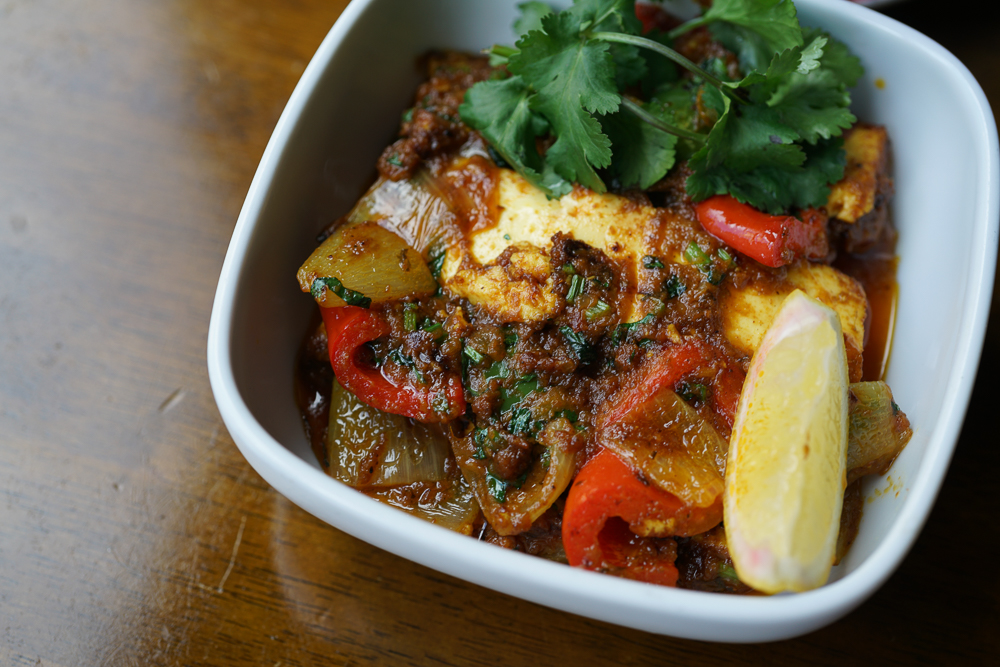 Paneer Kanti is a popular vegetarian dish.
The most famous dish at Red Pepper is the Punjabi village-style Saag with makki ki roti (corn flat bread), which has been on the menu every day since opening.
Sweet Potato Chaat featuring chunks of sweet potato, lemon and masala.
Khadi Pakora with delicious vegetable fritters.
Snacks are also a feature at Red Pepper including Gola Guppas, a snack popular in India featuring small hollow round crisps with filling of jaljeera water and potato chickpea mix. Red Pepper offers a plethora of vegetarian dishes including many more than the dishes featured above. #brandedcontent
---
Trippy Taco - Gertrude St Fitzroy
Trippy Taco is a hipster Mexican restaurant unique in Melbourne, and an iconic vegetarian destination with it's friendliness, quality and variety. Standouts include its tacos, burritos and the vegan quesadilla - all top notch. As a chip lover I consider their fries to be the best in Melbourne with a killer smoky seasoning. (Have been known to eat two bowls...) The staff are great here, and have engaged me with somewhat trippy banter! Kick back and chill here - no formalities... Images credit: Trippy Taco.
Did I mention the Nachos? A small serve is more than enough for a whole tribe. Everything fresh and tasty with black beans the key ingredient… I partly judge a vegetarian restaurant also by the extent it fills me up (must be quality though) and Trippy Taco are generous in their portions. Sort of place you love to come back to.
---
Lord of the Fries - Melbourne Central and various
Much considered thought goes in to all the LOTF products and they are passionate about authenticity. LOTF is oft categorised as fast food but it turns fast food on its head. Nothing of greasy or stodgy. Intelligent, flavoursome food that is sustainable. LOTF is continuing to prove that great food can benefit the consumer and the earth.
Operating sustainably is no joke to Lord of the Fries whose staple chips are produced from local Victorian-grown potatoes and delivered to the LOTF locations in trucks fuelled by the recycled oil was used to fry the chips.
Lord of the Fries shows much flair when it comes to vegetarian cuisine. You feel like they are breaking ground especially when it comes to the convenience genre they operate in. The Vegan Patty used by Lord of the Fries has the look, taste and texture of meat with virtually no fat. So you don't leave the restaurant feeling heavy and bloated. These are great health choices for the 21st Century. The mock beef patties are high in protein being made from Textured Soy Protein. And gluten free.
The business' mission to minimise their eco footprint and make the world a better place exists throughout; from the food to promotional items produced on 100 per cent recycled paper and supporting like-minded charities like Wildlife Victoria, Edgar's Mission and the Sea Sheppard.
---
Yong Green Food
Yong Green Food is the quintessential vegetarian haven with organic foods, menu items marked to help those with food intolerances, raw, vegan and gluten free foods. Those in the know rate this as one of the best, mainly for its Biodynamic vegetarian dishes served in a colourful space with dragon murals and paper lanters.
Not only for its savoury offerings, such as the Thai Green Curry and biodynamic brown rice and Rawsagne, but the sweet options have attracted much acclaim such as Buckwheat Pancakes, Chocolate Cheesecake and Caramel Slice. Images credit: Yong Green Food

Also come here for the Lentil Hot Pot, Kimchi, Tofu patty and Sushi (it's a broad menu). And they also feature the superfoods such as Chia. The staff here are super-friendly and knowlegeable.
---
Moroccan Soup Bar - Fitzroy North
Moroccan Soup Bar is the name on many lips when it comes to vegetarian food in Melbourne, for its interesting food that comes not without a hit of spice. The restaurant is a small intimate venue on St Georges Rd and it can be tough to get a table with perennial popularity including a loyal local following. Sometimes people complain at vegetarian restaurants that they don't get filled up on food - but here you can get full on superb food for an affordable price. There is no written menu as such, just go with the flow... Images credit: Moroccan Soup Bar
The Chickpea bake is famous at Moroccan Soup Bar, a favourite for many years, with crunch on top. Come here for fine Moroccan cooking such as stews and traditional dips, as well as beetroot and potato offerings. But its the Chickpea bake that has everyone coming back. Many people bring their own takeaway containers here because there is just so much food. Kudos for helping people out during the lockdowns. A quaint touch is the complimentary peppermint tea or traditional Moroccan coffee at the end of your meal.