Carne Grill Restaurant in Chirnside Park: Gateway to the Yarra Valley
The World Loves Melbourne was invited to experience the exciting new Carne Grill just off Maroondah Highway in Chirnside Park (opposite the Chirnside Park Shopping centre) - part of the Eastridge Entertainment Precinct new gateway to the Yarra Valley. This is a top notch development that lights up the region in terms of its class and gourmet offerings. Carne Grill is one of the best steak and meat restaurants (let alone seafood and other grill dishes) in Melbourne.
The sophistication begins at The Precinct Bar where we had a tipple or two. Cocktails are stunning and the bartenders on song for a unique and rewarding experience. At the launch Brodie Harper told us about how foodies now have a great venue they can visit before or after they travel to the Yarra Valley - or even just come here and never make it to the Yarra Valley! It's that good.
We were able to also enjoy an amazing memorable family dinner at Carne Grill. Start your journey at The Precinct Bar for a cocktail or two!
Chirnside Park has alot going for it in terms of shopping and now welcomes Eastridge Entertainment Precinct (EEP), the first premium culinary hub for the outer north-east area, as it officially throws open the doors to three new venues - Carne Grill, The Precinct Bar at Eastridge, and The Bosses Boots Café. Located just off the Maroondah Highway, EEP is perfectly positioned not only to cater to local residents but service the millions who travel to and from Melbourne to the Yarra Valley each year. Easily accessible and parking is easy.
Carne Grill has a stunning menu that focuses on quality local and seasonal produce. One of the co-owners Steve Kepper told us that they are not looking to "overwork" the food but offer quality first class produce in ways that showcase the hero ingredients. The Executive Head Chef Anthony Iscaro told us that he loves working in the region and the accessibility of produce readily available - compared to say working in the city.
Carne Grill, seating up to 240 guests, is the jewel in the precinct crown, where stylish dining meets rambunctious feasting. And The World Loves Melbourne loves feasting with family and friends! Already, the new Carne Grill is well patronised throughout the week.
Options are provided so that you can feast "your way". The premium feasting style menu focuses on the finest local pork, beef, lamb, poultry and seafood, flame and charcoal grilled to perfection. The hero 'Let Us Create the Feast' set menus are available for four people or more, from $25 per person, and include carnivore and seafood options. 'The Big Board' allows guests to choose from three of 11 main options, and comes with two sauces and hand cut chips.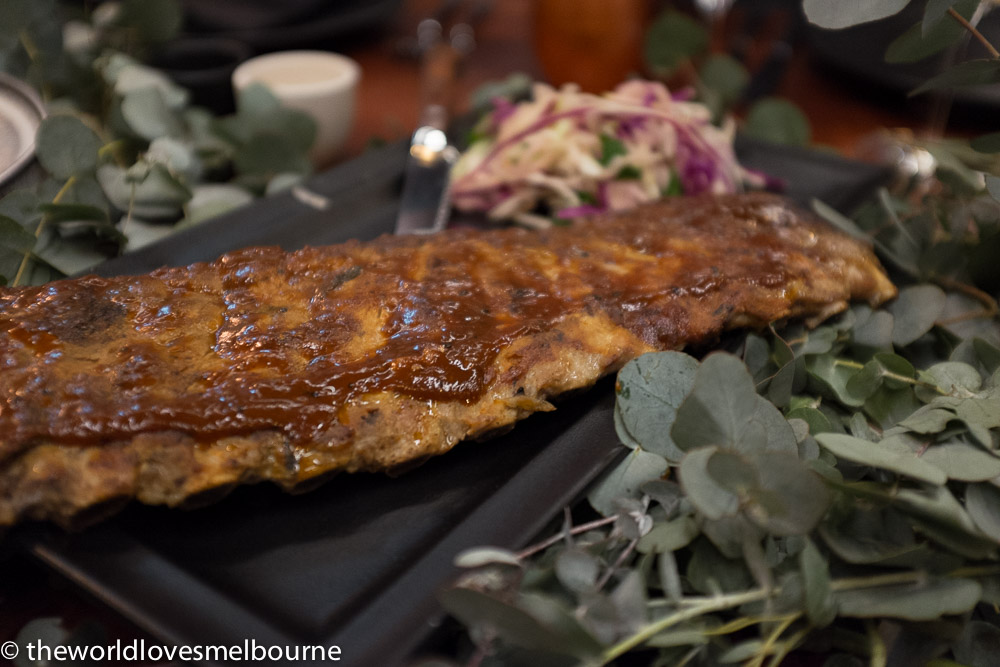 Ribs! The Carne BBQ pork ribs with apple slaw are to rave about; in fact you'll be hard pressed not to pick up the bone!
If sharing isn't your thing, try the pasture fed dry aged rib eye, 1kg T-bone, whole crayfish, or a pasta dish, with sides of course. We were also struck by the depth and thought that has gone into the wine list. The wine list is proudly 7/8 Australian, with a third of the varietals sourced from the local Yarra Valley region. The interiors are warm, welcoming and festive, with large bench tables and communal seating arrangements encouraging shared-space vibes. We love the relaxed vibe at Carne Grill with a touch of class in the decor (and cool music playlists in the backgound). Service here is top notch with staff enthusiastic and going the extra mile.
Come to me Hanger Steak, T-bone and Tomahawk steak!
T-bone cooked to perfection with slight char and sear marks!
Hanger steak is melt in your mouth. The touch of lemon and the smoking rosemary is first class.
Steamed black lip mussels, white wine, chilli, garlic and soldiers is the perfect winter warmer. And you know you want to get to the tasty broth!
Marinated grilled baby squid, roasted heirloom baby tomatoes and basil is a rustic dish to be savoured. We enjoyed the grill taste of the freshly cooked seafood.
The Pork Belly is to rave about with crispy crackling skin and melt in your mouth texture inside...
Whole market fish is superbly presented with rich flavours beautifully seasoned and cooked. A crispy exterior complemented with nuances of the white flesh from lemon and other flavours as part of the "stuffing" - showing these guys are as excellent with seafood as with top grade meat.
Sides are also top notch with Truffle Honey roasted carrots, almonds, pomegranate the perfect accompaniment for meat and seafood dishes.
Not to mention Hand cut chips! Golden goodness! These are some of the best chips around - skins on and crispy outside with tender potato inside. Perfecto!
Dessert also strikes a chord with an excellent selection including the Sorbets and fruit and the Tiramisu.
Carne Grill is both classy and approachable! Swing in off the highway on your way to and from the Yarra Valley! Or simply as your destination for top notch produce in a superb relaxed ambience.
Alfresco all-year-round dining is also available, with 100 protected seats on the terrace overlooking the lagoon, the area heated throughout winter. (It's romantic with those open heaters on). The Precinct Bar is an oasis for drinks, no matter what the time of day, with an extensive list of cocktails, local craft beer, and wine, served with a side of bar snacks for those who are peckish. After work? Weekend wind down? The bar beckons with plush leather couches, a large hardwood topped bar surrounded by leather upholstered stools, and views of the lagoon.
The outdoor area has a range of small and large high bar tables, creating a relaxed beer garden atmosphere. With multiple diverse spaces, The Precinct Bar is the perfect location for a private function of any size. At The Bosses Boots Café, open for breakfast and lunch seven days per week, home baked breads are hero, sandwiching gourmet ingredients like miso glazed pork belly, pickled cucumber, shaved carrot, and watercress; and New York deli ciabatta with mortadella, sopressa, smoked ham, cheddar and green pickle.
For breakfast think wild mushrooms on brioche, wilted kale, smoked ricotta, and fried eggs. Salads, burgers and grazing platters are also available, plus cold spun juices and smoothies. A rustic picnic pack is also available to grab and go. The Bosses Boots Café tagline is cheeky, earmarked as the last decent coffee in 40 kilometers.
The opening of Carne Grill, The Bosses Boots Café and The Precinct Bar at Eastridge, marks phase one of the Eastridge Estate development, a 22 hectare mixed use infill site which will incorporate more than 800 residences, a Dan Murphy's, an office complex, a medical centre, an entertainment and wellbeing precinct (bars, cafes, restaurants and a lifestyle centre including a gym, and yoga and Pilates studios) and a retail precinct. The project is a significant investment for the community and will create hundreds of new employment opportunities. Get on it! #ad